2013 Distinguished Alumnus Award Peter G. Helie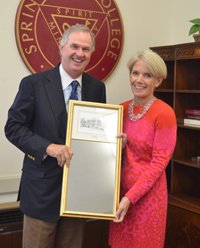 SPRINGFIELD, Mass. – Peter G. Helie has been awarded the 2013 Springfield College Distinguished Alumnus Award, given annually to recognize professional excellence and outstanding service to community, state, and/or nation.
Helie was presented his award at the Springfield College Athletic Hall of Fame and Awards Dinner held at the Cleveland E. and Phyllis B. Dodge Room in the Richard B. Flynn Campus Union as part of the College's homecoming celebration.
Following graduation from Springfield College in 1972, Helie started a successful 21-year career with William Pitt Real Estate, where he worked his way up to vice president, president and eventually partner of the company.  In 1995, he was recognized as the Genesis Relocation and Real Estate Services Broker of the Year.
The Palm Beach Garden, Fla., resident continued his success in real estate in 1997 when he was named chairman and CEO of Prudential Connecticut Realty.  During his tenure, the company expanded to 52 offices in Connecticut and Rhode Island, and he founded the Vision Group, a group of the country's leading real estate companies ranked first or second in their marketplace. In 2000, Helie was the recipient of the Broker of the Year award given out by Prudential Real Estate and Relocation Services for his leadership and philanthropic efforts.
Complementing his business career, Helie has also displayed strong leadership during his volunteer work, serving as the president of the Boys and Girls Club of Stamford, Conn.  He also supports the Sunshine Kids, which provides travel experiences for children with cancer.