2014 Springfield College Alumni Awards and Athletic Hall of Fame Dinner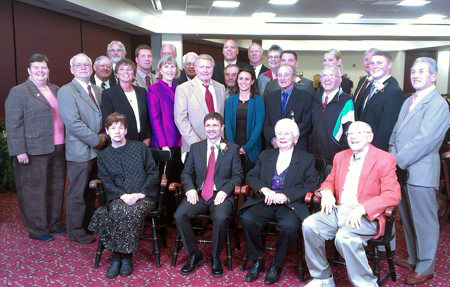 On Saturday, Oct. 18, Springfield College hosted its annual Alumni Awards and Athletic Hall of Fame Dinner inside the Cleveland E. and Phyllis B. Dodge Room in the Campus Union as part of the College's homecoming celebration.
As part of the ceremony, the Tarbell Medallion, the Distinguished Alumnus/Alumna Award, and the Young Alumnus/Alumna Award were all presented, as well as recognition of the Athletic Hall of Fame inductees which included: Donald E. Snyder '49, Sherilyn K. Sanborn '77, Jack Quinn '80, Peter J. Avdoulos '85, Alison M. Mellage Campise '03, and Christopher C. Sharpe '08. 
TARBELL MEDALLION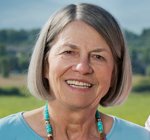 Margaret Cox Land '58 has been awarded the 2014 Springfield College Tarbell Medallion, given annually to an alumnus or alumna who has been out of school for at least 20 years, and has demonstrated outstanding service to his or her alma mater.
A resident of Wilson, Wyo., Land served as a corporator for the Springfield College Board of Trustees from 1993-2000. In addition to her role with the Board, she is a past class agent, former Alumni Council Member, and has served on the Class of 1958 Reunion Committee for decades.  Her roles have included developing the class newsletter and facilitating fundraising as co-chairperson. Land is a loyal contributor to Springfield College and a member of the David Allen Reed Society.
Land's passion for the Humanics mission has remained strong throughout her life. She currently is a part-time clinical social worker at St. John's Medical Center in Jackson, Wyo., and her resume contains roles such as physical education teacher, swim coach, drug and alcohol counselor, therapist, and counselor. The career switch to social work can be traced back to a volunteer experience with juveniles on probation in Louisville, Ky., from 1970-75.
DISTINGUISHED ALUMNUS/ALUMNA AWARD
Carlton S. Sedgeley '63 and Glenn M. Pires '80 have been awarded the 2014 Springfield College Distinguished Alumnus/Alumna Award, given annually to recognize professionals excellence and outstanding service to community, state, and/or nation.
Sedgeley is the president and CEO of Royce Carlton, Inc., a speaker agency and management firm in New York City. For more than 45 years, the company has represented speakers from many disciplines and specialties, including world affairs, politics, business, economics, arts, culture, health and wellness, and science and technology. His partner in life and work is his wife, Lucille, executive vice president of Royce Carlton.
Prior to Royce Carlton, Sedgeley taught a course in real estate for Lee Institute in Newton, Mass. He received his first taste of the speaking business with a company in Boston, where he worked for two years. Sedgeley later accepted a position in development for Northwood Institute, which at the time had campuses in Michigan, Indiana, Texas, and in Central America. He worked in their New York City office, where during his time off, he researched the speaker industry and gained a much deeper understanding of the field.
Two years later, the Sedgeleys decided to start a new company, Royce Carlton. Sedgeley came to this new company with a more defined and transparent direction, which he hoped would not only make his company successful, but also would create changes within the industry. In keeping consistent with this theme, they created a "Uniform Lecture Contract" with an association that recognized the rights of both the speaker and the customer in a transaction. Years later, Royce Carlton still operates by these same fair and transparent ideals.
In 2012, the Sedgeleys were inspired to create the Carlton and Lucille Sedgeley Endowed Fund, which supports the Arts and Humanities Speaker Series at Springfield College.
The Sedgeleys live in New York City and continue to work in a business that is challenging, but continues to provide an opportunity for growth and learning.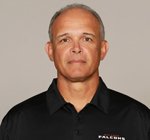 Pires is in his seventh season as the Atlanta Falcons linebackers coach. The 2014 season marks his 19th season overall in the NFL.
Pires began his career at Melrose (Mass.) High School, where he served as the assistant football coach. In 1983, he took a position as a graduate assistant at Syracuse University where he worked with linebackers and the offensive line, followed by a position as defensive line/linebackers coach at Dartmouth College in Hanover, N.H.
A native of New Bedford, Mass., Pires headed back to Syracuse in 1989, where he took on the role of outside linebackers and defensive line coach. During his career there, he saw the 'Cuse team become the 1989 Peach Bowl Champions, the 1990 Aloha Bowl Champions, the 1992 Hall of Fame Bowl Champions, and the 1993 Fiesta Bowl Champions. His last stop in the college athletics circuit was at Michigan State University in 1995, where as the outside linebackers coach and recruiting coordinator, he watched the Spartans take the 1995 Independence Bowl.
Pires' NFL coaching career began in 1996 with the Arizona Cardinals. Before joining the coaching staff for the Falcons, he coached linebackers from the Detroit Lions and Miami Dolphins. With the Falcons, Pires has seen the team take the 2010 and 2012 NFC South Championship. He also served on the 2012 Pro Bowl coaching staff.
YOUNG ALUMNUS/ALUMNA AWARD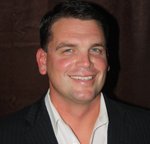 Joshua Bourne '04 has been awarded the 2014 Springfield College Young Alumnus/Alumna Award, given annually to a graduate in the 10th reunion class in recognition of professional excellence and outstanding service to the College, community, state, and/or nation.
Since 2002, Bourne has served in the U.S. Marine Corps and he currently serves as a captain and security cooperation planner and communications officer. Since enlisting, he has served as a platoon commander, battalion and regimental communications officer, operations and assistant operations officer, and security cooperation planner.
His tours of duty include Iraq in 2005-08, during which he served in combat operations in support of Operation Iraqi Freedom; 2008-11 on Marine special operations assignment; and in various countries in Africa in 2011-14, where he served in numerous roles including management of security assistance, maritime security, and state department liaison work in multiple embassies.
A resident of Virginia Beach, Virginia, Bourne has been awarded the Navy Commendation Medal twice, once in 2007 and again in 2011. His dedication to service has found him doing volunteer work with wounded veterans as part of Freedom Hunters, an organization that utilizes outdoor activities to provide opportunities for wounded soldiers and veterans to relax, reintegrate, and enjoy time outdoors. He has been active at Springfield College, too, as he participated in three veterans events on the campus, as both a guest speaker and emcee.