2015 William Simpson Fine Arts Series Fall Schedule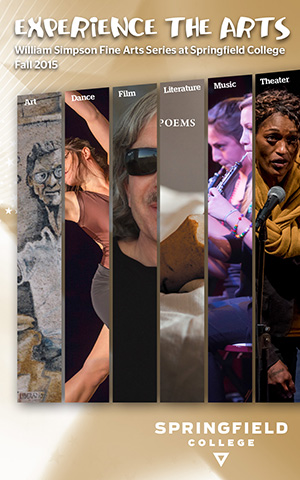 The 2015 Springfield College William Simpson Fine Arts Series fall schedule features a variety of art exhibitions, theater performances, film events, concerts, readings, and dance performances.  Most events are free of charge, and the free series poster is available by calling (413) 748-3187. 
Sherman Alexie
Without Reservations: An Urban Indian's Comic, Poetic & Highly Irreverent Look at the World
Thursday, October 22
7 p.m.
Field House, Wellness & Recreation Complex
Acclaimed author Sherman Alexie will discuss his book, The Absolutely True Diary of a Part-Time Indian, which was named the best young adult book of all time by Time and won the National Book Award.
One of The New Yorker's top 20 writers for the 21st century, Alexie connects readers around the world to the American Indian experience. Having grown up on the Spokane Indian Reservation in Washington state, Alexie is known world-wide as a gifted orator, telling tales of contemporary American Indian life with razor sharp humor, unsettling candor, and biting wit.
A recipient of the 2014 Literature Award given annually by the American Academy of Arts and Letters, Alexie is the author of more than 20 books. His young adult novel, The Absolutely True Diary of a Part-Time Indian, is part of the summer reading assignment for incoming Springfield College students.
This event has been made possible through the generosity of Carlton '63 and Lucille Sedgeley.
Art Exhibition
September 27-November 6
Heard or Dreamed About
By Priya Nadkarni
William Blizard Gallery*
Gallery reception for artist and public: Sunday, September 27, 3-5 p.m.
Artist Priya Nadkarni uses large-scale oil paintings to depict the peculiarities of American culture. Her work explores notions of the civilized, the savage, the conditioned, the liberated, the feminine, the exotic, the Western, and the permutations of each.
Art Exhibition
September 27-November 6
Silent Screams of Sardinia
By Richard Andersen
William Blizard Gallery*
Gallery reception for artist and public: Sunday, September 27, 2015, 3-5 p.m.
Direct from the Mediterranean island of Sardinia come the photographs of a small mountain town called Orgosolo. Taken by author and Springfield College professor Richard Andersen, the photos capture the murals painted on Orgosolo buildings, which highlight the history and political struggles of Sardinia and beyond.
Concert
October 1
Daniel Pearl Music Day
Naismith Green and Flynn Campus Union, 4-8 p.m.
In celebration of the Springfield community, this event is part of the Daniel Pearl World Music Days, an international network of concerts that uses music to reaffirm a commitment to tolerance and humanity. Since 2002, the event, named after journalist Daniel Pearl, who was murdered by Islamist extremists while reporting from Pakistan, has grown to include more than 11,000 shows in 129 countries, including Pakistan. The concert features performances by the Zanetti School Choir, the Community Music School CMG Jazz Ensemble, Springfield College students, and other special guests. 
Theater Performance
October 7
In My Shoes
Judy Dworin Performance Project
Fuller Arts Center, 7 p.m.
Performed by the Judy Dworin Performance Project of Hartford, Conn., In My Shoes is a dance performance and play that depicts what it's like as a woman both in and out of jail. With a cast that includes incarcerated women, In My Shoes has been described as "a soul-searching journey through the twists and turns of the walk to prison and back–and what it truly means to be free." This event is supported by a grant from the New England Foundation for the Arts as well as several Springfield College offices and departments, including Springfield College Theater.
A discussion will follow the performance.
General admission: $5; students and senior citizens: $2
Tickets may be purchased at the door or reserved by calling (413) 748-3443.
Film Event
October 26
Kind Hearted Woman
Fuller Arts Center, 7 p.m.
Join acclaimed filmmaker David Sutherland for a screening of his PBS Frontline special Kind Hearted Woman. The documentary creates an unforgettable portrait of Robin Charboneau, a 32-year-old divorced single mother and Oglala Sioux woman, who confronts her alcoholism and the scars of being sexually abused as a child. The New York Times describes the film as "a detailed portrait of the kind of lives rarely given a media spotlight, those lived on the margins of rural America, where money and education are scarce."
A Q&A will take place with Sutherland following the premiere.
Theater Performance
November 12-15
Stage Kiss
By Sarah Ruhl
Presented by Springfield College Theater
Directed by Martin Shell
Fuller Arts Center
Thursday, Friday, and Saturday, 8 p.m.; Sunday, 2 p.m.
Does art imitate life, or life imitate art? When two actors with a history are thrown together as romantic leads in a forgotten 1930s melodrama, they quickly lose touch with reality as the story onstage follows them offstage. MacArthur Genius Grant winner Sarah Ruhl delivers a brilliant comedy that aims for big laughs and hits its target with Stage Kiss, a charming tale about what happens when lovers share a stage kiss–or when actors share a real one.
General admission: $5; students and senior citizens: $2
Tickets may be purchased at the door or reserved by calling (413) 748-3443.
Poetry Reading
November 18
Reading by Missy-Marie Montgomery and Henry Lyman
Cleveland E. and Phyllis B. Dodge Room, Flynn Campus Union, 7:30 p.m.
Springfield College English professor Missy-Marie Montgomery and poet, translator, and editor Henry Lyman come together for an evening of poetry. The event commemorates the publication of each author's first book: Montgomery's Half-Life of Passion and Lyman's The Land Has Its Say.
A book signing and refreshments will follow the reading.
Art Exhibition
November 20-December 18
Graduating Undergraduate Senior Art Majors and Graduate Art Therapy/Counseling Majors Art Exhibition
William Blizard Gallery*
Gallery reception for artists and public: Sunday, November 22, 3-5 p.m.
Paintings, drawings, sculpture, photography and ceramics reflect learning throughout the advanced education of undergraduate art majors and graduate art therapy/counseling majors.
Concert
December 3
Springfield College Annual Holiday Concert
Appleton Auditorium, Fuller Arts Center, 7:30 p.m.
The Springfield College Community Chorus, Jazz Ensemble, and special guests present this perennial favorite, combining holiday music, popular favorites, choral selections, special requests, and good cheer.
Refreshments will be served.
Dance Performance
December 11-13
Celebrating Dance Forward and Backward
Appleton Auditorium, Fuller Arts Center
Friday and Saturday, 8 p.m.; Sunday, 2 p.m.
Contemporary artist James Morrow creates a postmodern, hip-hop, Africanist work on the Springfield College Repertory Dance Company, while Springfield resident Shakia Johnson performs a solo hip-hop work titled "Injustice." Dance faculty and alumni performances round out the program.
General Admission: $5; students: $4; senior citizens and children: $2
Tickets may be purchased at the door or reserved by calling (413) 748-3158.
An informal dance concert of works created during the fall semester in dance classes will be held on Tuesday, Dec. 15, at 7 p.m. in the Appleton Auditorium, located in Fuller Arts Center. Admission is free.
Founded in 1885, Springfield College is known worldwide for the guiding principles of its Humanics philosophy—educating students in spirit, mind and body for leadership in service to others. With its foundation of academic excellence and rich athletic heritage, Springfield College prepares students with real-world leadership skills for careers that transform lives and communities. The college offers a range of undergraduate and graduate degree programs in the fields of health sciences, human and social services, sport management and movement studies, education, business, and the arts and sciences. It also offers doctoral programs in physical education, physical therapy, and counseling psychology. The college is ranked in the 2015 edition of "Best Colleges" in the top tier of "Best Regional Universities – North Region" by U.S.News Media Group, and is designated as a premier Leadership Development Center by the YMCA of the USA. More than 5,000 traditional, nontraditional and international students study at its main campus in Springfield, Mass., and at its School of Human Services campuses across the country.