2016 Alumni Awards Presented During Homecoming Weekend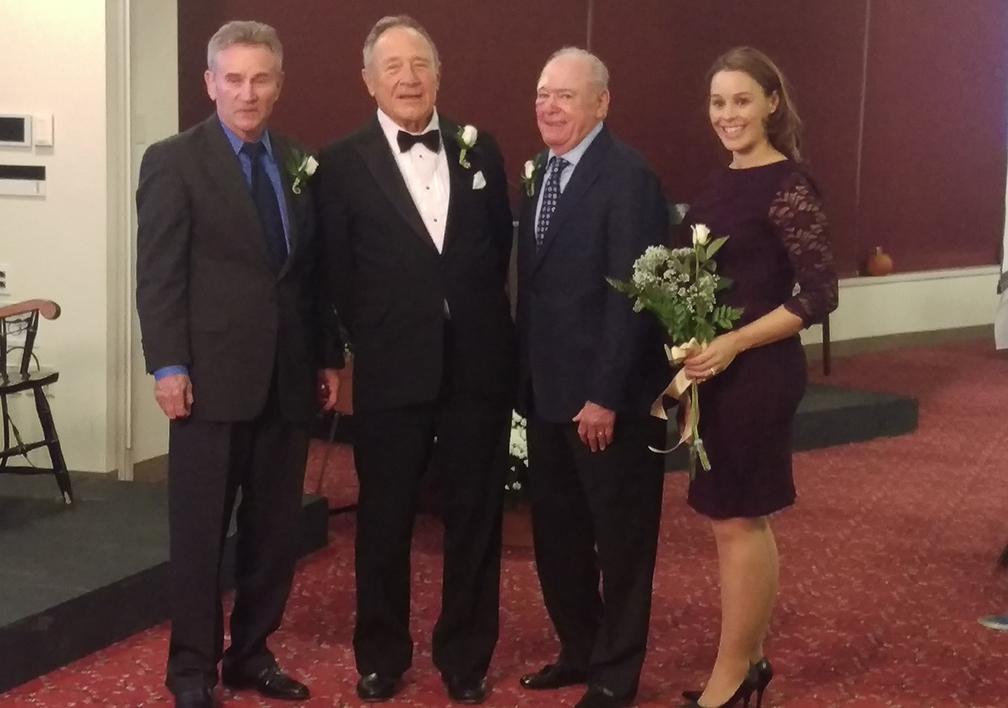 As part of Homecoming Weekend 2016, the annual Springfield College Alumni Awards were distributed during a dinner celebration on Friday, Oct. 14.
Distinguished Alumnus Award
Paul A. Rosenbaum '64
Paul A. Rosenbaum '64, JD, has led an ambitious and successful career in law and government. After graduating from Springfield College with a degree in American Studies, he earned a juris doctorate from George Washington University Law School in 1967. He began work with Metropolitan Life Insurance and the then-Federal Life and Casualty in Battle Creek, Mich., before serving in the Michigan House of Representatives from 1972 until 1978. During that time he chaired the House Judiciary Committee, was legal counsel to the speaker of the house, and wrote and sponsored the Michigan Administrative Procedures Act. Additionally, Rosenbaum served on the National Conference of Commissioners on Uniform State Laws, was vice chairman of the Criminal Justice and Consumer Affairs Committee of the National Conference of State Legislatures, and a member of a committee of the Michigan Supreme Court responsible for reviewing local court rules.
Rosenbaum became a senior partner at Rosenbaum Law Center from 1979 until 2000 when he became CEO and chairman of BD Rentrak Corp., which tracks and measures audience attendance and media consumption in the community and at home. He is currently CEO and board chairman of SWR Corp., which he founded in 1994. SWR Corp. designs, sells, and markets specialty industrial chemicals.
Rosenbaum served on the Springfield College Board of Trustees from 1980 to 1986. He has been a consistent supporter of the College, including making a major gift to the Class of 1964 Endowed Scholarship Fund.
Rosenbaum served as vice chairman of the Port of Portland from 2009 to 2015. He currently serves as chairman of the council of trustees for Providence St. Vincent Medical Foundation, and as a member of the board of directors for DePaul Treatment Centers.
The Tarbell Medallion
Bridget Belgiovine, G'87 
Throughout her career, Bridget Belgiovine, G'87, has served Springfield College in numerous capacities.  Her volunteerism with the Office of Alumni Relations started while she was the new assistant athletic director in 1988. She and Tamie Kidess Lucey '81, G'82, who at that time was the assistant director of Alumni Relations, co-chaired the committee to celebrate the 25th anniversary of women's varsity athletics at Springfield College. 
Most notably, Belgiovine served between 2010 and 2012 as the Alumni Council president, and as such, she represented that body on the Board of Trustees. In 2012, after rotating out of her Alumni Council presidency, she was honored by being selected as a full member of the Board of Trustees on which she currently serves.
A longstanding member of the Gulick Circle of the President's Council Giving
Societies, Belgiovine served for several years on the Athletic Hall of Fame Selection Committee as well as the Alumni Association Awards Process Committee.
Belgiovine's other Springfield College volunteer activities include serving on the Milwaukee and Chicago Alumni Association Executive Committee from 2002-2006,  participating in Alumni College in 2004, serving as emcee for the Athletic Hall of Fame and Alumni Awards Dinner in both 2004 and 2006, and serving on the Field Hockey Reunion Committee in 2006. Belgiovine has also been an admissions representative for the College. She is a frequent volunteer at the annual Evening of Alumni and Student Career Networking event held on campus.
She received a bachelor's degree in health and physical education from Trenton State College and a master's degree in physical education and athletic administration from Springfield College. Belgiovine currently serves as director of athletics and chair of the Department of Physical Education, Recreation, and Athletics at Wellesley College. Previously, she has worked in various capacities for the NCAA, including as director of Division III, as director of athletics at the University of Wisconsin-La Crosse, games director at the Massachusetts Special Olympics Summer Games in 1990, assistant director of athletics at Springfield College, and has taught and coached at various levels.
Belgiovine is passionate about enhancing gender equality, diversity, inclusion, and excellence in sports at educational institutions. For her tireless efforts, she has received numerous accolades, including the Eastern College Athletic Association Division III Administrator of the Year Award, the Springfield College
Distinguished Alumna Award, the National Association of Collegiate Women Athletic Administrators Administrator of the Year for Associations Award, the Claire Van Ummersen Leadership Award, and the Gordon Merit Award from the University of Wisconsin-La Crosse Hall of Fame, among others.
Distinguished Alumnus Award
Kenneth M. Baldwin '64 
Kenneth M. Baldwin '64, PhD, is currently a professor emeritus of physiology and biophysics at the University of California (UCI) at Irvine School of Medicine. Baldwin's academic journey began when he received a Bachelor of Arts in physical education at Springfield College. In 1965, he received a Master of Science in exercise science at the University of Massachusetts. Then in 1970, he was awarded a PhD in exercise physiology at the University of Iowa. After serving three years of post-doctoral research focusing on the biochemistry of acute and chronic exercise at Washington University at St. Louis, he joined the faculty at UCI in 1973.
At UCI, Baldwin ascended over a period of 40 years to the rank of professor, above scale, serving as the senior academic dean of faculty affairs in the School of Medicine from 1998-2006. During his research career, Baldwin published more than 230 peer-reviewed manuscripts, invited text book chapters, and leading review articles concerning physical exercise and inactivity. In 1992, Baldwin was appointed chair of the NASA Life and Microgravity Science Advisory Committee along with an appointment to the NASA Advisory Counsel.
His academic distinctions include the 1995 American Physiological Society (APS) prestigious Edward Adolph Award, the 1999 American College of Sports Medicine (ACSM) South Western Chapter Achievement Award, the 1999 NASA Public Service Medal for space science research, and the 2003 NASA-NSBRI Award for Space Science. In 2006, he received the APS Exercise and Environmental Honor Award for Science, along with the NASA Public Service Medal for Advisory Service to the NASA Administrator. In 2011, Baldwin was awarded the ACSM Honor Award, which is the highest award given by this agency. Most recently, Baldwin was appointed to the National Academy of Sciences Committee on Biological and Physical Sciences in Space, a position he will serve through 2018.
Young Alumna Award
Meghann "Meg" Foley Dombroski '06
Meghann Foley Dombroski '06, DMD, MPH, has a passion for family, service, and creating beautiful smiles. Dombroski graduated from Springfield College with a major in sports biology and a minor in business. She earned a Doctor of Dental Medicine degree from Tufts University College of Dental Medicine and a master in public health from Harvard University.
Dombroski worked as a general dentist at a private practice in Gorham, Maine, and Community Dentistry in Portland, Maine. She then began work as an orthodontist and is now opening her own practice, mBrace Orthodontics, in Falmouth, Maine. Dombroski also works as an assistant clinical professor at the University of New England.
Dombroski created a partnership with the University of New England College of Dental Medicine, Portland's school-based dental clinic, and the Portland Department of Health to increase access to dental care in school-aged children for oral screenings, health education, and dental procedures, regardless of ability to pay. Dombroski has created outreach programs with senior housing programs, local elementary schools, the Head Start program, a women's homeless shelter, and several other institutions.
Dombroski has earned numerous awards, including the American College of Dentists Outstanding Student Leader Award, the International College of Dentists Award, and the Tufts University School of Dental Medicine Class of 2002 Endowed Award for Outstanding Peer Support and Leadership, among several others.
Dombroski is a member of the Maine Alumni Association Executive Committee, participates in the Springfield College Leadership Training Conference events and alumni networking program, and supports the College on an annual basis.
In the fall of 2015, Dombroski accepted this same award on behalf of her husband, U.S. Army Capt. Aaron Dombroski '05, who at the time was in the middle of an extended deployment overseas.
President's Philanthropy Award
Robert "Rip" Van Camp '54
Robert "Rip" Van Camp of the class of 1954 enjoyed a long and distinguished career in business and management that extended over five decades. His passion for helping others, especially students with financial need, has spanned his lifetime.
After graduating magna cum laude from Springfield College, he served in the U.S Marine Corps. He then entered Cornell University from which he received his MBA in 1958. Van Camp worked numerous business capacities, including as: head of marketing at Colgate Palmolive; president of The Consumer Products subsidiary of American Home Products; and later as CEO of a venture-backed corporation that acquired and developed several small companies. He later became corporate vice president of the Gillette Corporation, then president and CEO of Reynolds Development Corporation before leaving to start his own consulting firm, Van Camp Group, Inc.
Van Camp served on the Springfield College Board of Trustees from 1968 to 1992 and again from 1996 to 2001. During that time he played a leading role in several key decisions that have made a lasting impact at Springfield College. By securing a gift from Reynolds, he helped establish The Summer Management Institute, an intense professional development program for nonprofit leaders. The institute evolved into what is now the School of Professional and Continuing Studies. With fellow trustee Harold Potts, Van Camp helped gain approval for the creation of a physical therapy program at Springfield College, now a signature program with a doctoral component. Additionally, he was an outspoken leader in support of a student trustee program, which is now in its 45th year. In 1979, Van Camp was awarded the Tarbell Medallion.
Van Camp spearheaded the Class of 1954's million-dollar gift in celebration of its 50th Reunion in 2004. The gift, currently valued at almost $2 million in cash and commitments, is designated for the Class of 1954 Peter A. Karpovich Chair in Wellness. This currently is the only endowed chair at Springfield College.
In addition to his service to Springfield College, he has been a leader for numerous nonprofit organizations. In his current community on Lopez Island, Washington, he is vice chair for the LCCA Lopez Community Center, and was instrumental in the planning and funding for the successful community center that was completed in 2000. He also was the chair and primary founder of LOHO, which developed The Hamlet, a senior housing complex that has served more than 100 Lopez Island residents.
Van Camp and his wife, Julie, have three children: Lisa, Thomas, and Robert, and five grandchildren. They also have a niece, Quinten, who graduated from Springfield College in 1990. Rip and his family enjoy the outdoors. They have summited Mt. Kilimanjaro, and explored the Swiss Alps, K2, and Bhutan, as well as biked across England, France, and New Zealand.