2017 Commencement Speakers and Award Recipients Announced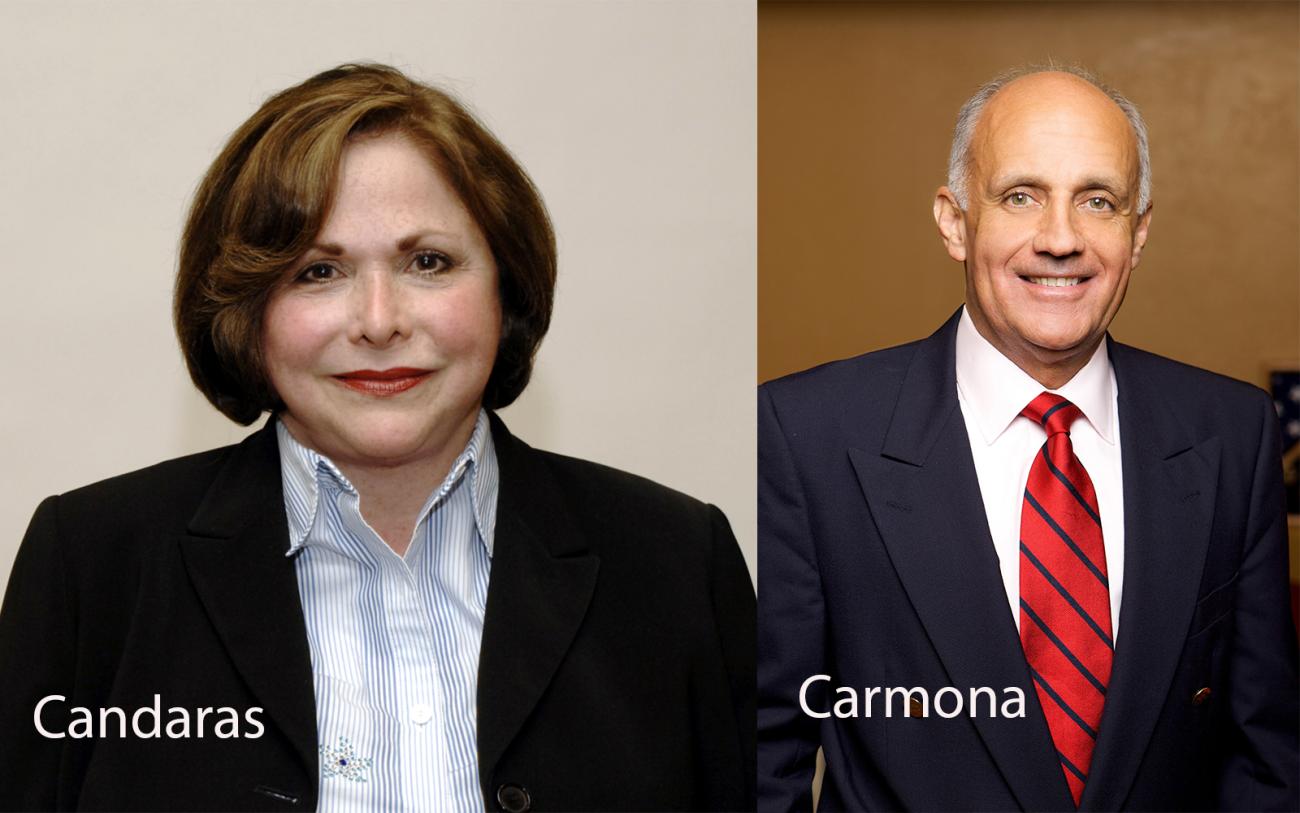 Richard H. Carmona, MD, who served as Surgeon General of the United States and is vice chairman of Canyon Ranch, and the Honorable Gale D. Candaras, long-standing member of the Commonwealth of Massachusetts General Court where she served in both the House and the Senate, will deliver addresses at the 131st Springfield College Commencement Exercises in May. 
Senator Candaras will address students at the undergraduate ceremony on Sunday, May 14, at 9:30 a.m., at the MassMutual Center in Springfield. Dr. Carmona will speak at the graduate commencement ceremony on Saturday, May 13, at 9:30 a.m., on the College's Naismith Green.
At the commencement ceremonies, Springfield College will present honorary Doctor of Humanics degrees to Carmona and Candaras. The college has, historically, awarded honorary degrees to a few outstanding individuals who, by their character and accomplishments, personify the college's guiding philosophy, humanics.  Humanics emphasizes the dedication of spirit, mind, and body for leadership in service to others.
Undergraduate Ceremony, Sunday, May 14, 9:30 a.m., MassMutual Center
Senator Candaras spent 18 years in the Massachusetts legislature, serving as a member of the Massachusetts House of Representatives from 1997 to 2006, before being elected to the Massachusetts Senate where she served from 2007 to 2015. Candaras represented both the First Hampden and Hampshire districts.
During her time in the Senate in 2012, Candaras chaired the Joint Committee on Economic Development and Emerging Technologies, and also served as vice chair of the Joint Committee on the Judiciary.
Prior to her time as a legislator, Candaras was active in the Wilbraham, Mass., town government as a selectman, and a member of the planning board and finance committee. She is an attorney licensed to practice in Massachusetts, New York, New Jersey, and Connecticut.
Candaras is a native of Brooklyn, N.Y., and was raised in Teaneck, N.J. She graduated from Teaneck High School, and attended Fairleigh Dickinson University where she graduated magna cum laude. In 1983, she graduated from Western New England College School of Law with a Juris Doctor. In 2015, Western New England University awarded her a doctor of humane letters when she was their graduate commencement speaker.
Graduate Ceremony, Saturday, May 13, 9:30 a.m., Naismith Green
Carmona was nominated by U.S. President George W. Bush and unanimously confirmed by the United States Senate to become the 17th Surgeon General of the United States in 2002. Carmona was selected because of his extensive experience in public health, clinical sciences, health care management, preparedness, and his commitment to prevention as an effective means to improve public health and reduce health care costs while improving the quality and quantity of life.
In 2006, Carmona successfully completed the statutory four-year term of the U.S. Surgeon General and was named to the position of vice chairman for Canyon Ranch, a leader in the health and wellness field for over 35 years. He also serves as chief executive officer of the company's health division and oversees health strategy and policy for all Canyon Ranch businesses. He is president of the nonprofit Canyon Ranch Institute and the first Distinguished Professor of Public Health at the Mel and Enid Zuckerman College of Public Health at the University of Arizona.
Carmona has also served for more than 30 years with the Pima County Sheriff's Department in Tucson, Ariz., including as deputy sheriff, detective, SWAT team leader, and department surgeon. He is one of the most highly decorated police officers in Arizona, and his numerous awards include the National Top Cop Award, the National SWAT Officer of the Year, and the National Tactical EMS Award. Carmona is a nationally recognized SWAT expert and has published extensively on SWAT training and tactics, forensics, and tactical emergency medical support.
Carmona enlisted in the U.S. Army in 1967. While serving, he earned his General Equivalency Diploma and went on to become a combat-decorated Special Forces Vietnam veteran. After leaving active duty, he attended Bronx Community College of the City University of New York through an open enrollment program for veterans. He received an associate of arts degree. He then attended the University of California, San Francisco, where he received a Bachelor of Science degree in 1977 and a Doctor of Medicine in 1979. At the University of California Medical School, Carmona was awarded the prestigious gold-headed cane as the top graduate.
Humanics Achievement Award
Additionally, Springfield College will recognize two individuals with the Springfield College Humanics Achievement Award. This award recognizes an individual or group who has exhibited courage in the face of adversity, demonstrated leadership in service to others, advanced diversity and inclusion, served as a champion for the oppressed, furthered education in spirit, mind, and body, or contributed significantly to the understanding of the universe.
At graduate exercises on Saturday, the college will honor its own professor of exercise science, Mimi Murray '61, PhD, for her pioneering contributions to the field of sport psychology, and development of the sport and exercise psychology program at Springfield College, as well as for her international and national work in the field of athletics.
At undergraduate exercises on Sunday, Springfield College will recognize Elizabeth A. Davison, of Wilbraham, who worked with Senator Candaras to establish a deaf community home on the campus of Springfield College, a project that Davison co-founded and led, and for which Candaras secured funding.
At its 2017 Commencement exercises, Springfield College will confer approximately 600 Bachelor of Science degrees in the fields of health sciences, human and social services, movement studies and sport management, education, business, and the arts and sciences. Also to be conferred are an approximate total of 500 master, doctoral, and certificates of advanced graduate study from the schools of social work; health sciences and rehabilitation studies; arts, sciences and professional studies; health, physical education, and recreation; and human services.
If you have a disability and require a reasonable accommodation to fully participate in this event, please contact the Office of Communications at (413) 748-3171 to discuss your accessibility needs. Springfield College is a smoke-and-tobacco-free campus.