2019 Spalding Hoophall Classic Information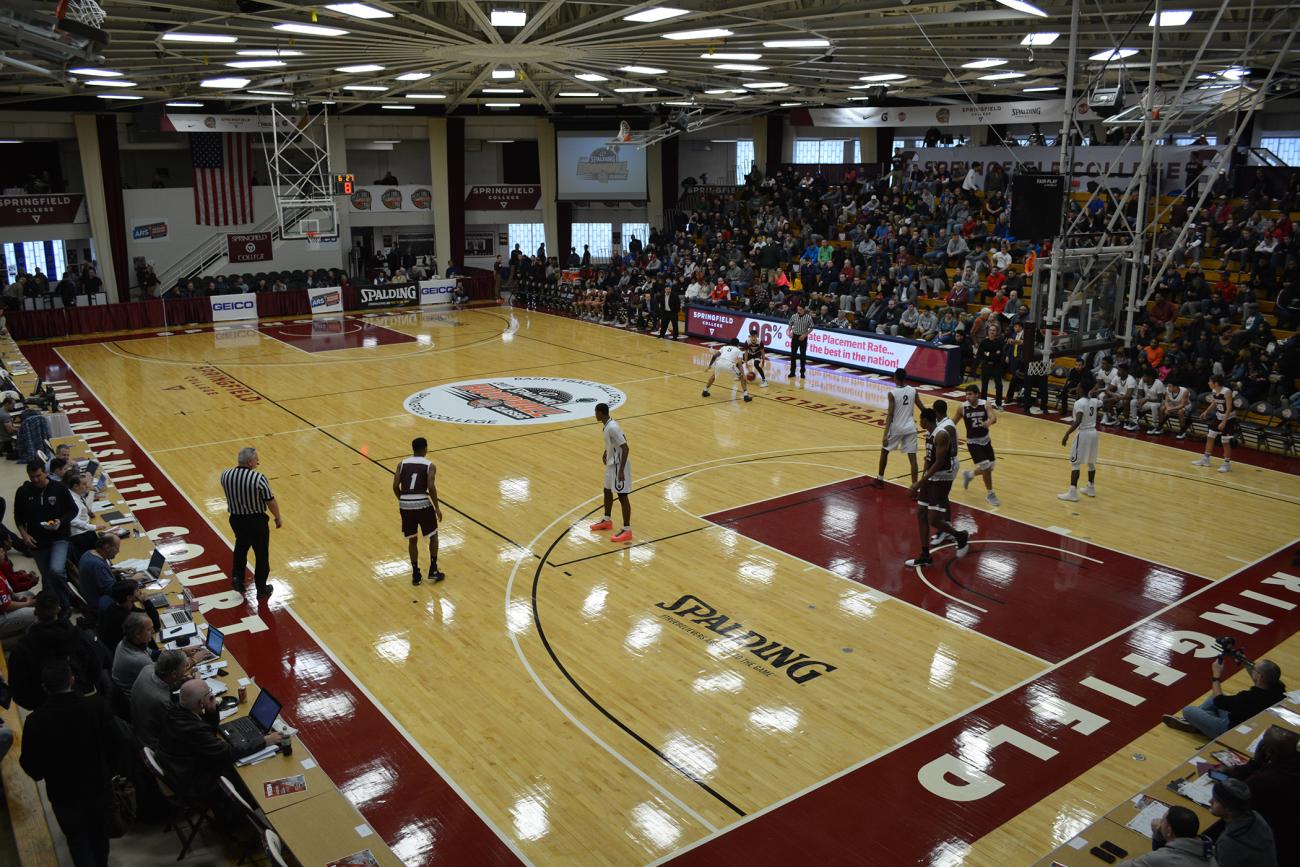 Schedule Update for Sunday, Jan. 20
The 2019 Spalding Hoophall Classic schedule has been updated for Sunday, Jan. 20. The 9:00 a.m. and 10:45 a.m. games are cancelled. Sunday's schedule will begin with the 12:30 p.m. game, with doors opening at Blake Arena at noon. For Junior Hoophall, games begin at noon and will continue until around 6:30 p.m. Doors for Junior Hoophall open at 11:30 a.m.
2019 Spalding Hoophall Classic Updated Ticket Information
There will be very limited availability at the door.  For more information about the tournament or about tickets for the general public, visit hoophall.com.
2019 Spalding Hoophall Classic Parking Information
Springfield College is proud to once again host the Naismith Memorial Basketball Hall of Fame's 2019 Spalding Hoophall Classic. The event will take place in Blake Arena from Thursday, Jan. 17, through Monday, Jan. 21. This annual event celebrates the sport of basketball that was invented at Springfield College by Dr. James Naismith in 1891.
The event serves as a tremendous onsite academic experience for the College's SMRT 116 Event Management classes and provides hands-on leadership/management experience for the members of the College's Sport Management Club. Communications/Sports Journalism students also gain valuable experience covering the event for print media throughout the country.
Important information for staff, faculty, and students:
Please be aware that beginning on Thursday, Jan. 17. Lot 10 (behind the PE Complex) and Lot 7 (Gulick Hall) will be closed through Monday, Jan. 21. Department heads will provide an access list for Lot 10 during the tournament to the Office of Conferences and Special Events and it will be coordinated by the Department of Public Safety. Please go through your department chair or supervisor if you believe you should be included on the parking list.
Shuttle vans will be running the entire weekend of the Hoophall Classic from all other parking lots.
Building Access will be as follows:
Physical Education Complex:
All Springfield College Employees and students who have scheduled activities or offices in the PE Complex will be issued a Building Access credential by the Office of Conferences and Special Events. They will work with Department Chairs for the list of names and details regarding distribution.  This credential is not transferable and does not provide access to the games in Blake Arena.
Turnstile entrance - Access through this entrance will stop at 2 p.m. on Thursday and 3 p.m. on Friday. There is NO Access on Saturday, Sunday and Monday.
Back Door of Dana Gym - Credentials are required for access. Hoophall Classic Teams, Hoophall Classic Officials, Springfield College Students/personnel working the event with their Hoophall Classic Event Staff Credentials, and guest credential pass holders that are on the parking lot #10 parking list.  Every person is required to pass through the metal detectors and bag check stations.
Blake Arena stairs – Hoophall Classic Ticket holders, will call, and ticket sales. Every person is required to pass through the metal detectors and bag check stations.
Wellness Center:
Beginning Thursday and Friday at 3 p.m., all faculty, coaches, and teams with scheduled activities in the Physical Education Complex, ATRN, Strength & Conditioning, Field House, Wellness Center and HPER Offices are to enter through the Wellness Center and must have and use their Springfield College ID to enter through the turnstiles.
All participants and spectators in the Junior Hoophall Classic Saturday and Sunday must pass through the metal detectors and bag checks at the main entrance to the Wellness Center to gain access to the Field House.
The tournament continues to be one of the premier high school basketball events nationwide. We will welcome more than 50 teams and more than 8,000 visitors to campus throughout the weekend. The College enters the national stage again this year as many of the games will be televised on ESPN, ESPN+, and ESPNU.
The nation's premier basketball event will once again showcase the country's top high school basketball teams. This year's elite matchups include Oak Hill Academy (Va.) vs. IMG Academy (Fla.), The Ranney School (N.J.) vs. McEachern High School (Ga.), and University School (Fla.) vs. Federal Way High School (Wash.). Other exciting matchups will feature Montverde Academy (Fla.) vs. Sierra Canyon (Calif.) and LaLumiere School (Ind.) vs. Rancho Christian School (Calif.).
Girls' basketball takes center court all day Friday with four games scheduled. Highlights include recent Division I state champion Springfield Central High School taking on Ossining High School, NY at 9 p.m.