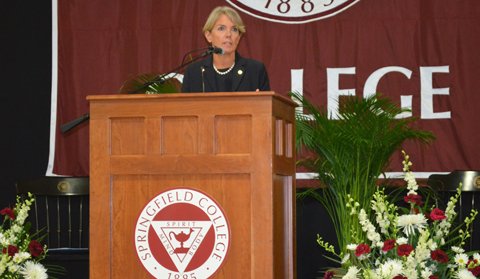 Members of the Springfield College faculty and staff participated in the annual All College Meeting Thursday, Aug. 29 in Dana Gymnasium.  The gathering officially welcomed back the campus community for the new academic year.
This year's meeting began with Springfield College Trustee and Chair of the Presidential Search Committee John Odierna introducing the new president of the College, Mary-Beth Cooper. 
"From the bottom of my heart, I am thrilled to be here at Springfield College," said Cooper.  "I want to say thank you to everyone at today's meeting for all you do for this special place, Springfield College."
Following her welcoming remarks, Cooper introduced Springfield College President Emeritus Richard B. Flynn, who presented the R. William Cheney Award to Tamie Kidess Lucey '81 G'82, director of alumni relations.  The Cheney Award is given out annually to a staff member in recognition of their devotion to the Springfield College community and their commitment to the Humanics philosophy.  
Concluding the festivities was the introduction of new employees, as well as the recognition of individuals on campus who have reached employee anniversaries.
The following list below highlights the individuals recognized at this year's All College Meeting for employment anniversaries:
Five Years
Judith Beturne
Cindy Boochoon
John Borland
Linda Calkins
Rosa Davila
Ghislain Dube
Justine Dymond
Ana Ferreira
Nicole Gauthier
Chris Hinely
Michael Majka
Evelyn Markham
James McCarthy
Jeffrey Monseau
Ann Moore
Pernese Morris
Thomas Rattelsdorfer
Carla Ryan
Carine Seeve
William Sicard
Deborah Snyder
John Steiner
Jennifer Stratton
Benita Williams
Isaac Williams
Ruthie Williams
10 Years
Brian Abad
Denise Acevedo
Michael Ahearn
Donald Boivin
Maureen Burke
Nathaniel Clark
Jo-Anne Dominik
Ana Guilhermino
Damon Jacques
Rebecca Lartigue
Stephanie Mahoney
Patricia McDiarmid
Diana Rand
Laraine Robison
Lillian Rodriguez
Thoywell Simms
Elsie Smalls
Michael Stevens
David Yeadon
15 Years
Michael Accordino
Charles Brock
Donna Cameron
Deborah Cook
Robert Cooley
Stephen Coulon
Michael Craddock
JoAnn Hayes
Hai Kinal
Leslie LaBranche
Kathryn Larue
Andrew Lucia
Dean Mackie
Marjorie Marcotte
Yuriy Mardanyan
Claire Mickiewicz
Robert Raum
Gordon Robinson
Mary Scibelli
Charles Sullivan
Brian Thompson
Richard Veres
Matthew Wayland
Wende Wheeler
Donna Wisniowski
20 Years
Mulugeta Agonafer
Laurel Davis-Delano
Linda Davis-Delano
Deborah Dickens
Fernando Gonzalez
John Hangasky
Samuel Headley
Donna Slezak
Joseph Wronka
25 Years
David Cupillo
Gayle Farrell
Jose Gomez
James Hollis
Robert Hopkins
Diana LaZazzera
Laura Maggio
Carl Masloski
Donald Mercure
Joel Parrish
30 Years
Linda Dubois
John Holik
Stephen Posner
Julianne Smist
Rosemary Stocks
Kenneth Wall
Sarah Wheeler
35 Years
Cynthia Herlihy
40 Years
James Dumbrowski
Jonathan Kahane
45 Years
Mildred Murray
Thomas Ruscio