Important Announcement: January 2021 Campus Opening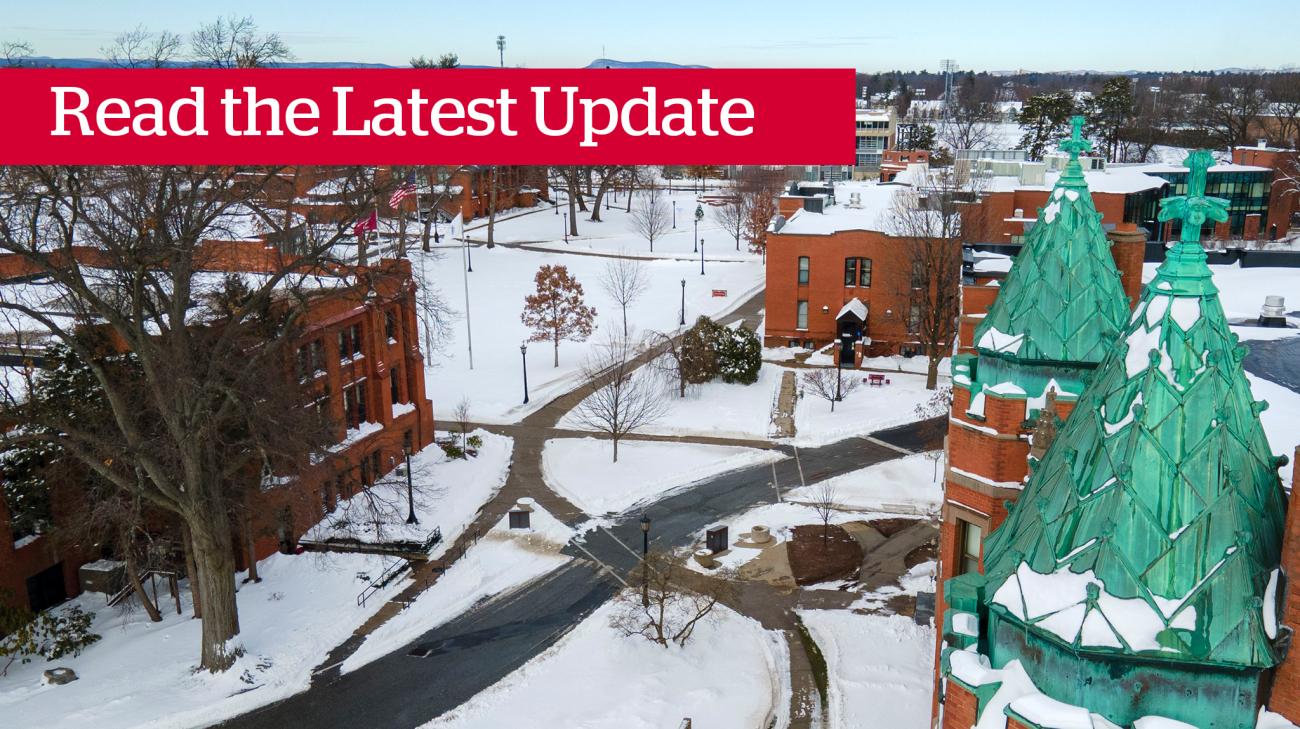 We continue to monitor the dynamic status of the COVID-19 virus, particularly in the Commonwealth of Massachusetts. Given the increase in the number of positive cases in the region and the concerns over the new variant of the virus coming to our state, several important modifications have been made regarding the opening of our spring 2021 semester. 
Open Forum Video - Understanding that this is a fluid situation and that our students will have questions, an open forum session for students and families was scheduled on Friday, January 15. Archived Video of Friday's Open Forum... Vice President for Student Affairs Patrick Love, and Senior Associate Vice President for Academic Affairs Mary Ann Coughlin joined me to discuss our updated spring preparation and arrival plans.
The spring semester will begin January 25 as planned, however adjustments to course delivery and campus occupancy are necessary to ensure the safety of our community. A key component of managing the pandemic that has been consistent since last March has been de-densifying our campus, including classrooms and residence halls. To do that in the start of the spring semester, the following modifications have been made to our plans for returning to campus. 
Return of Some Students to Campus as Planned Beginning January 21, 2021: Approximately 60% of the student population will return to campus, prioritizing those who live in apartment-style housing (Living Center, Senior Suites, and Townhouses), winter and spring student-athletes, upper division students enrolled in select academic programs, international students and others who live at a great distance from the College, and essential student employees (including RAs). Students who are included in these groups will be notified today, January 15. All other students can expect to move in between Friday afternoon, February 5, and Sunday, February 7, 2021. Information to schedule your return will be forthcoming.

Course Delivery: The period of remote learning for all students has been extended to two weeks. The semester will begin Monday, January 25, as originally planned, and remote learning will begin for TWO weeks through Friday, February 5. In person classes will begin on February 8, 2021. Students must have a negative pre-arrival COVID-19 test and a negative arrival COVID-19 test before they can attend classes in-person. 
A set of Frequently Asked Questions will be maintained on our COVID-19 Information Page (https://springfield.edu/covid/faq). In addition, staff from the Business Office, Financial Aid, Residence Life, Health Center, Student Activities, and Student Affairs will be accessible by phone and email over the weekend. The phone number for each office is below:
We remain excited for students to return to campus and appreciate all that you are doing to prepare for their arrival and for a successful spring semester.
Sincerely,
Mary-Beth Cooper, PhD, DM Springfield College President