Inaugural League of Women Voters Springfield Civics Fest Set for October 25 at Springfield College
Springfield City Councilor Marcus Williams and WWLP's Danny New will emcee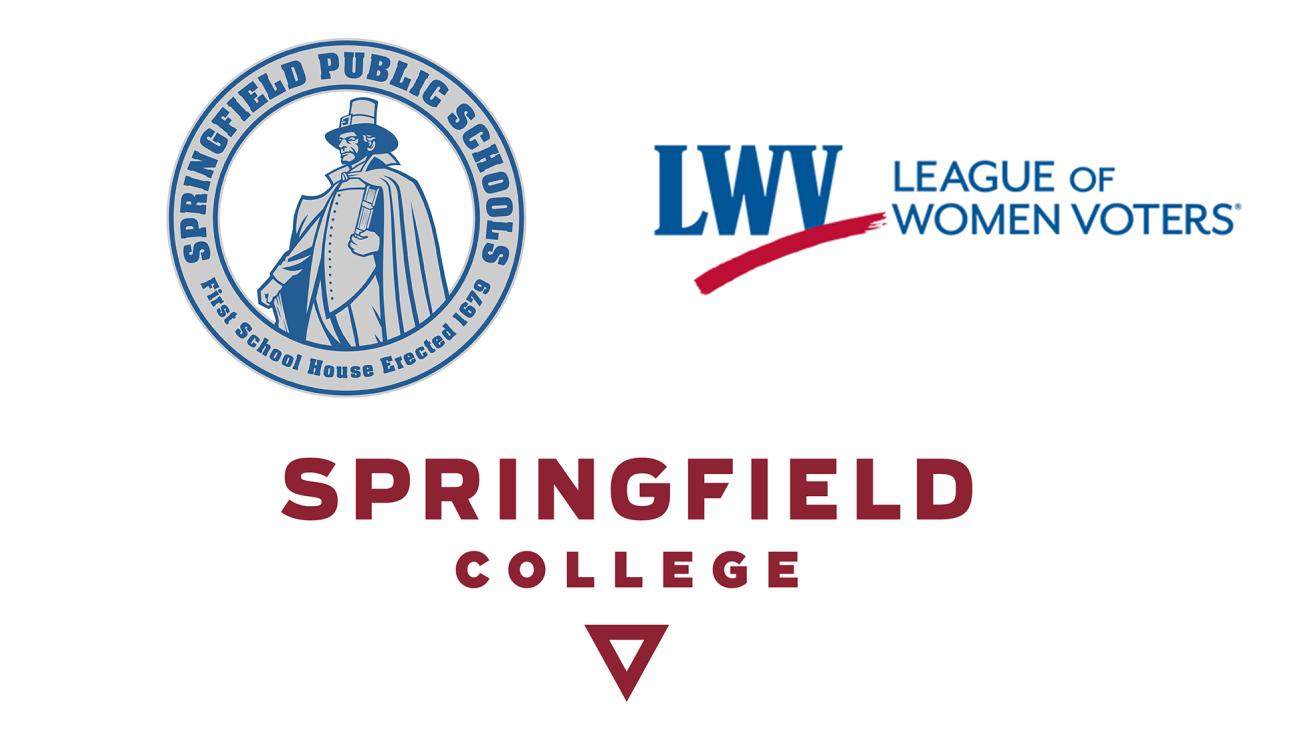 The League of Women Voters/Springfield will host the inaugural Springfield Civics Fest on Thursday, Oct. 25, starting at 6 p.m., in the Flynn Campus Union at Springfield College. The event is co-sponsored by Springfield College and the Springfield Public Schools. The general public is enthusiastically invited to attend to support the students and to participate in a community trivia competition. There will be visitor parking in Lot #4 off Wilbraham Ave.
Civics Fest will include the following:
Civics Bee, a signature LWV event:
In the first part of the event, 90 Springfield high school students will compete for prizes in teams in a lively civics bee, like a spelling bee but focused on civics topics. Springfield City Councilor Marcus Williams will serve as quizmaster.
Current Events Trivia:
The second part of the evening will feature a civics-oriented current events trivia contest with audience members as contestants. In the mode of National Public Radio's popular "Wait, Wait, Don't Tell Me," the competition will feature Danny New, co-host of WWLP's "Mass Appeal," as quizmaster and clever panelists from the Valley Improv having fun with the questions. Trophies and prizes from local businesses will be awarded to add to the fun of making democracy work.
"Engaging the city of Springfield students and adults who support them, in an entertaining evening focused on civic topics is what Civics Fest is all about," said Camille Elliott, chair of the League's Voter Service Committee and associate director of student services at Springfield College's School of Professional and Continuing Studies.
Civics Fest showcases the initiative that the League of Women Voters/Springfield, Springfield College, and Springfield Public Schools are taking to engage high school students, college students and the community in fostering civic knowledge and celebrating democracy in order to build community, to increase informed voter participation, and to promote critical thinking about government as a tool for change.
"Civic deserts, places where people have few opportunities to participate in civic life, are becoming increasingly common across the nation," said League of Women Voters/Springfield Convener Linda Matys O'Connell. "The League of Women Voters/Springfield is working to ensure that our community, especially the next generation of citizens, has the knowledge and tools to participate, to lead, and to elect leaders who are responsive and accountable. Celebrating civic life with the Civics Fest is part of that work."
Springfield Public Schools Director of Social Studies Susan Majka has collaborated on event planning and coordinated student teams. Contributing questions for the student civic bees are: Springfield College Department of Social Sciences Chair Francesca Spina and Associate Professor Susan Joel; Springfield City Councilors Michael Fenton, Justin Hurst and Jesse Lederman; and Springfield School Committee member Denise Hurst. The Springfield College Center for Leadership and Civic Engagement is providing student mentors.
"The League celebrates the Springfield Public Schools and Springfield College for sharing our vision and partnering with us for Civics Fest," said O'Connell. "We honor the Springfield Public Schools for its commitment to encouraging the city's students to be engaged in civic life. We are grateful to Springfield College for engaging its faculty, staff, and students, and welcoming us to its wonderful campus center to ensure the impact of this event."
Superintendent of Schools Daniel Warwick said Springfield College and the League of Women Voters exemplify the meaning of community partners in education.
"We are grateful to Springfield College and to the League of Women Voters for providing the opportunity for our students to extend their learning beyond the classroom," said Warwick. "An experience such as this, paired with the opportunity for our students to network with Springfield College and League of Women Voters representatives, will bring civics lessons to life in a way that could never be achieved in a classroom setting. This event is sure to inspire and make a great impression upon our students in countless ways."
The League of Women Voters is a non-partisan organization founded in 1920 when women won the right to vote. The League encourages informed and active participation in government, works to increase understanding of public policy issues, and influences public policy through education and advocacy. It does not endorse parties or candidates.