School of Professional and Continuing Studies Graduate Making Positive Strides in the Field of Addiction.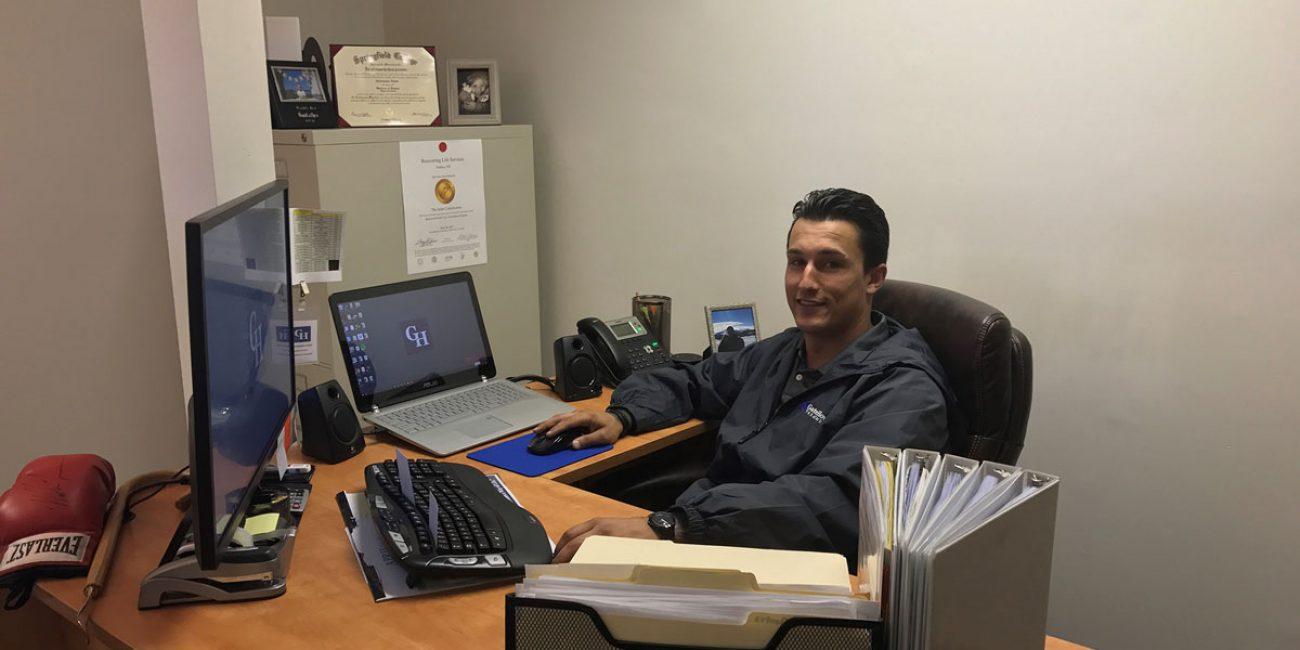 By: Michael Conway 
The Massachusetts Department of Public Health tallied nearly 2,000 opioid-related overdose deaths last year, a 42 percent increase over 2015.
Essex County alone totaled 284 last year, a dramatic increase from 51 reported in 2000.
As Gov. Charlie Baker, various agencies, and well-meaning others seek to combat what's called the opioid crisis, and news reports paint the War on Drugs as an overall loss, desperate addicts scramble to seek refuge from addiction's deadly ways.
Ask any Saugus teenager if they've lost a friend or acquaintance to drugs and you'll hear a resounding yes. Last year, the once quiet town reported 13 opioid-related deaths, more than double its rate of the previous year.
"Dealers target the more affluent kids," said Jan D., a substance abuse specialist at a local rehab facility. She further warned, "Now, Fentanyl is the big thing. Kids are waking up from overdoses not knowing it was cut into their drugs."
Woefully battling incalculable recidivism rates, and the State's inability to treat them, still some addicts do claw their way out. This is one man's story.
Chris Foster grew up in Saugus where he began using drugs in middle school. Until he got clean in 2011, he lived nearly a decade in a gamut of harrowing despair often seen by the addict. During many failed recovery attempts, drug-involved crimes, and jail time, he hurt himself and others, burned bridges throughout the Northeast like a great funeral pyre.
While riddled by memories of an alcoholic father being arrested, and a hardworking mother who cried over past due bills, Foster's behavior led to an intervention by the Department of Social Services.
In eighth grade, he was expelled for selling marijuana, and later entered the Lynn Juvenile Court system. At 14, after multiple offenses, he was placed on Child in Need of Services.
"I earned a reputation for being a troublemaker, bully, and drug addict," Foster said.
At 15, he began abusing Valium.
When his mother remarried and moved the family to Reading, Foster hung with drug dealers and gangs. After racking up additional offenses, the courts offered him a choice. He chose rehab over jail, but was discharged within a few months for fighting.
At 16, he began using OxyContin, an expensive drug.
In 2006, Foster faced a long-term sentence in prison after fighting at a house party. Charges were filed down, and most were dismissed. When probation ended on his 18th birthday, "the party began."
Over the next four years, shooting heroin and cocaine, detoxes and rehabs filled his calendar, and his mother received innumerable calls from hospitals and jails.
Foster moved to Lynn and sold drugs.
"I had a diverse clientele," he said. "Accountants and teachers do cocaine, police officers do OxyContin … and a lot of nurses use prescription pills."
In 2008, the Lynn Drug Unit raided his apartment on Chatham Street and seized marijuana, prescription drugs, and ammunition. He used drugs while awaiting trial, but later got clean when incarcerated.
"I was sure I was not going to use drugs," he said. Upon release, he was high on cocaine and shooting heroin by the following morning.
In 2009, due to bacterial infection in his heart from IV drug use, he was found unresponsive at a state detox center.
"My family was done," he said.
But as a freshman at Newbury College, Foster sold his prescribed Xanax pills to buy heroin, and traveled each day from Boston to Lynn to get his fix.
At the end of the school year, he entered detox and continued treatment in Florida. He met a girl, and others seeking treatment.
"It was the blind leading the blind," he said.
Again relapsing, he became homeless, experienced drug-induced comas, and was arrested several times within 18 months.
"I was doing some of the most shameful things to get my drugs," he said. He went to sleep each night hoping not to wake up.
More warrants eventually served, Foster stood before a judge in the Sunshine State who offered 'the deal of a lifetime.'" Choosing another 90-day rehab over five years in prison, and once again attempting recovery, Foster last drank and drugged before entering a rehab facility in Florida, Sept. 16, 2011.
Today, Foster's making positive strides in the field of addiction. As executive director of GateHouse Treatment in Nashua, N.H., he's a recovery resource for people around the country.
He's also forming a non-profit organization named Project Released, to provide resources for imprisoned and/or released addicts, educate schools on addiction, and meet at-risk students. His "master plan" is to start locally along the North Shore.
Offering hope to those still suffering the unforgiving throes of addiction, "There is a way out," Foster said.
Today, meticulously groomed, well-spoken, and working toward an MBA in Healthcare Administration, one wouldn't initially take this 28-year-old for an addict. But inside he fortunately still remembers.
"I had the gift of desperation," Foster said. "God gave me a life, and Fellowship (Alcoholics Anonymous) gave me the ability to show up."
The former Saugus resident graduated magna cum laude from Springfield College on Mother's Day and she no longer receives late night calls regarding her son.
Foster and GateHouse Treatment can be reached at 1-855-448-3725.