Springfield College 2018 Commencement Speakers Announced
Journalist, Author Anna Quindlen to Deliver Springfield College Commencement Address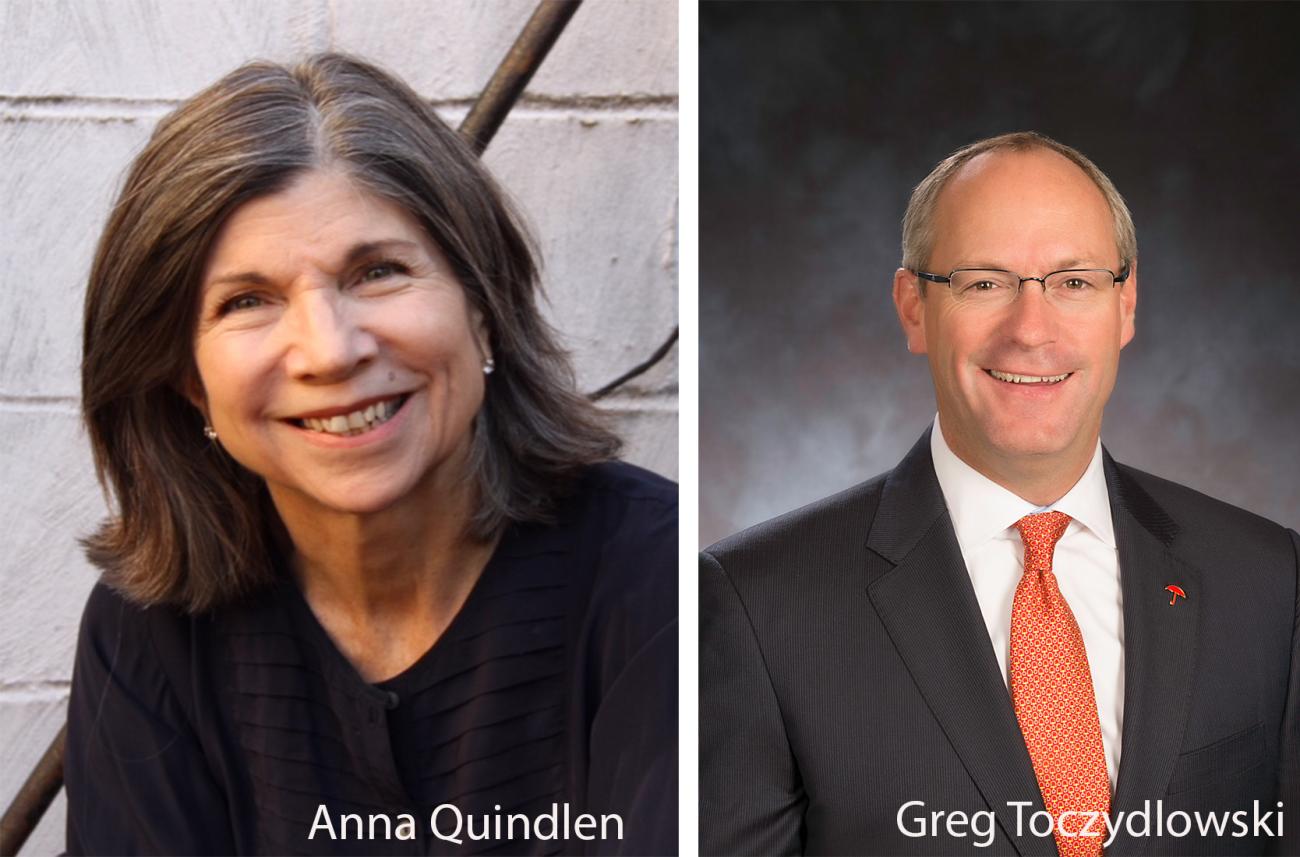 Pulitzer Prize-winning journalist and bestselling author Anna Quindlen will deliver the commencement address at the 132nd Springfield College undergraduate commencement exercises on Sunday, May 13 at 9:30 a.m., at the MassMutual Center in Springfield, Mass.
Philanthropist and business executive Greg Toczydlowski will speak at the Springfield College graduate commencement ceremony on Saturday, May 12, at 9:30 a.m., on the College's main campus.
At the undergraduate ceremony May 13, Springfield College will honor Luke Bradley and his family of South Hadley, Mass., as the recipients of the 2018 Springfield College Humanics Achievement Award.
Over the weekend, Springfield College will confer approximately 600 Bachelor of Science degrees in the fields of health sciences, human and social services, movement studies and sport management, education, business, and the arts and sciences. Also to be conferred are an approximate total of 500 master, doctoral, and certificates of advanced graduate study from the schools of social work; health sciences and rehabilitation studies; arts, sciences and professional studies; health, physical education, and recreation; and human services.
The ceremonies are open to the public. If you have a disability and require a reasonable accommodation to fully participate in this event, please contact the Office of Communications at (413) 748-3171 to discuss your accessibility needs. Springfield College is a smoke-and-tobacco-free campus.
Undergraduate Ceremony, Sunday, May 13, 9:30 a.m., MassMutual Center
Anna Quindlen
Anna Quindlen balances the political with the personal and has been followed by millions of readers for her astute perspectives on today's issues, from family, work, and education to health care, philanthropy, and social justice.
"We are honored to welcome Anna Quindlen to Springfield as our 2018 undergraduate commencement speaker," said Dr. Mary-Beth Cooper, Springfield College president. "Her life's work not only serves as a shining example of the possibilities for our graduates who seek to build a socially and economically resilient society, it also aligns with our Springfield College mission of leadership in service to others."
Twelve of Quindlen's books, including seven of her novels, have appeared on The New York Times Best Sellers list. Her latest novel, Alternate Side, was released in March. It is a provocative look at what it means to be a mother, a wife, and a woman at a moment of reckoning.
Quindlen serves on the Board of the Planned Parenthood Federation of America, and is an American Academy of Arts and Sciences Fellow. The Child Welfare League of America established "The Anna Quindlen Award for Excellence in Journalism on Behalf of Children and Families."
Humanics Achievement Award
The connection between the Bradley family and Springfield College was established five years ago with the help of Team IMPACT, a non-profit organization focused on improving the quality of life for children facing life-threatening illnesses. Luke, now 13, was drafted by the Springfield College football team as an honorary team member through the Team IMPACT partnership. He has been battling acute lymphoblastic leukemia since 2011. Since that time, Luke and his family have become an important part of the Springfield College campus community attending countless games and practices, enjoying dinners with the football team players and coaches, attending Springfield College Athletics banquets, and leading community fundraisers.
The Springfield College Humanics Achievement Award recognizes an individual or group who has exhibited courage in the face of adversity, demonstrated leadership in service to others, advanced diversity and inclusion, served as a champion for the oppressed, furthered education in spirit, mind and body, or contributed significantly to the understanding of the universe.
Graduate Ceremony, Saturday, May 12, 9:30 a.m., Naismith Green
Greg Toczydlowski
Greg Toczydlowski is President of Business Insurance. He is a member of the company's Operating Committee and Management Committee. Since joining Travelers in 1990, he has had diverse management assignments, including leading operations across captive, direct, and independent agent distribution outlets. Previously, Toczydlowski was President of Small Commercial Business Insurance.
"As an alumnus and now trustee of the College, Greg is the perfect speaker for the College during these exciting times that are upon us," said Cooper. "His multifaceted roles as a business executive, philanthropist, proud father of two college students, and a weekend farmer make him a natural choice to speak to our graduate students on this special day."
Toczydlowski is the current chair of the Springfield College Board of Trustees, serving as a trustee since 2011. He has a bachelor's degree from Springfield College and a master's degree in Business Administration from the University of Hartford.
He is a member of the Board of Directors for the United Way of Central and Northeastern Connecticut. He and his wife, Mary-Jo, have twin sons and live on a farm in Granby, Connecticut.