Springfield College and Baystate Rehabilitation Care Host Joint Speaker Series
Springfield College President Mary-Beth Cooper proclaims October as Exercise is Medicine on Campus month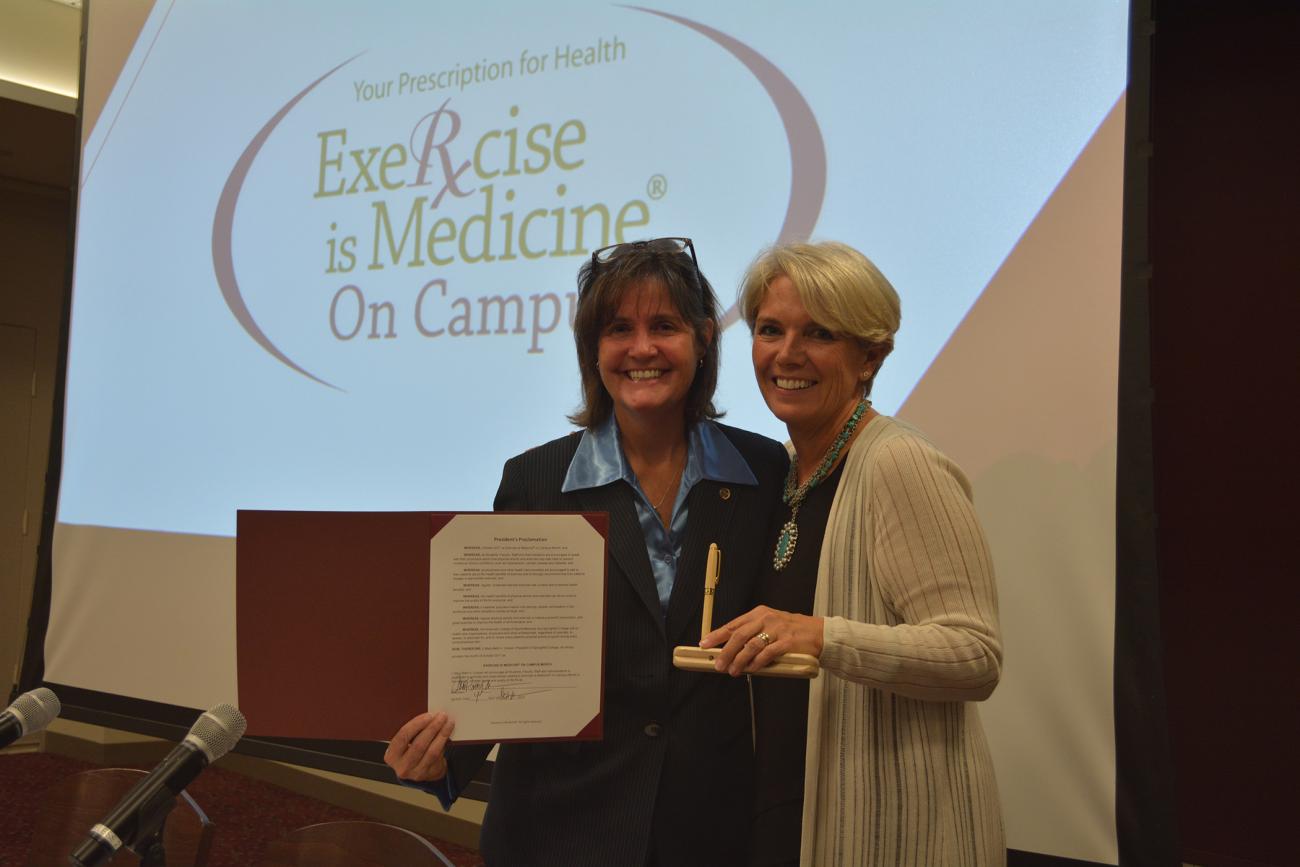 Springfield College and Baystate Rehabilitation Care hosted the third annual Joint Speaker Series on Wednesday, Oct. 4, in the Cleveland E. and Phyllis B. Dodge Room inside the Flynn Campus Union. The event focused on how exercise is medicine, and the symposium led attendees through the importance of fitting exercise into a person's daily routine.
As part of the Joint Speaker Series, Springfield College President Mary-Beth Cooper proclaimed October, as Exercise is Medicine on Campus month with a special proclamation ceremony.
Led by Springfield College Department of Exercise Science and Sport Studies Chair Dr. Sue Guyer, a panel of experts shared ways in which individuals can start, and keep, exercise in their daily life and prevent injuries. Guyer also is serving as the 2017-18 Springfield College Distinguished Professor of Humanics, and this was the first event highlighting her focus for the academic year.
"As part of the Humanics project, Springfield College is now a registered 'Exercise is Medicine on Campus' institution," said Guyer. "The mission of this is to foster collaborative relationships and leadership on campus between exercise, health and other disciplines. The vision is to see all campus and community members across multiple disciplines discover, share, and adopt the principles of EIM-OC that will change the culture of chronic disease prevention and management."
Joining Guyer on the panel of exercise is medicine experts, were Dr. Julio A. Martinez-Silvestrini, medical director of Baystate Rehabilitation Care. Springfield College Assistant Professor of Exercise Science and Sport Studies Maura Bergan, and Assistant Professor of Psychology Christine May also will be part of the symposium.