Springfield College Announces 2014 Commencement Speaker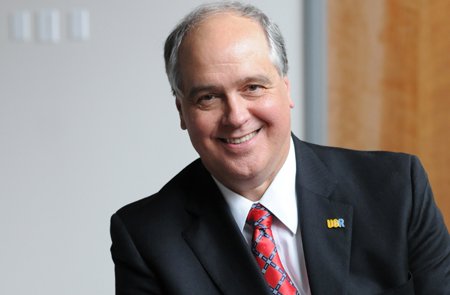 A leader in the field of medicine, Dr. G. Richard Olds, will deliver the commencement addresses at the Springfield College 2014 Commencement ceremonies. The undergraduate ceremony will take place on Sunday, May 18, at 9:30 a.m., at the MassMutual Center in downtown Springfield, and the graduate commencement ceremony on Saturday, May 17, at 9:30 a.m., inside Blake Arena on the main campus. Olds is the son of the eighth president of Springfield College, Glenn A. Olds.
G. Richard Olds' speech is part of the 50th anniversary celebration of Martin Luther King Jr.'s commencement speech at Springfield College in 1964. The College has recognized this historic moment with a series of special events honoring Glenn A. Olds and King during the 2013-2014 academic year.
Spending his childhood, from ages 7 to 15, living in the Springfield College president's home, Richard Olds was 14 when he witnessed one of the most significant chapters in Springfield College history when his father withstood harsh criticism to bring King to campus to deliver the 1964 commencement address.
Richard Olds currently is the vice chancellor and founding dean of the School of Medicine at the University of California, Riverside, the first new medical school in California in almost 50 years. Prior to his current position, Olds served as the founding director of the Brown University International Health Institute, worked as chairman of medicine at the MetroHealth Campus of Case Western Reserve University, and was chairman of medicine at the Medical College of Wisconsin.
Springfield College will present an honorary doctor of humanics degree to Richard Olds as part of the ceremonies. The College has historically awarded honorary degrees to a few outstanding individuals who, by their character and accomplishments, personify the Springfield College guiding philosophy, Humanics. Humanics emphasizes educating the whole person, in spirit, mind and body for leadership in service to others.
At its 2014 commencement, Springfield College will award bachelor's, master's, and doctoral degrees, and certificates of advanced graduate study.
Founded in 1885, Springfield College is known worldwide for the guiding principles of its humanics philosophy—educating students in spirit, mind and body for leadership in service to others. With its foundation of academic excellence and rich athletic heritage, Springfield College prepares students with real-world leadership skills for careers that transform lives and communities. The college offers a range of undergraduate and graduate degree programs in the fields of health sciences, human and social services, sport management and movement studies, education, business, and the arts and sciences. It also offers doctoral programs in physical education, physical therapy, and counseling psychology. The college is ranked in the 2014 edition of "Best Colleges" in the top tier of "Best Regional Universities – North Region" by U.S.News Media Group, and is designated as a premier Leadership Development Center by the YMCA of the USA. More than 5,000 traditional, nontraditional and international students study at its main campus in Springfield, Mass., and at its School of Human Services campuses across the country.