Springfield College Graduate Corinna Kraemer Honored by NECPA and NASPA-CT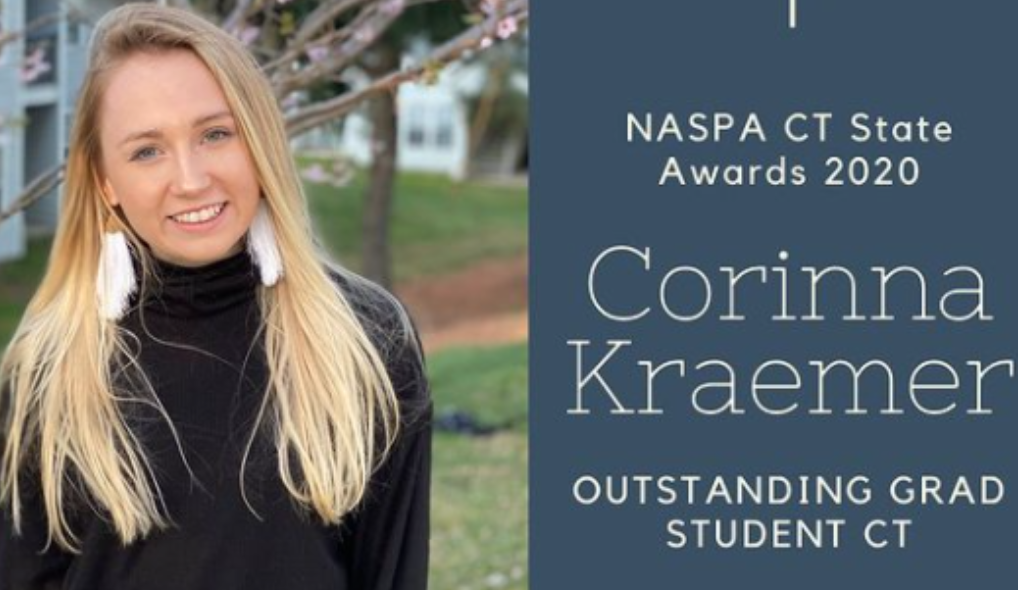 Springfield College graduate student Corinna Kraemer has been named both the New England College Personnel Association (NECPA) Graduate Student of the Year for 2020, and she also was named the National Association for Student Affairs Administrators in Higher Education (NASPA-CT) Graduate Student of the Year Award Winner. Kraemer is a recent alumnae of the Springfield College Student Affairs Administration Program, and she currently serves as an academic advisor at Goodwin University in Connecticut.
"When Corinna arrived to start her master's program at Springfield College, the program was in a state of transition, and I had just started as director," said Springfield College Vice President for Student Affairs and Student Affairs Administration Program Director Patrick Love. "I invited students to help me rebuild the program and Corinna jumped right in. She excelled in the classroom, and excelled in a variety of practical experiences. She contributed to the development of the program, and contributed beyond the campus."
In Kraemer's current position at Goodwin University, she strives to make a positive impact on the lives of students through having developmental conversations, and she works to incorporate goal setting to ensure students are on the right track for success in their educational careers.
"For the longest time I was not sure whether I wanted to work in secondary or higher education," said Kraemer. "When I stepped foot in Dr. Patrick Love's classroom and he described with so much passion about his career in higher ed. I knew I was hooked – that this field would allow me to make a difference in the lives of so many students."
The NECPA Graduate Student of The Year award recognizes a masters or doctoral student who has demonstrated commitment to the field of higher education through noticeable contributions and innovation in their work in their graduate programs, assistantships, internships, professional positions, and/or professional organizations.
"Corinna is exceptionally hard-working, able to work independently, takes initiative, and has contributed to enhanced outcomes in each of the jobs she has been a part of," added Love. "I think she is incredibly deserving of the Graduate Student of the Year Award."
The state award recognizes achievement, involvement, and potential for leadership in the NASPA emerging student affairs professionals group. Nominees for this award are students pursuing a masters or doctoral degree related to student affairs with the intent of pursuing a career in the field. The regional winners of this category are forwarded to the NASPA national office for consideration for recognition at the national level.
"To new professionals, don't be afraid to try anything that interests you," concluded Kraemer. "Saying yes to committees, volunteer opportunities, and networking can help you build a strong foundation for a great career."