Springfield College Holds 129th Undergraduate Commencement Ceremony
Springfield College hosted its 129th undergraduate commencement ceremony on Sunday, May 17, at the MassMutual Center in Springfield. Andrew Seligsohn, president of a national organization dedicated to increasing campus-based civic engagement, delivered the commencement address to graduating students. 
"President Cooper, members of the Board of Trustees, faculty, staff and administrators, distinguished guests, alumni, family members and friends of the graduates, I thank you for the honor and for the opportunity to be with you today," said Seligsohn. "To the members of the Springfield College Class of 2015, I thank you for sharing this day with me, and I congratulate you on your accomplishments. Getting yourself educated is the single best thing you can do for yourself, your family, and your community, and you have put in the hard work to do it. You should feel great."
Seligsohn has dedicated much of his professional career to the promotion of public and community service assisting more than 1,100 national and international member institutions, including Springfield College, in maintaining strong community engagement with their surrounding community. Seligsohn referenced the College's strong commitment to community service, including Springfield College students contributing more than 120,000 hours of volunteer work last year.
"The good news is that many of us find great satisfaction in serving our community," said Seligsohn. "We connect with others who, like we do, care about living in communities where everyone can thrive. We find that we often have much in common even with people whose views about how to get there are very different from our own. It's so satisfying, in fact, that some of us allow it to seep into our professional lives. That's what happened to me, and it's why I have chosen to spend my time building partnerships between campuses and communities to achieve public goods in areas such as education, health, and community development."
Seligsohn went on to add, "In our identities as members of a community, we are all equal members. So if we are to act as members of a community, we need to find a way of doing so that doesn't reinforce relationships of inequality, but discovers and celebrates the possibilities for equality."
Joining Seligsohn on stage was Mary Walachy, Executive Director of the Irene E. and George A. Davis Foundation,who accepted the Springfield College Humanics Achievement Award for her volunteer and community board work on behalf of children, youth, and families, as well as her professional focus on education, literacy, diversity, and nonprofit capacity building. The Springfield College Humanics Achievement Award recognizes an individual or group who has exhibited courage in the face of adversity, demonstrated leadership in service to others, advanced diversity and inclusion, served as a champion for the oppressed, furthered education in spirit, mind, and body, or contributed significantly to the understanding of the universe.
Convening the ceremony was the chair of the Springfield College Board of Trustees Doug Coupe, who introduced the 13th president of Springfield College, Mary-Beth Cooper.
"To the Class of 2015, I say congratulations and thank you," said Cooper. "You have made us proud in more ways than we can count. Please remember to stay connected to us and to each other. Through the Springfield College network, great things can be accomplished. All the best as you continue your journeys."
Springfield College School of Health Sciences and Rehabilitation Studies student, Chantalle Abdelkerim, was the student speaker at the undergraduate ceremony.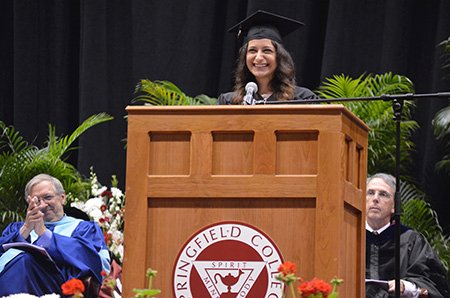 "Coming to Springfield, we all had something different in mind: Thinking of what we want out of life to feel fulfilled and accomplished as individuals," said Abdelkerim. "We are here. We are in the now. Let's enjoy it. We've actively participated in school and community events, enjoyed and immersed ourselves in our education, and ultimately pushed ourselves in new ways to grow as people and leaders in this community. We have flourished and matured together." 
On Saturday, May 16, the College held its graduate commencement ceremony where 621 master's degrees, nine certificates of advanced graduate study, 16 doctor of philosophy degrees, and 27 doctoral of physical therapy degrees were awarded. At the undergraduate commencement on Sunday, 973 bachelor's degrees were awarded for a two-day total of 1646 degrees.
Founded in 1885, Springfield College is known worldwide for the guiding principles of its humanics philosophy—educating students in spirit, mind and body for leadership in service to others. With its foundation of academic excellence and rich athletic heritage, Springfield College prepares students with real-world leadership skills for careers that transform lives and communities. The college offers a range of undergraduate and graduate degree programs in the fields of health sciences, human and social services, sport management and movement studies, education, business, and the arts and sciences. It also offers doctoral programs in physical education, physical therapy, and counseling psychology. The college is ranked in the 2015 edition of "Best Colleges" in the top tier of "Best Regional Universities – North Region" by U.S.News and World Report, and is designated as a premier Leadership Development Center by the YMCA of the USA. More than 5,000 traditional, nontraditional and international students study at its main campus in Springfield, Mass., and at its School of Human Services campuses across the country.