Springfield College Holds 132nd Undergraduate Commencement Ceremony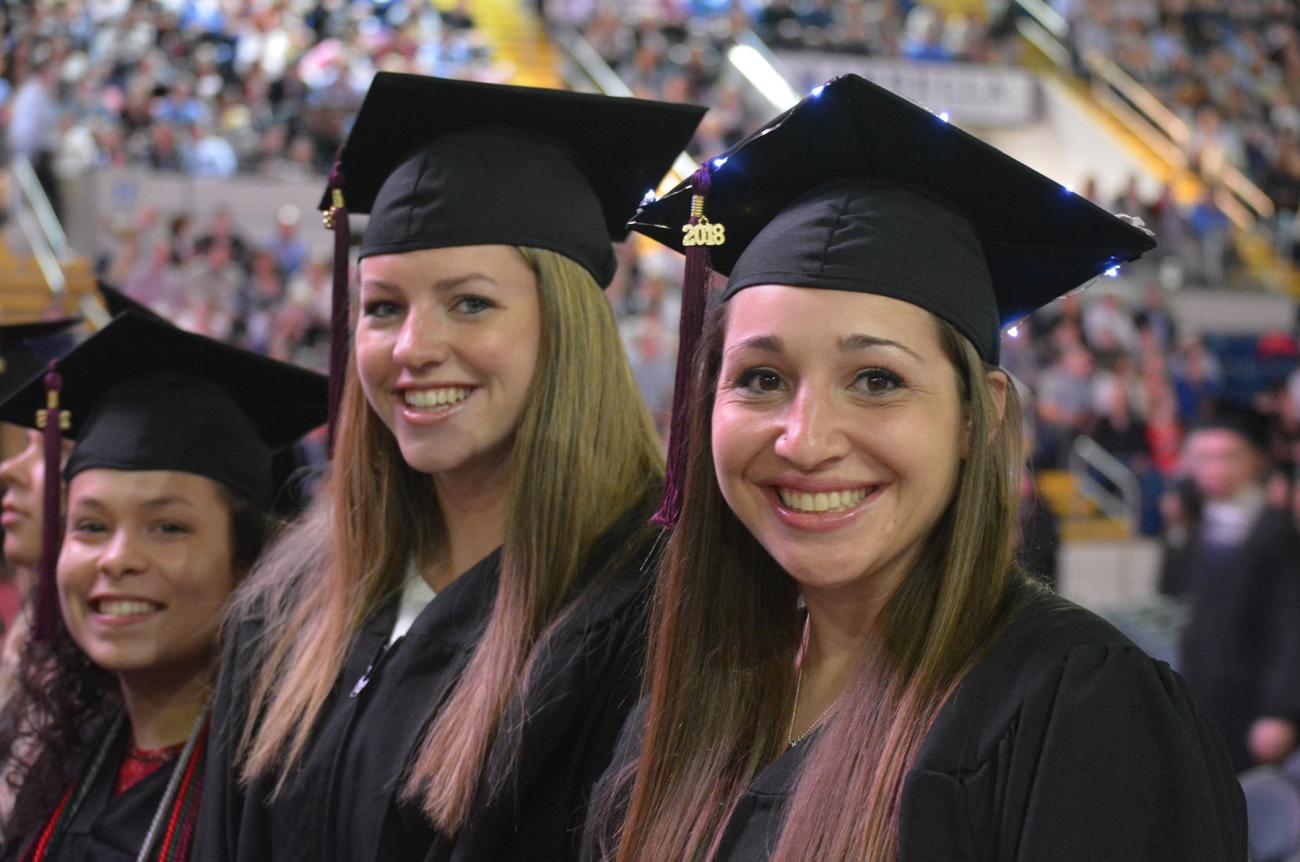 Springfield College hosted its 132nd undergraduate commencement ceremony on Sunday, May 13, at the MassMutual Center in Springfield. Pulitzer Prize-winning journalist and bestselling author Anna Quindlen provided the keynote address.
"If you are somehow done today with learning, with reading, with growing, with self examination, then you will have done an enormous disservice to this place and more importantly yourself," said Quindlen.
Quindlen, who also received an honorary doctor of Humanics degree, went on to explain her understanding of the thirst for a checklist to shape the present and the future, but stressed that life isn't solely about checking off accomplishments, and reminded the graduating class that some of the most inspirational people in our world don't rely on doing business as usual.
"Class of 2018, remember, your diplomas don't necessarily represent a period, or an exclamation point, but instead they represent a question mark," said Quindlen. "Remember to ask yourself, 'who do I want to be, who do I want to become?'"
On this Mother's Day ceremony, Quindlen referenced what it means to be a mother, a wife, and a woman in our current environment.
"The world is changing as quickly as ever as we know it, and we all need to change with it," added Quindlen. "Don't view your diplomas as being done, but instead, continue to strive to help make your community better."
Quindlen highlighted that better isn't always mathematical, but it's referenced that better is more spiritual. Quindlen concluded by referencing one of the great writers, Mr. Henry James, and the three things in life that he highlighted that are important.
"James referenced that the first thing in life that is important is to be kind," said Quindlen. "The second, is to be kind, and the third is to be kind. If you do that, you will have done better than my generation."
Additionally, Springfield College recognized Luke Bradley and his family of South Hadley, Mass., as the recipients of the 2018 Springfield College Humanics Achievement Award. This award recognizes an individual or group who has exhibited courage in the face of adversity, demonstrated leadership in service to others, advanced diversity and inclusion, served as a champion for the oppressed, furthered education in spirit, mind, and body, or contributed significantly to the understanding of the universe.
The connection between the Bradley family and Springfield College was established five years ago with the help of Team IMPACT, a non-profit organization focused on improving the quality of life for children facing life-threatening illnesses. Luke, now 13, was drafted by the Springfield College football team as an honorary team member through the Team IMPACT partnership. He has been battling acute lymphoblastic leukemia since 2011. Luke's father and family members were in attendance while Luke was shown on the videoboard from his home in South Hadley during the ceremony.
Convening the ceremony was Springfield College Board of Trustees Chair, Gregory C. Toczydlowski, who introduced the 13th president of Springfield College, Mary-Beth Cooper.
"To the Class of 2018, I say congratulations and thank you," said Cooper. "You have made us proud in more ways than we can count. Please remember to stay connected to us and to each other. Through the Springfield College network, great things can be accomplished. All the best as you continue your journeys."
Springfield College Sport Management and Recreation Management major Delani Meier, of Spring Glen, NY, was the student speaker at the undergraduate ceremony. Meier recently concluded her final year of the Educator preparation program at Springfield College, earning a Bachelor of Science in sport management.
Meier went on to describe how growing up with a cousin diagnosed with a rare genetic disorder quickly helped her develop a passion for therapeutic recreation and child life. 

"Seeing the medical professionals helped inspire me to pursue a career that is focused on helping others who are also going through traumatic experiences," said Meier. "I was fortunate enough to have this career exploration help me a find a second home at Springfield College. The friendships, relationships, support networks, and community integration Springfield College provides are very unique. Giving back to others is something I find extremely important, and giving back is what unites us all in our paths moving forward. It is now our job as graduates to spread faithfulness, love, dedication, and support for all people we come in contact with."
 
At the graduate commencement, 626 master's degrees, three certificates of advanced graduate study, nine Doctor of Philosophy degrees, 33 Doctor of Physical Therapy degrees, and five Doctor of Psychology degrees were awarded. At the undergraduate commencement on Sunday, May 13 at the MassMutual Center, 817 bachelor's degrees will be awarded for a two-day total of 1493 degrees.