Springfield College Holds 2019 Graduate Commencement Ceremony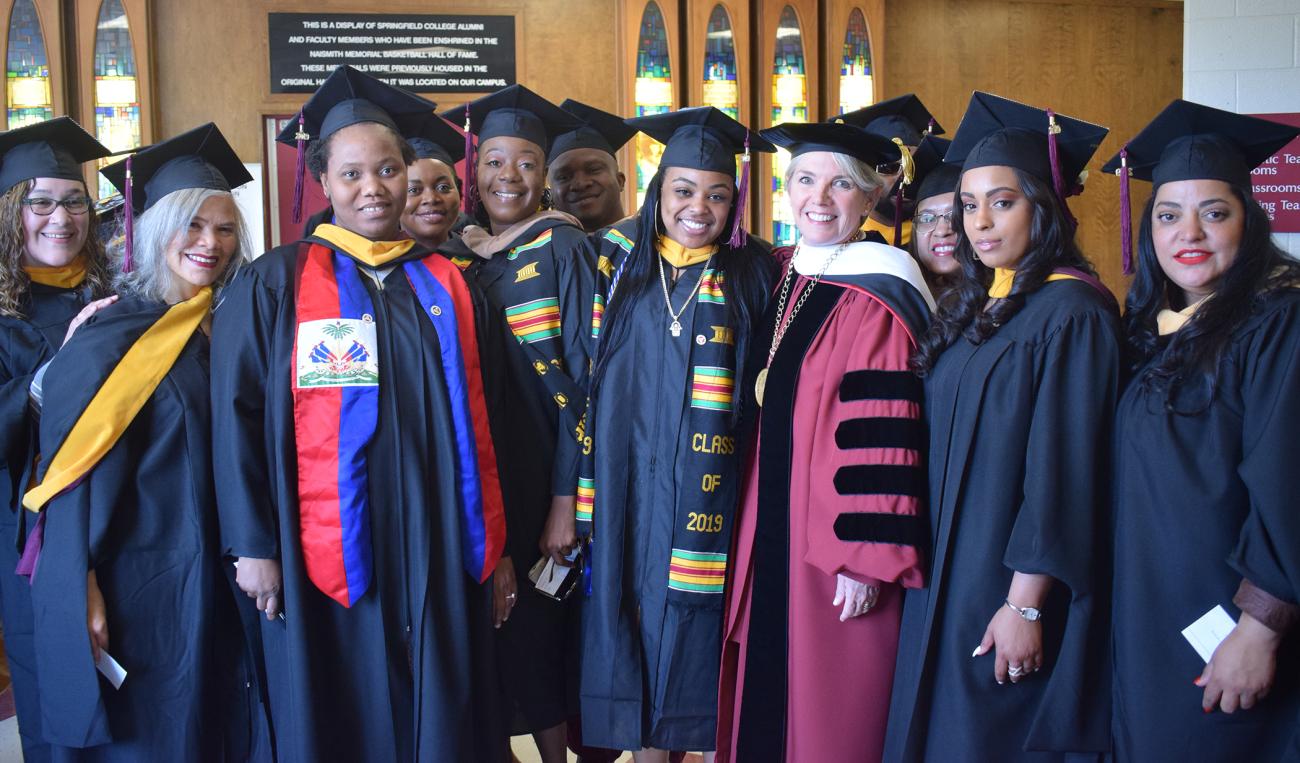 Springfield College hosted its 2019 graduate commencement ceremony on Saturday, May 18, in the Field House within the Wellness and Recreation Complex located on the main campus. The Honorable Karyn Polito, Massachusetts Lieutenant Governor, delivered the commencement address to graduating students.
VIEW FULL VIDEO OF COMMENCEMENT CEREMONY
"Clearly the future is brighter because of people like our 2019 graduates," said Polito, who recently visited the campus prior to commencement to talk with students about the Humanics philosophy at Springfield College. "I was so impressed with the students at Springfield College on how happy they are about their future, and how they support each other on a daily basis.  You can tell, the students at Springfield College want each other to succeed, and they want to succeed together."
Polito, who began her second term as the 72nd Lieutenant Governor of the Commonwealth of Massachusetts in January, stressed to the graduates to maintain a strong presence in their respective communities and use their strong leadership skills to make their community even stronger.
"Support people in need with the best care and treatment, and help give students the best possible education across the board," added Polito, who since taking office with Governor Charlie Baker in 2015, has visited and partnered with leadership groups in all 351 of the Commonwealth's cities and towns. "You have options, you have the opportunities, and you have the responsibility to help continue to make a big difference in our world. Enjoy your accomplishments, and congratulations on a great day."
Prior to her commencement address, Polito was presented an honorary Doctor of Humanics degree by Springfield College. Polito has been instrumental in encouraging further opportunities in science, technology, engineering, and math (STEM) education to inspire more students to get involved in STEM fields and better connect them to good careers. She is chair of the Governor's Council to address sexual assault and domestic violence, a diverse team of professionals having brought innovative approaches to combating domestic violence.
The College has, historically, awarded honorary degrees to a few outstanding individuals who, by their character and accomplishments, personify the College's guiding philosophy, Humanics. The philosophy emphasizes the dedication of spirit, mind, and body for leadership in service to others.
Convening the ceremony was Springfield College Board of Trustees Chair, James H. Ross III, who introduced the 13th president of Springfield College, Mary-Beth A. Cooper.
"You have been privileged to experience a Springfield College education," added Cooper. "A special type of education that is built upon the foundation of the Humanics philosophy. You have educated your whole person, but, more importantly, you have done so caring and committing to the people with whom you share this planet."
Cooper added, "This is the true hallmark of a Springfield College education, the acquisition of knowledge that is used for the good of the whole society. Service is something our society counts on from our alumni as well as from our students. We, as a society, really need you. Your service may be the only way we are able to address some of the biggest things confronting society today. With graduates such as you, I know we are in good hands."
Each year, a student is selected by their peers to address the graduating class. This year, the student speaker was Doctor of Physical Therapy Class of 2019 graduate Abigail Fagerholm, who recently accepted a position with Live Every Day, LLC, a five-location private practice that has a strong focus on clinical education that has annually hosted multiple Springfield College students in full-time clinical experiences.
At the graduate commencement, 522 master's degrees, one certificate of advanced graduate study, five Doctor of Philosophy degrees, 36 Doctor of Physical Therapy degrees, and six Doctor of Psychology degrees were awarded. At the undergraduate commencement on Sunday, May 19 at the MassMutual Center starting at 9:30 a.m., 695 bachelor's degrees will be awarded. Including the degrees awarded on at the graduate ceremony, a total of 1265 degrees will be awarded over the two days.
Springfield College is an independent, nonprofit, coeducational institution founded in 1885. Nearly 5,000 students, including 2,500 full-time undergraduate students, study at its main campus in Springfield, Mass., and at its regional campuses across the country. Springfield College inspires students through the guiding principles of its Humanics philosophy – educating in spirit, mind, and body for leadership in service to others.