Springfield College Holds Graduate Commencement Ceremony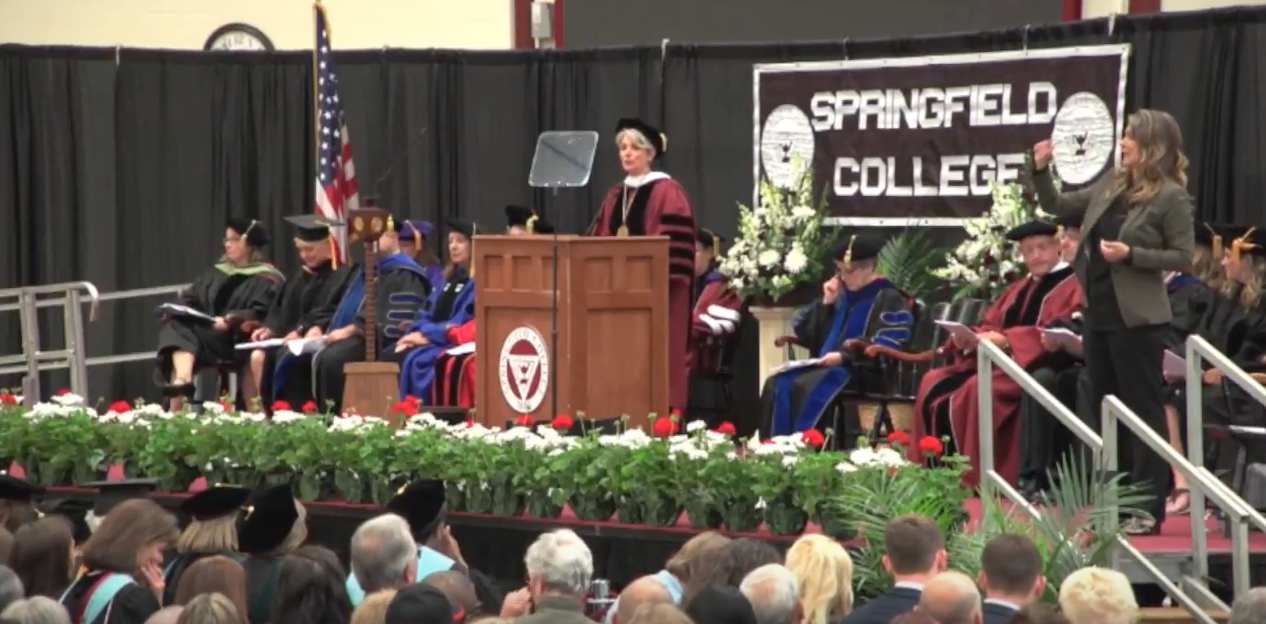 Springfield College hosted its 2018 graduate commencement ceremony on Saturday, May 12, in the Field House within the Wellness and Recreation Complex located on the main campus. Philanthropist and business executive Greg Toczydlowski, chair of the College's Board of Trustees, delivered the commencement address to graduating students.
"Today is a day that's all about the Class of 2018 and the 626 graduates that are sitting in front of us," said Toczydlowski, who earned his bachelor's degree from Springfield College. "So much of my career and overall psyche has been shaped by the lessons learned at Springfield College and the wisdom of the connection between the spirit, mind, and body. I want to share with the graduates, how I have taken the Humanics philosophy and applied it through my professional life with hope it will help inspire you as you define your own path."
Toczydlowski, who also received an honorary doctor of Humanics degree, is president of Business Insurance at Travelers, and is a member of the company's Operating Committee and Management Committee. Since joining Travelers in 1990, he has had diverse management assignments, including leading operations across captive, direct, and independent agent distribution outlets.
"A lot of what I do professionally is about stepping away from the podium, like I am about to do during this speech, and take a risk," said Toczydlowski. "I want to step away from the formal speech I have prepared and speak from the heart."
Toczydlowski went on to touch upon, the spirit, mind, and body principles of Springfield College, and how they can impact each person moving forward.
"Let's start with nervousness, we all feel nervousness at times," added Toczydlowski. "It's important to remember to breathe. Properly breathing helps lower the heart rate and calm the mind. The mind, one of the three principles of spirit, mind, and body."
"Next, let's talk about self-awareness, and having an understanding of who we are emotionally," added Toczydlowski. "Use mentors and best fiends with whom you can be vulnerable, and ask them, 'was I effective in that situation, or in that session, or in that meeting?'"
Toczydlowski went on to emphasize that graduates need to remain active and continue to maintain a healthy body with nutrition and exercise. And he reminded the audience that a healthy body will only nurture your mind and spirit.
"For spirit, it's about commitment and enthusiasm," said Toczydlowski. "You want to come to your work, come to your community with a level of eagerness to help others be better. If you love what you are doing, it will drive your productivity."
As far as being prepared for the professional challenges that remain ahead for the Class of 2018, Toczydlowski references that Springfield College graduates are prepared as a result of the Humanics philosophy.
"You are well prepared for the competition in our new society because you have an education that is focused on humans helping humans to be better humans," said Toczydlowski.
Prior to his commencement address, Toczydlowski was presented an honorary Doctor of Humanics degree by Springfield College. The College has, historically, awarded honorary degrees to a few outstanding individuals who, by their character and accomplishments, personify the College's guiding philosophy, Humanics. The philosophy emphasizes the dedication of spirit, mind, and body for leadership in service to others.
Convening the ceremony was Toczydlowski, who introduced the 13th president of Springfield College, Mary-Beth Cooper.
"You have been privileged to experience a Springfield College education," added Cooper. "A special type of education that is built upon the foundation of the Humanics philosophy. You have educated your whole person, but, more importantly, you have done so caring and committing to the people with whom you share this planet."
Cooper added, "Service is something our society counts on from our alumni as well as from our students. We, as a society, really need you. Your service may be the only way we are able to address some of the very biggest things confronting society today. With graduates such as you, I know we are in good hands."
Each year, a student is selected by their peers to address the graduating class. This year, the student speaker was Springfield College School of Health, Physical Education, and Recreation Distinguished Graduate Student Award recipient Sarah Cook. Cook went on to explain how she found a home at Springfield College at an important time in her life.
"When I arrived at Springfield College, I was going through challenging times, and I was looking to settle into my graduate studies," said Cook, who recently concluded her third season as a graduate teaching fellow in the Springfield College Department of Athletic Training. "What I found at Springfield College was a place where I could build strong connections with fellow students, administrators, and faculty."
While working to obtain her doctorate in sport psychology, Cook worked with the Springfield College men's soccer and softball teams.
"The connection I was able to build here with coaches and faculty is so special, and it has made me a better person. Thank you for helping me find my home," concluded Cook.
At the graduate commencement, 626 master's degrees, three certificates of advanced graduate study, nine Doctor of Philosophy degrees, 33 Doctor of Physical Therapy degrees, and five Doctor of Psychology degrees were awarded. At the undergraduate commencement on Sunday, May 13 at the MassMutual Center starting at 9:30 a.m., 817 bachelor's degrees will be awarded for a two-day total of 1493 degrees.