Springfield College Virtual Music Concert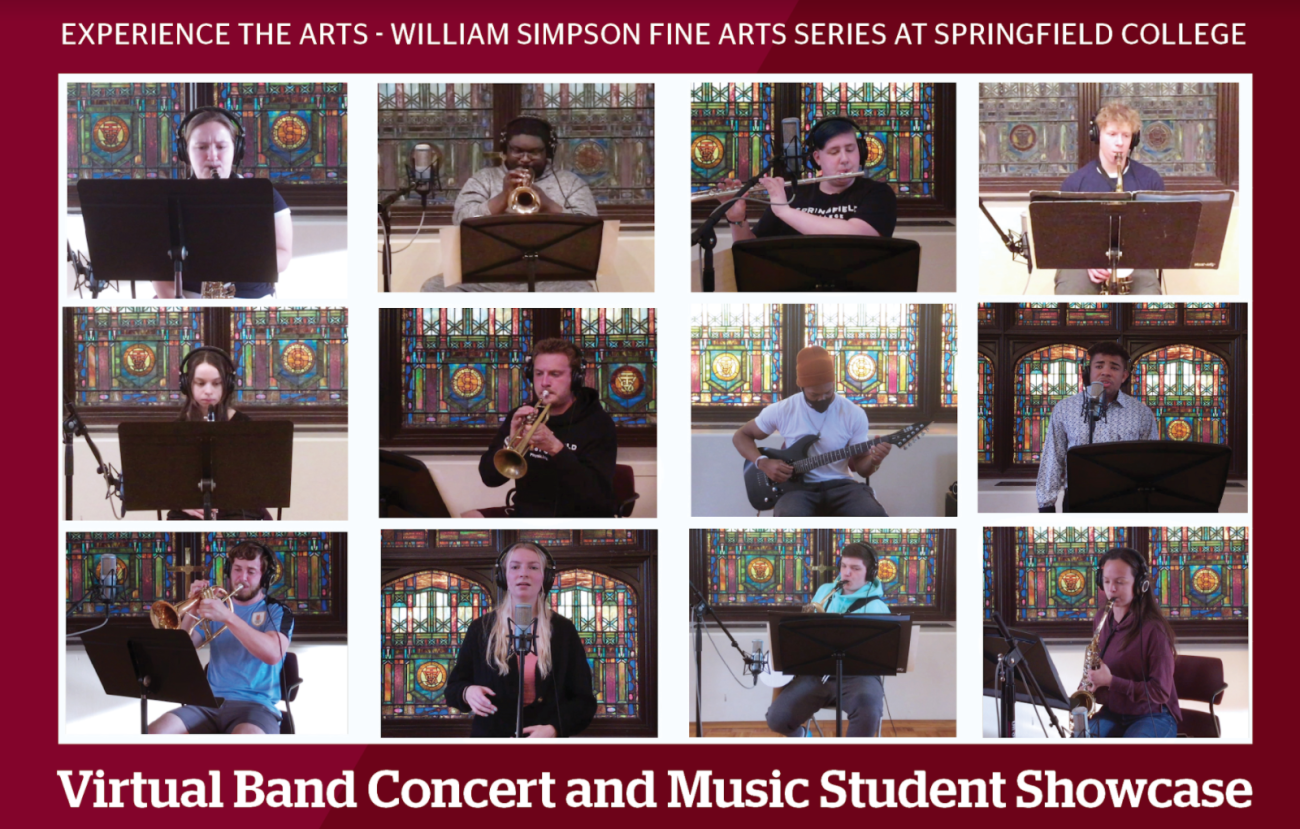 Members of the Springfield College band, along with featured music students from campus vocal and instrumental studios, present to the campus community a program of music recorded over the course of the spring semester. The repertoire performed ranges from traditional through contemporary styles and focuses on themes of hope, mental health, and social justice.
"Requiem, Op. 48: VII. In Paradisum"
Composed by: Gabriel Fauré
Performed by: Chloe Campellone
Gabriel Fauré composed the music of his Requiem throughout the 1880s and 1890s, with a final version of the composition produced in 1900. The original work was set for chorus and full orchestra. The composition is set programmatically to reflect the liturgical sequence of a requiem funeral mass. The final movement performed here, "In Paradisum," translates to English as "Into Paradise," and is meant to reflect the transition of the soul from earth into the heavens.
"Vincent"
Composed by: Don McLean
Performed by: Dai Quan Thomas (Voice) and accompanied by Michael Rheault on Piano
Composed by Don McLean in 1972 and released on his "American Pie" album, "Vincent" is a tribute to the life of Vincent van Gogh and a reflection on the way his mental health struggles have often been misunderstood. The first line of lyrics, "Starry, starry night" serve as a reference to the artist's most famous work.
"Wonderful World"
Composed by: Bob Thiele and George David Weiss
Performed by: Victoria McFarlin and accompanied by Michael Rheault on Piano
Recorded by Louis Armstrong in 1967, towards the end of his legendary career, "Wonderful World" would become his most recognizable song globally - reaching the top 10 of the charts in nearly a dozen different countries. The international success of the song speaks to the universal appeal of the lyrics and the expressed vision of world peace.
"Uman"
Composed by: Kokoroko
Performed by: the Springfield College Band
Based in London, Kokoroko is a musical collective that performs a stylistic mix of jazz, funk and Afrobeat. The name of the ensemble comes from an Orobo (Nigerian tribe and language) word meaning "be strong." Like many of the artists and ensembles associated with the recent London afrobeat movement, much of the group's music is thematically rooted in anti-colonialism and social justice.
"Thing of Gold"
Composed by: Michael League
Performed by: the Springfield College Band
Michael League, leader of the critically acclaimed ensemble Snarky Puppy, has become one of the more celebrated composers in contemporary jazz. "Thing of Gold" is meant to be a celebration of life and an affirmation of positivity and hope.
"Blackbird"
Composed by: Paul McCartney and John Lennon
Performed by: the Springfield College Band featuring Victoria McFarlin on Vocals
Composed in 1968, Paul McCartney of the Beatles has said that the song "Blackbird" was a reflection on the Civil Rights movement in America and at least partially inspired by the bravery and courage of the Little Rock Nine.  
Springfield College Band Personnel
Kayden DeFriesse – Flute
Nicole Connell – Clarinet
Aaron Kust – Alto Saxophone
Joanne Farias – Alto Saxophone
Melanie Emery – Alto Saxophone
Jacob Chaimovitch – Baritone Saxophone
Andrew Stratton – Trumpet
Julian Ellington – Trumpet
Nathaniel Evans – Flugelhorn
Juan Gomez – Guitar
Special Guest Artists
Nick Falk – Drums
Michael Rheault – Piano
Arrangements and Ensemble Direction
Christopher Gagne