Student Affairs Administration
About This Program

Admissions Contact

Program Contact

Curriculum and Delivery

42-credit program
Courses offered on campus in Springfield, Mass.
Sample Class topics include: Higher Education Leadership, Equity and Inclusion in Collegiate Contexts, Counseling Skills, and Fieldwork/Internship in Student Affairs Administration

Start Dates and Duration

Start in September (Fall semester)
Courses are offered full- or part-time
Complete in 2 years (full-time)

Paying for Your Education

Career Opportunities

Instagram

Follow us

Upcoming Events

Wednesday, October 4, 2023 at 7 p.m EST

Tuesday, October 17, 2023 at 7 p.m EST

Wednesday, November 29, 2023 at 7 p.m EST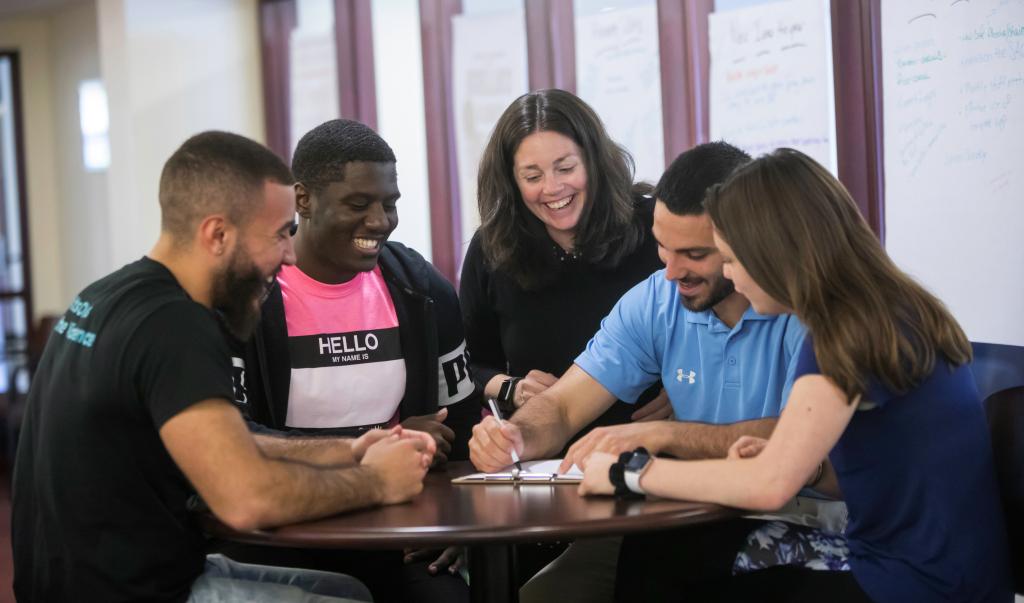 The mission of the MEd in Student Affairs Administration at Springfield College program is to prepare aspiring higher education and student affairs professionals to engage college students in holistic learning and development. The Student Affairs Administration program provides a dynamic blend of academic knowledge and practical experiences; this blend allows graduates of our program to holistically advise and support college students, effectively lead higher education organizations, and intentionally foster equity on college campuses.
Make a Transformative Difference
We have a commitment to excellence grounded in the institutional mission of educating the whole student in spirit, mind, and body for leadership in service to others. Springfield College has the intimacy of a small campus, but with the access to gain experience at larger institutions and community colleges in the nearby vicinity.
Challenge Yourself
The seminar-style courses allow you to individualize course assignments and link course concepts to your unique career goals. We view learning as ongoing practice and professional development, not a one-time performance, so we continuously invite students to be authentic and engage in honest, open dialogue about real-world issues that student affairs practitioners face.
Practical, Hands-on Learning
Students gain practical skills and knowledge through graduate fellowships and a wide range of fieldwork/internship opportunities at Springfield College and nearby institutions. Also, faculty design course assignments to allow students to apply academic concepts to real-world situations and issues. Our program excels at preparing students for the roles and responsibilities they will hold once they graduate.
Graduate Assistantships
Assistantships are available in a range of student affairs areas, such as
Student Activities
Student Conduct
Service and Leadership
And more!
We offer a competitive financial aid package that includes an annual stipend plus tuition waiver. Some assistantships also include housing. The program director provides individualized support to help each student secure an assistantship that is right for them.
How to Apply:
Admission Requirements
Complete the FREE application form: No application fee. Be sure to complete your application by submitting all the required materials outlined in this section. Admission for Fall 2023 is rolling. Applicants who plan to enroll on a full-time basis should apply as soon as possible to receive consideration for a graduate assistantship.
Essay: In two to three double-spaced pages, please describe how you came to be interested in student affairs, your career goals in the field, and why you have chosen to apply to Springfield College.
Resume: Please include any college activities, out-of-school leadership experiences, work history, and community involvement to support your interest in or qualifications for graduate study.
Two letters of recommendation: Two letters of recommendation from a faculty member or direct supervisor: Recommenders will receive an email when you submit your application and will be able to upload your letter to your application.
Transcripts: An official transcript from each college/university you have attended is required. In order to be considered official, transcripts must be received directly from the original source, by email to graduate@springfield.edu or mailed to the college address:
Springfield College
Office of Graduate Admissions
263 Alden Street
Springfield, MA 01109
International Applicants
All international applicants from non-English speaking countries are required, in addition to the items listed above, to submit:
Proof of English language proficiency by way of the TOEFL or IELTS. Other tests may be accepted on a case-by-case basis. Please refer to our language requirements for more information on acceptable tests, minimum scores, exemptions, and conditional acceptance. If your undergraduate degree was earned in the United States and you successfully completed college-level English, we will consider English language proficiency met.
Please note: Transcripts must be in English. If the transcript is not in English you will be required to submit a professional credential evaluation completed by any member of the National Association of Credential Evaluation Services (NACES). For this we recommend SpanTran, with its customized portal for Springfield College applicants. World Education Services or Josef Silny & Associates, Inc. are also recommended for your credential evaluations.
The staff in the Office of International Admissions can assist you with questions you may have about enrolling at Springfield College as an international student by emailing intladmissions@springfieldcollege.edu.
Application Deadlines
Domestic Students:
Fall Start
Application Deadline: January 15
Supporting Materials Deadline: February 1
International Students:
Fall Start
Application and Supporting Materials Deadline: May 1