By Damon Markiewicz
Associate Director for Media Relations
Springfield College and YMCA of the USA Continue Partnership
SPRINGFIELD COLLEGE and the YMCA of the USA renewed their historic partnership as President Mary-Beth A. Cooper and YMCA President and Chief Executive Officer Kevin Washington recently signed a five-year agreement. As part of the agreement, the new Springfield College YMCA Online Degree Completion program was unveiled, which provides staff who have earned leadership certification through YMCA of the USA an opportunity to turn that learning into college credits that can count towards their degree completion at Springfield College.
The 30 YMCA participants, who received scholarship funding through a grant made possible by the Harold C. Smith Foundation, represent the first class of students participating in full online courses at Springfield College.
The agreement between Springfield College and YMCA of the USA recognizes Springfield College as a premiere institution of higher education for YMCA leaders.
Friends of Humanics Scholarship
THE DISTINGUISHED SPRINGFIELD Professors of Humanics held "A Taste of Humanics" fundraiser in March in the College Museum in Judd Gymnasia benefitting the Friends in Humanics Scholarship. The Friends in Humanics Scholarship assists deserving Springfield College students who demonstrate financial need, academic scholarship, leadership on campus, care and concern for community, and embody our Humanics philosophy.
When Springfield College Emeritus Professor Peter Polito was Distinguished Springfield Professor of Humanics in 1998-99, he initiated the Friends In Humanics Scholarship.
Since then, employees of Springfield College have been able to support the scholarship for undergraduate students. Present and past Distinguished Springfield Professors of Humanics help Polito sponsor fundraisers. Annual distributions from the Peter and Claire Polito Friends In Humanics Scholarship Endowed Fund are added to this scholarship.
ROTC Grants
SPRINGFIELD COLLEGE has announced two new grants that assist with funding for Army and Air Force Reserve Officer Training Corps (ROTC) cadets enrolled full time and participating in the ROTC program at Springfield College. The Springfield College Room and Board Grant covers on-campus housing and a basic meal plan expenses for any Springfield College Army and Air Force ROTC cadet who has earned a national or local full-tuition ROTC scholarship. Additionally, the College also will offer an annual undergraduate ROTC grant of $2,500 to any cadet entering Springfield College as a first-year student who does not qualify for an ROTC scholarship. This grant is renewable for up to eight semesters, as long as the cadet continues in the Springfield College ROTC program.
In a recent ceremony on campus recognizing the ROTC grants, Springfield College junior and ROTC scholarship recipient Madelyn Reppucci participated in an official ROTC signing and swearing-in ceremony in Marsh Memorial Chapel.
"This is a very special opportunity, to be able to take my oath at such a special place with so many special people here watching," said Reppucci, who is an Andover, Mass. native and History/Secondary Education major. "Being a part of the ROTC program has been a blessing, I have enjoyed my time at Springfield College so much. I have met so many wonderful people, made so many lifetime friends already, it's just a great place to go to college."
Through the Army ROTC program, students can work towards a career with the Army for up to four years and take for-credit courses along with courses in their academic major. The first two years include voluntary basic courses, with no military obligation, providing students with a background on the military's role in society and the missions of the Army. The focus of these courses is on leadership, land navigation, marksmanship, military history, and basic military skills. The final two years incorporate advanced courses with military obligation, including a five-week camp prior to the final year. These courses include leadership skills, training, personnel management, ethics, military justice, and military tactics.
Through the Air Force ROTC program, students complete a program designed to train and commission officers into the United States Air Force. The first two years allow students to complete the General Military Courses. The second two years begin with Field Training, leading to time as Professional Officer Corps, where students will be contracted with the Air Force.
Kristine Lilly Visit
THE SCHOOL of Health, Physical Education, and Recreation welcomed U.S. women's soccer legend Kristine Lilly, and University of Massachusetts Lowell Associate Professor of Political Science Jeffrey Gerson to campus to discuss the U.S. Women's National Soccer Team and the Fight for Gender Equity, in March.
Lilly and Gerson discussed the U.S. Women's National Soccer Team fight for gender equity, and how Lilly, one of the most decorated and accomplished female soccer players in the world, and her teammates helped close the gender equity gap in athletics.
Retiring in 2011 as the all-time appearance leader in international competition, Lilly is second on the all-time goals scored list for the U.S. team with 130. She earned gold and silver medals for Olympic competition in soccer. Gerson is an authority on the history of U.S. women's soccer.
MLK Lecture
PULITZER PRIZE-WINNING author Gilbert King was the keynote speaker at the sixth annual Martin Luther King Jr. Lecture. The lecture honors the history of inclusion and diversity at Springfield College and is presented by the Division of Inclusion and Community Engagement.
King discussed his latest book, Beneath a Ruthless Sun, which focuses on injustices in the state of Florida at the start of the Civil Rights movement. The book tells the story of a courageous female journalist, Mabel Norris Reese, who put her life in jeopardy for decades by reporting on the forces of white supremacy in Florida.
In 2013, King was awarded the Pulitzer Prize for general nonfiction for his book, Devil in the Grove: Thurgood Marshall, the Groveland Boys, and the Dawn of a New America. He has written about race, civil rights, and the death penalty for The New York Times, Washington Post, and The Atlantic.
The lecture was followed by presentation of the inaugural Diversity, Equity, and Inclusion Awards to professor Laurel Davis-Delano, student Kathleen Morris, and Springfield community member Mr. Robert "Cee" Jackson.
Hutchinson Earns Paper of the Year
AN ARTICLE WRITTEN BY Associate Professor of Exercise Science and Sport Studies and Director for Sport and Exercise Psychology Jasmin Hutchinson, PhD, titled "The influence of self-selected music on affect-regulated exercise intensity and remembered pleasure during treadmill running," was selected the Sport, Exercise and Performance Psychology (SEPP) Paper of the Year for 2018.
The award is given annually to the first author of an article published in SEPP based on the article's innovation, methodological rigor, quality of data analysis, significance of the issue, and quality of writing. The award consists of free registration to the annual American Psychological Association Convention, and the presentation of a certificate of achievement at the Convention. In addition, the paper appears as one of the sample papers on the journal website.
SEPP is the official journal of the Society for Sport, Exercise and Performance Psychology, Division 47, of the American Psychological Association. In an effort to recognize and promote high quality research published in SEPP, in 2016, the Society together with the SEPP journal established the Paper of the Year Award.
LIVE EVERY DAY
SPRINGFIELD COLLEGE has partnered with physical therapy, orthotic, and prosthetic company LIVE EVERY DAY to introduce an inter-disciplinary opportunity on the campus that will provide students in the health sciences an opportunity to gain clinical experience in an academic environment.
Co-founded by Springfield College graduate Matt Calendrillo '04, G'05, and his brother Anthony, LIVE EVERY DAY is a five-location private practice that has a strong focus on clinical education that has annually hosted multiple Springfield College students in full-time clinical experiences.
AN AGREEMENT between the College and LIVE EVERY DAY provides students who are required to engage in mentored clinical practice an opportunity to receive internships and preceptorships in the on-campus clinic. There will also be observation opportunities for students from diverse disciplines to learn about aspects of clinical practice and practice management, as well as clinical research programs led by faculty and graduate students.
Tropical Field Research
LED BY ASSISTANT PROFESSOR of Biology Melinda Fowler, PhD, and Associate Professor of Environmental Biology Justin Compton, PhD, students in Biol 320: International Tropical Field Research, an upper division biology course, traveled to Costa Rica during the winter break to carry out independent research.
Students collected data on a variety of projects developed from their interests, ranging from beetle morphology to soil characteristics to using camera traps to look at sloth abundance. Upon their return, the students analyzed the data, and wrote up their research to present at Scholars in Action Day in April. They traveled to two research stations, La Selva and Palo Verde, to perform these projects.
AmeriCorps Awarded Funding
The Springfield College AmeriCorps Program will receive $1,133,274 in AmeriCorps funding spread out over the next three years from the Corporation for National and Community Service (CNCS), the federal agency responsible for AmeriCorps and other national service programs.
Springfield College is one of 26 Massachusetts-based organizations that received federal funding, which will support 6,611 AmeriCorps members in their efforts to tackle ongoing challenges in early childhood education, job-readiness, and environmental conservation.
For 22 years, the Springfield College AmeriCorps program has provided the city of Springfield and Springfield Public Schools with student support and academic support specialists. Our staff and student volunteers provide mentoring, counseling, social-emotional reinforcement, direct interventions, and identification of risk factors that lead to dropping out of school. The Springfield College AmeriCorps program is the largest in western Massachusetts with 56 total members.

We have created this space—called overheard@springfield—as our version of Letters to the Editor. We are here to listen. We are here to connect. We want you to be, too. So send your tidbits, your memories, your not-quite-ready-for-class-notes news. Email jvottero@springfield.edu or call (413) 748-3275.
Dear Ms. Vottero,
I have never been as proud of being an alum of Springfield as I was after reading Marty Dobrow's, "The Perfect Fit" [Triangle, Vol. 88, Issue 2]. The article was extremely well written and tear inducing, with some heart-wrenching photography...it just made me so damn proud of being a Springfield alum. But, most of all, it spoke of the heart of the Springfield family.
Thank you,
Ray Smith '59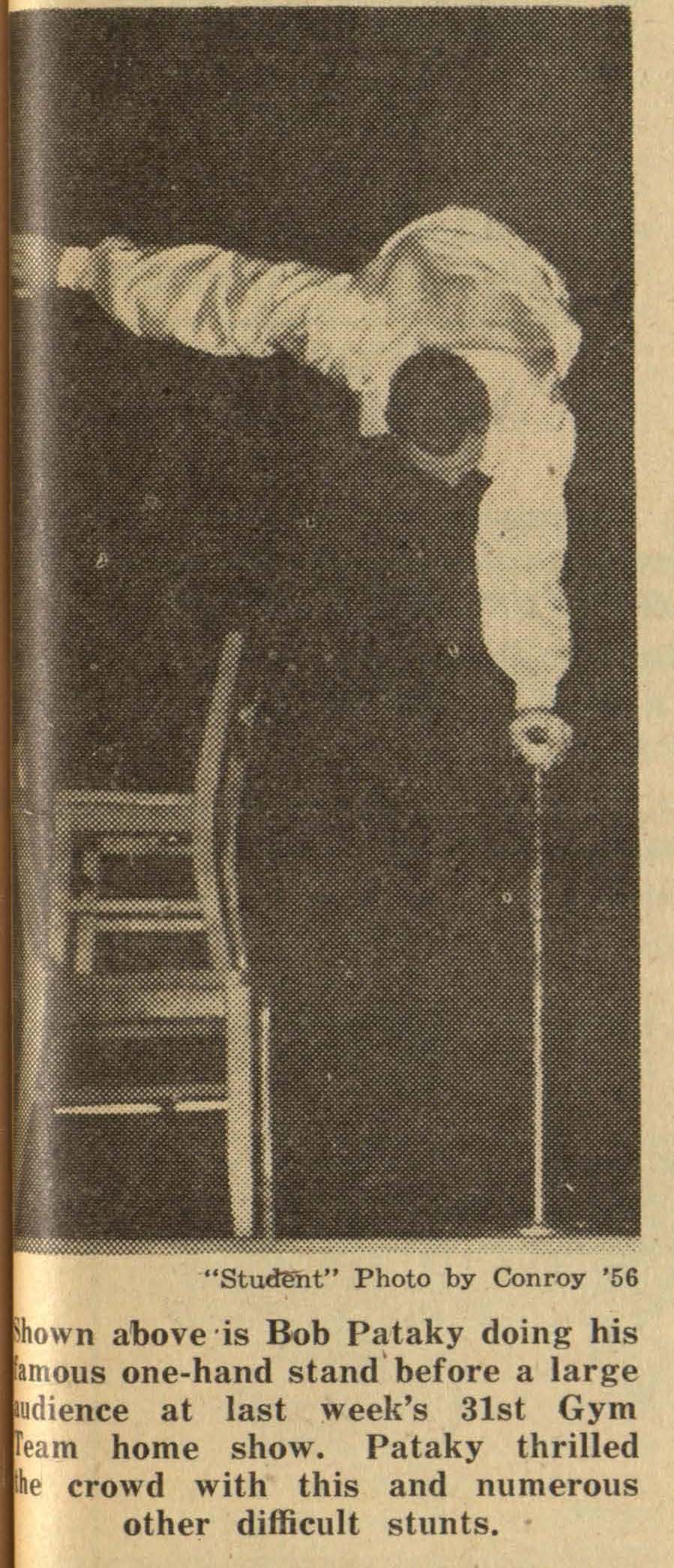 Hi Jane.
The WINTER '19 Edition was the very best I've seen in over 50 years. You get a big BZ from Norma and me … Keep up the terrific job.
Bob Winglass '57
Lieutenant General USMC Ret.
And, while asking around to learn what BZ meant (for the uninitiated, it stands for the nautical flags "bravo zulu," which, when combined, mean "well done"), we learned that the General's friend, Bob Pataky, was infamous for his ability to execute a single-finger handstand. While he declined the opportunity to recreate it for this issue of Triangle, we did find this nifty student newspaper picture of Pataky's single-handed handstand, at left, in the archives.