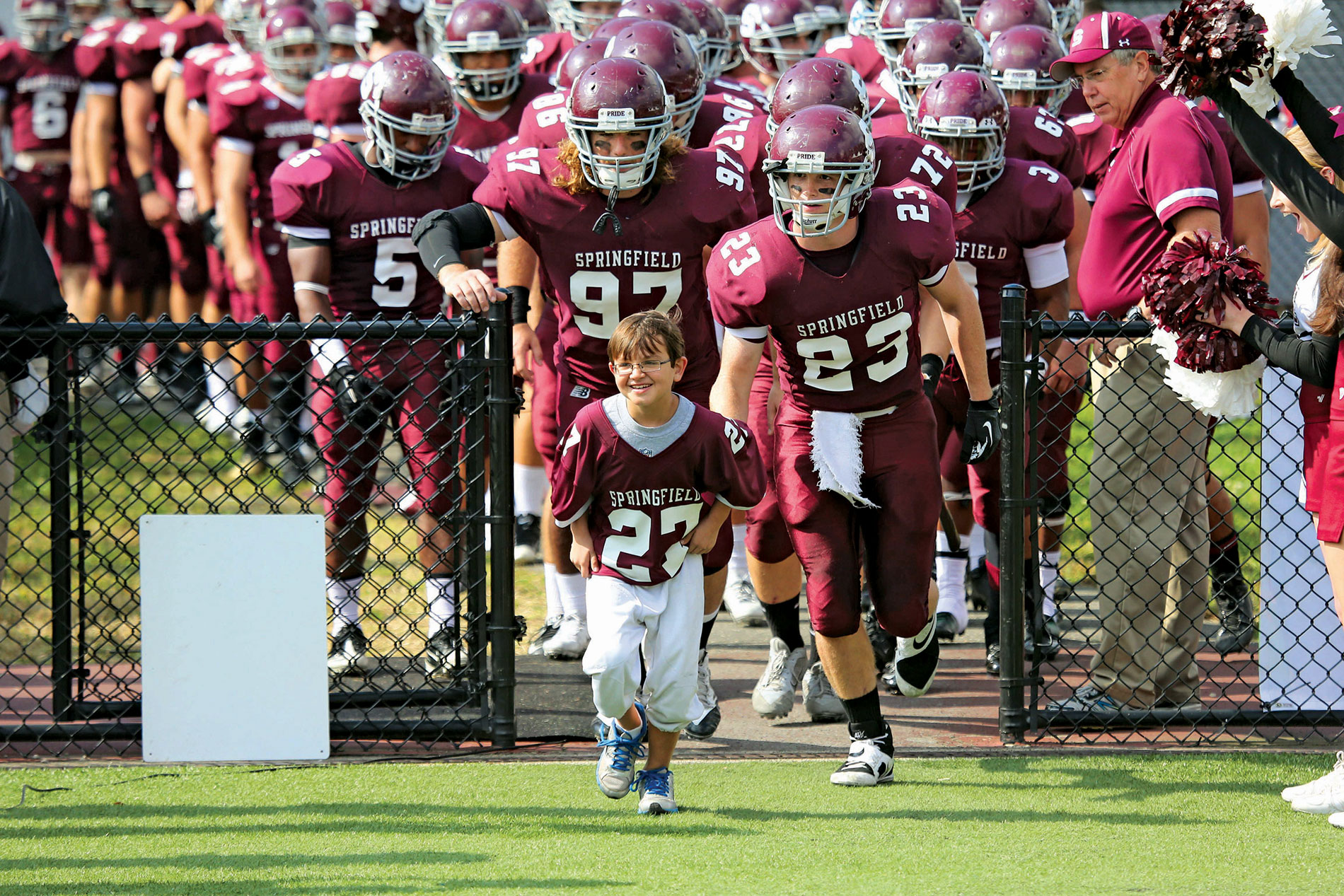 the perfect fit
Teaming up student-athletes and local children with life-threatening illnesses get to the heart of the Springfield College mission.
IT IS AN early autumn Saturday, the first week of October, the leaves beginning to turn. The biggest man on campus heads out to the center of the field for the coin toss.
He is joined by the four other captains. Toughened by this hard, sometimes brutal game, built up by long hours of clanking metal in the weight room, these four are made bigger still by the game's sometimes insufficient armor: shoulder pads and helmets. All four have been through hard things. They are seniors at Springfield College.
Wearing No. 27, the fifth captain stands 4-foot-11 and weighs 85 pounds. He is just a freshman—a freshman in high school, no less. He is the heart and soul of the Pride. He is, of course, Luke Bradley.
Just how significant is Luke's impact on the team? Consider the following:
When you enter the Springfield locker room, the second set of lockers belongs to the quarterbacks, the queen bees of any football team. But the first locker is Luke's. Head coach Mike Cerasuolo '93 tells his players, "When you walk past that locker, remember who you represent and what you're doing, and why we're doing it. Luke embodies what we want to be."
On the wall opposite Cerasuolo's office is a veritable museum of the program's history. Front and center is a tribute to "Team 65"—the only undefeated, untied team in school history. You see an ad promoting a game from over 100 years ago pitting "Springfield Y.M.C.A. College" against the "Carlisle Indians," a team with the early 20th century's most prominent athlete, Jim Thorpe. Of more recent vintage, you see a photo of an All-American football player turned pro wrestling megastar/movie star/granter of more "Make a Wish" wishes than anyone: John Cena '99. 
And, you see the framed signing of a letter of intent from April 25, 2013: "Dear Luke, Congratulations on being drafted by Springfield College…"
Luke is the reason why, each April, some 100 Springfield College football players get their heads shaved for the childhood cancer research center known as St. Baldrick's Foundation.
Beneath a mop of dark hair, moments after the captains' meetings, Luke sits in the stands next to his parents, Ryan and Nikki. He savors a gurgle or two of yellow Powerade, takes precise bites of a hamburger, lifts each curly fry to his mouth with appreciation. In a slow voice with just a hint of vibrato, he explains what happens at the coin toss:
"The main thing is they let the other team call heads or tails," he says. "And then they flip it. Say they choose heads and it lands on heads, they get to choose to kick or receive."
The coin toss is an uncontrollable thing. You can't dictate all of your fate. Your job, to the very best of your ability, is to adapt. Given this, now what?
On this day, Coast Guard Academy gets the ball first. 
SPRINGFIELD COLLEGE and Team IMPACT. Hand, meet glove. Glove, hand.
Since 2011, Team IMPACT, a nonprofit organization based in Boston, has been pairing children dealing with life-threatening illnesses with college sports teams. The partnership does not address the considerable medical needs these kids face. Rather, it goes to the heart of the social isolation that typically accompanies an unenviable diagnosis, like Luke's acute lymphoblastic leukemia. These children are often pitched out of the classroom and the world of their peers for months at a time, sometimes returning in a wheelchair, sometimes with slurred speech, sometimes with no hair. It's hard to be cool that way in fourth grade.
Unless, of course, you have a bunch of buddies who happen to be college athletes.
The program has proven a staggering success. As of October 2018, 1,632 children had been matched with teams at over 500 schools in 48 states, according to Team IMPACT Director of Programs Amy VanRyn, G'05. Fifteen of those matches have taken place at Springfield College, including nine active ones in October—"the most matches of any school in Div. III," says VanRyn.
Said men's lacrosse coach Keith Bugbee, G'84, the dean of current Springfield College coaches, "This is a program we should have invented. It's just us."
Indeed, the College's dual legacies of athletics and Humanics—coupled with its robust programs in health—makes the fit organic.
It's not just people who have studied or worked on Alden Street who think so. In September, Team IMPACT CEO Seth Rosenzweig explained the bond: "Why do we have so many teams here? Because it just makes sense. Because you really get it. Because our kids have such an amazing experience with your teams."
TAKE, FOR instance, the field hockey team where 8-year-old Abigail Hamberg has been a member of the Pride since the fall of 2017. Senior Emmalie Drake says Abigail's shy initial personality melted into something "spunky, bold, [and] outgoing" around her teammates. Team jokes—even the cringingly bad ones—send Abigail into joyous fits of laughter. "She makes you feel like the best person in the world," says Drake, a physician assistant studies major who plans to incorporate Team IMPACT in her professional career.
The team and Abigail have bonded together while apple picking at Rice's Fruit Farm, while attending a minor league hockey game, and while indulging the second grader's endless appetite for "My Little Pony." 
"She'll bring a purse of her ponies," Drake says. "She always reintroduces us to the ponies every time. She's very passionate about things that she loves."
As a goalie, Drake is accustomed to hard things coming her way, but nothing remotely as difficult as the leukemia diagnosis Abigail has confronted. Cancer-free for more than a year now, Abigail was a sparkling part of Springfield's 12-6 season this fall.
The Team IMPACT magic also has been felt with the softball program, where Talia Soto has plunged into the life of the Pride—even as she manages the galling challenge of Ewing's sarcoma: bone cancer. Sophomore Abbi Conley texts for an hour with Talia twice a week. She recalls a particularly spirited sledding expedition last winter with Talia, and says that on solid ground "She would win any dance-off" with the team.
Jillian keeps the Pride loose with her encyclopedic command of the top 40 songs, and sometimes, with a little prodding, joins players in belting out a tune at Cheney, or in the locker room, where her name is plastered to a locker in three-dimensional letters she can read with her hands. Once last year with Goddard using a lacrosse stick as a microphone and Jillian using her cane, they got the team rocking with their rendition of "This Town":
If the whole world was watching I'd still dance with you; drive highways and byways to be there with you; over and over the only truth; everything comes back to you.
While Team IMPACT is obviously designed primarily for uplift for children, teams invariably report a two-way street. "It's a win-win," says men's basketball coach Charlie Brock, a man accustomed to one team's victories implying another team's defeats. So fiercely competitive by nature that he had surgery this year to repair a heel damaged by repeated stamping into the hardwood on the sidelines, Brock has been softened by his team's partnership with Jondel Rivera Ruiz, a 7-year-old with cystic fibrosis. Normally, anyone interrupting a Brock practice does so at their own risk; Jondel can stop the bouncing ball just by showing up. "That's a special place that he holds," says Brock. 
Women's gymnastics coach Jenn Najuch agrees that Team IMPACT recalibrates her team's priorities. Their involvement with Piper Lundin, an energetic 9-year-old former gymnast herself before she was diagnosed with IgA nephropathy (she is 10 now), has helped to "put what's important in perspective."
The win-win has other victories, too. Life-threatening illness to children casts a wide net. Parents who love and learn from their children grapple with the exhausting, sometimes exasperating, often prohibitively expensive task of caretaking children. Healthy siblings—even as they are enriched by their connections—sometimes feel guilt or resentment. Team IMPACT reels them all in, as we see with the men's gymnastics team.
There, 10-year-old Zachary LaBroad has been part of the Pride since his draft in 2016—when he became the 1,000th child paired by Team IMPACT. He is not your standard-issue gymnast: a child whose life force also includes cerebral palsy, epilepsy, chronic lung disease, and blindness. The connection with the team has been amazing, says Eric Volz-Benoit, one of Zach's two fathers. "It's not just Zach," he insists. "It's the whole family."
Indeed, at the football game against Coast Guard in October, gymnasts accompanied quite the entourage: Volz-Benoit, wheeling in Zach, husband Dennis pushing the stroller with 22-month-old foster child Luna, and bounding adopted kids Jayden, Mandie, Ryan, and Ty, ages 7-10. Volz-Benot shrugged and said, "We're just a regular family trying to make it work.
The full-family approach was also on display later in the month at the women's soccer field. There 8-year-old twins Claire and Jane Frazer frolicked on the sidelines next to members of the Pride during a game against Amherst. Claire put one of her little hands in the palm of a college teammate, while clutching a stuffed bear the team gave her in the other. Jane energetically bounced a soccer ball into the field turf. Fifty yards away, father Scott Frazer said the experience has been phenomenal for his family—and largely unique. Claire, with spina bifida, has not been able to play youth sports, while Jane has played several. This has given them something to do together. "It's been a great opportunity for us all," said Scott.
Extending the reach still further, explains junior Rachel Ahlmeyer of the women's tennis team, is Springfield's involvement with the Team IMPACT "Fellows Program." Last summer, Ahlmeyer, Emmalie Drake (the field hockey goalie), and Erik Karlson of the football team represented the college at a three-day conference in Boston to help grow the organizational structure of Team IMPACT. No school had more representatives.
From the moment Ahlmeyer heard about Team IMPACT as a freshman, she believed, "This is such a cool concept!" Earlier this fall, Ahlmeyer was beaming when 6-year-old Quinn Brady skipped onto the court holding her hand for the national anthem, her zest obscuring for a moment the challenges of Diamond Blackfan anemia. 
TEAM IMPACT is not for the meek. No amount of Springfield College idealism is going to cure these courageous children. Their conditions are called life-threatening illnesses for a reason. Sometimes the illness prevails.
The men's lacrosse team drafted Alex Blais of East Longmeadow in the spring of 2017. Alex had been involved with lots of youth sports before he was diagnosed with glioblastoma multiforme: a brain tumor.
He referred to his Springfield College lacrosse teammates as his "brothers from another mother." They gave him a nickname he loved: "A-Prime." For a year, it was not uncommon to see SC players at the Blais house or showing up for "Pizza Day" at Alex's elementary school, crowding the little plastic chairs and drawing jealous classmates into the scene.
As the 2018 conference championship dawned, with Springfield about to head to top-seeded Coast Guard, Alex's situation deteriorated. Senior goalie Jake Reynolds and Coach Keith Bugbee paid a visit the night before. They found Alex largely in an uncommunicative haze, except for his one-word, unmistakable whisper: "A-Prime!"
The next day, Reynolds was an almost impenetrable force in the net, making 17 saves as Springfield prevailed on the road, 11-7. A few weeks later, long after the school year was over, much of Springfield's team gathered for Alex's funeral.
This year, Reynolds has been visiting the Blais family around the edges of his graduate work and job as an assistant lacrosse coach. He has a picture of Alex in his locker. "Keep the legacy going," he says softly. "The support doesn't end."
NOT ALL "letting go" need be tragic. Women's basketball coach Naomi Graves, G'85, and her team said a beautiful farewell to longtime Team IMPACT match Lisa Hartley in 2018. Lisa had arrived in 2015 in the midst of chemotherapy. She had lost her hair and was trying to figure out what to do about wearing a cap or a wig. They were challenges that Graves knew all too well: she, after all, is a breast cancer survivor.
Lisa's primary contact on the team was Ava Adamopoulos '17, a young woman who had lost her younger brother in a boating accident years before. Her mother was in the midst of her own battles with cancer, which would ultimately take her life. But Graves watched Ava open her big heart to Lisa, bring her into the team profoundly. Now the coach just beams at Ava's role as athletic director for the Springfield Boys and Girls Club, and at Lisa's status as a college freshman. Last spring, Lisa "graduated" from Team IMPACT and was honored as a senior at the team banquet: balloons, flowers, tears—just like any other player on the team.
The women's basketball squad is now on a list for another Team IMPACT match, and Graves has informed her players that this will be a big deal, that it is a commitment to challenges they can't foresee at the time, to challenges where the outcome is uncertain. It may be difficult. It may be heartbreaking. But it will enrich. It will deepen their life experience, connecting them to a powerful narrative.
"Everybody has a story—and there is a richness to their story," said Graves. "And if you are lucky enough to get deep enough into the relationship, you can feel and see and experience a little bit of the story and be part of the story."
To Graves, going for another Team IMPACT relationship is obvious: "It's really what we are about."
BEFORE THE football game against Coast Guard, a Baptist preacher and former college football player named Ryan Bradley—Luke's dad—gave the team an inspirational speech, as he does before virtually every home game. Then John Papirio '78 belted out the national anthem. Then Luke Bradley joined the captains for the coin toss, and went in search of the Powerade, the burger, the curly fries.
Typically, Team IMPACT children join college squads for two years these days, but odd as it sounds for a 14-year-old, Luke is "grandfathered in" to this relationship he signed up for more than five years ago. And what a relationship it has been.
Luke was diagnosed with leukemia in 2011, and his treatments were going well when he joined the SC team two years later. Back then, SC football players would show up at recess and play Capture the Flag with Luke and his classmates. In time, they would see him to the edge of some dark places.
In August 2015, when this year's seniors were beginning their freshman year, Luke had relapsed and was back in Boston Children's Hospital. At the end of a stretch of exhausting two-a-day workouts in the heat and humidity, getting their first day off in two weeks, Mike Cerasuolo told his team, "We've got an opportunity to go see Luke. Who's in?"
Two buses with 100 players made the trip. ("They flooded the entry way of Boston Children's," remembers Luke's mom, Nikki Goulet Bradley '00. "The security guards went: 'Wait a minute!'")
He was hospitalized for 15 months and endured multiple neurosurgeries. At a particularly low point in March 2016, four players went in with Cerasuolo to visit. Offensive tackle Erik Karlson, then a freshman, remembers the scene: Luke was "unresponsive. He was laying in a bed, tubes and everything. It was harrrrrd."
That night they attended the Team IMPACT Gala at a Boston hotel, the nonprofit's No. 1 fundraiser. The keynote speaker was Ryan Bradley, who brought virtually every person in the crowd of 1,000 that night to tears:
"My son … just a couple of days ago stopped breathing and had to be resuscitated. And so this topic is raw for me … bacterial meningitis, while you are being treated for leukemia, well, put it this way: I had a neurologist, an infectious disease doctor, and an oncologist tell me it was a miracle he survived. A miracle … I want to let you know what that's meant to me as a father who's been afraid, as a father who's not had answers …"
In time, Luke rallied. He needed a bone marrow transplant; surprisingly, his dad was an exact fit. After the operation, he needed to be quarantined for nine months, so he couldn't be there in person at the Springfield College graduation in May. But, wearing his No. 27 uniform, waving and giving a thumb's up, he was beamed via computer to all at the MassMutual Center when President Mary-Beth Cooper presented him with the Humanics Achievement Award.
In September, Luke was cleared to return, and began school as a freshman at South Hadley High School. On Tuesdays and Thursdays, he came to campus to work out with senior Andrew Papirio, an exercise science major, who designed a series of agility and strength activities to help Luke with his balance and stability. Around the edges, he sensed Luke's spirit shining:
"It's really impressive, when you look at the lack of social experiences he's had just because of all his treatment and all he's gone through, you wouldn't expect what you get. He is a funny kid, and he's sharp … Quite the personality."
COAST GUARD is forced to punt on its first possession. Papirio fields the ball on his own 27, and veers upfield, dodging tackles, following blockers, surging into the open in a way every player dreamed of as a boy. Seventy-three yards later he is scoring the first touchdown of his college career, and Luke Bradley is going crazy.
At halftime, with Springfield ahead, 20-5, there is a ceremony for Team IMPACT Awareness. First, there is a moment of silence for two 12-year-old boys who died this year: Alex Blais of the men's lacrosse team, and Matty Pepe of the wrestling team. But then the almost unbearably hard meets the hopeful. Jondel Rivera Ruiz is climbing all over basketball forward Heath Post as if he were a part of the playground. Zach LaBroad is gliding out in his chair with his family and the gymnastics team. Holding court in the middle of it all is the de facto captain of Springfield College's Team IMPACT program: Luke Bradley.
They are all wearing Team IMPACT shirts with the names of 10 children in a circle around a maroon and white S and the words Springfield College Pride: Zachary, Piper, Abigail, Claire, Quinn, Jillian, Talia, Jondel, Lisa, Luke.
In the fourth quarter, toward the end of a physical, grinding game with Springfield clinging to a now tenuous 20-12 lead, Andrew Papirio is tired, his hair matted with sweat, his eyes almost closed. But, he smiles as Luke comes up to him on the sidelines, index finger in the air.
"One more," Luke says, emphatically. "We need one more stop!"
Springfield summons its resolve, gets its stop and scores again.
The "win-win" has posted another victory, far less important than the bigger ones, of course, but a 26-12 triumph nonetheless.