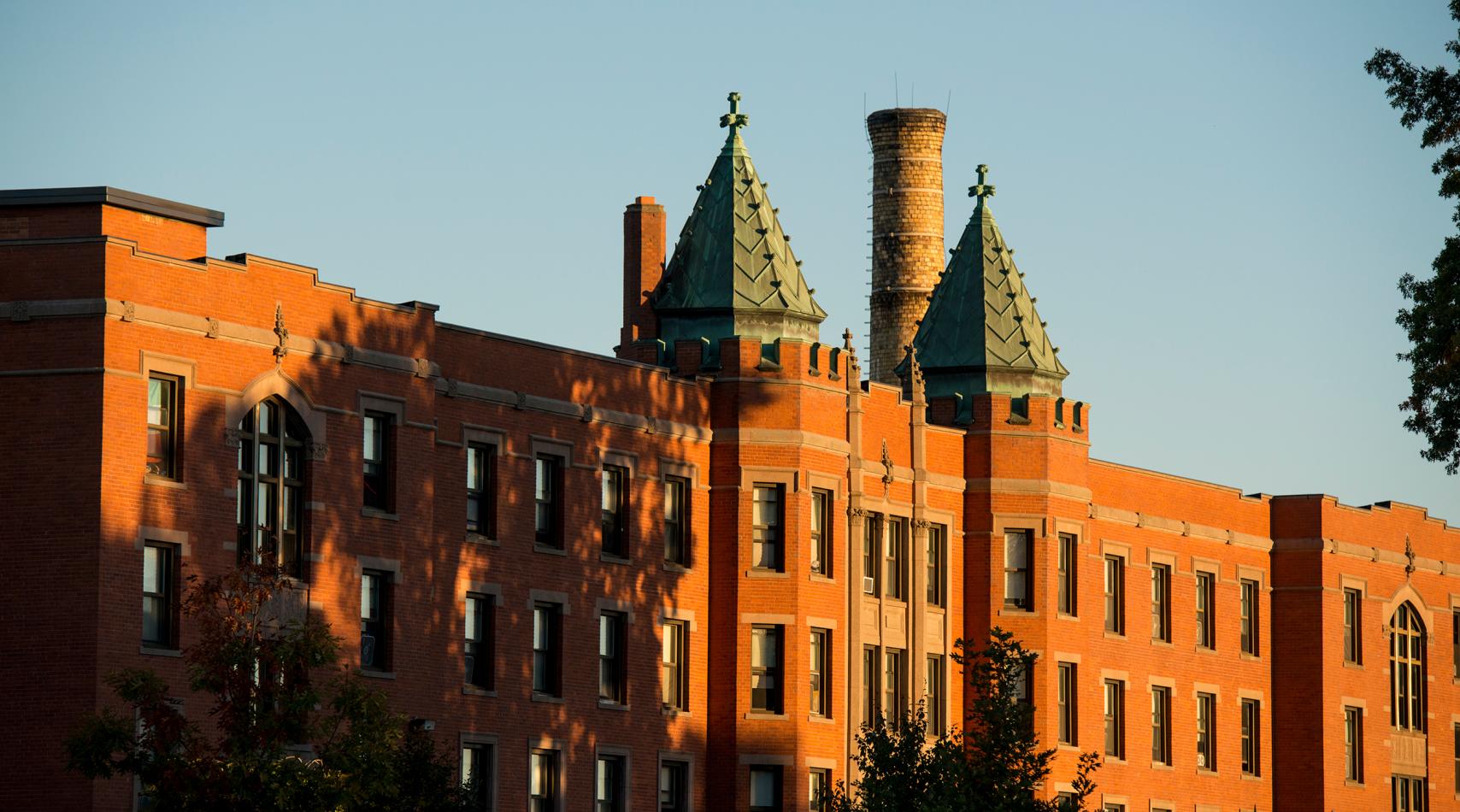 1940s
Gabriel Vitalone '48, professor emeritus at William Peterson University, was profiled in the university alumni magazine. Even in his retirement, and at the age of 95, Vitalone continues to stay active and inspire others with tips on aging and the importance of an active lifestyle. You continue to inspire us, Dr. Vitalone!

According to Hawaii Public Radio, Domingo Los Banos '49 is on a mission to find family members of the 1st Filipino Infantry Regiment, whom he served alongside during World War II. Los Banos joined the U.S. Army in 1944 at the age of 18. He received the Congressional Gold Medal, the highest U.S. civilian award, for his service in the Philippines. He is one of five members from his regiment who is still alive and would like to find the remaining family members so they can receive the medal. He turned 93 last September and is making a promise to get the word out to 1st Filipino Infantry Regiment families.
1950s
Howard "Skip" Knuttgen '52 and Nick Myers '01 met during a reunion of former Ohio State University lacrosse players. Both alumni played lacrosse at Springfield College and coached men's lacrosse at Ohio State. Knuttgen became its first full-time coach in 1955 and coached for five years. Myers has been the Ohio coach since 2008. 

Miller Bugliari '57 was inducted into the National High School Hall of Fame. Bugliari has coached boys soccer at The Pingry School (Basking Ridge, N.J.) since 1960, including 20 undefeated seasons and 26 New Jersey State Interscholastic Athletic Association state championships.

1959
Cathy Downey Gallagher

After graduating with a degree in physical education and a minor in biology, Cathy Downey Gallagher '59 worked for several years as a physical education teacher and coach. Later, she worked for Section XI Athletics as associate director, then executive director, and finally as a consultant. She played a significant role in reorganizing the Section XI Athletics office and introduced new procedures and policies. She also helped establish the position of coordinator of supervision and revenue collection for all Section XI tournaments. She says her husband, Ed, her son, Ned, and her daughter, Eileen, have highlighted her personal life. She and Ed retired to South Windsor, Conn., where she leads an active life in community involvement. "I owe Springfield for the inspiration instilled in me for my professional career," she said.

Jack Karl '57 recently was inducted into the Wareham (Mass.) High School Hall of Fame as a member of the 1950 Class D Championship Football Team. He was a sophomore end on the team that went 9-0 and was the first undefeated team in high school history. 

1959
S.K. Kasinathan shared this photo of his family in Luxembourg. row, left to right, are his sons, Thambo and Jojo; granddaughters Talia and Keana; brother, Lyn, and his girlfriend, Sabrina; and Jojo's father-in-law, Fritz. Kasinathan is seated in the second row alongside Jojo's wife, Bianca, and her mother, Hannelore. Kasinathan was a member of the 1957 undefeated soccer team.
1960s
Luise Easton '60 shared with us that she is the national champion of the U.S. Masters Swimming for the 80-84 age group for the two-mile open water swim race in Reston, Va. That's incredible, Luise!

Dan Smith '60 and his wife attended the Kennedy family barbecue as part of a memorial of Robert Kennedy's assassination 50 years ago. The next morning they went to a memorial service at Arlington National Cemetery, which included Kathleen Kennedy Townsend, Nancy Pelosi, John Lewis, President Clinton, and many others.

Clem Stancik '60 informed us that he was inducted into the Suffolk County (N.Y.) Sports Hall of Fame. Stancik recently concluded his 56th consecutive year of coaching the Brentwood (N.Y.) High School tennis team. His teams have won 10 league championships and 514 total wins, the most high school tennis victories in the state.

Tom Swartz '60 received the Community Hero Award for more than 40 years of community service as a community organizer, director of planning for the United Way, director of corporate philanthropy for a Rochester utility, and for his work with street gangs. Swartz also served on many community boards.

1961
Friends from the Class of 1961 George Galiatsos, from left, his wife Madga, Jenny Ogata Yoshizumi, and Sue Thomas Barstow visit campus in April.

Capt. William Bosworth, G'61, Medical Corp, U.S. Navy Reserves, has retired from the Navy Reserves. After serving on U.S. Marine Corps Reserve duty from 1953 to 1958, Bosworth graduated from the University of Health Sciences in Kansas City, Mo., and became an osteopathic physician while serving in the Navy Medical Corps. Thank you for your service, Capt. Bosworth.

1964
In front, from left, are Barbara Hess, Sally Robbins, Mary Stam, and Geri Bilik. In back, from left, are Bob Hess, Bruce Robbins, Neil Stam, and Ed Bilik. ​​​​

Barbara Hess '64 and Bob Hess '63 had lunch in Brevard, N.C., last summer with Springfield College friends Sally Robbins, Mary Stam '64, Geri Bilik '63, Bruce Robbins '64, Neil Stam '64, and Ed Bilik '57.

Gov. Kate Brown appointed Paul Rosenbaum '64 chairman of the Oregon Liquor Control Commission. The commission is responsible for the liquor and marijuana industries in Oregon. Rosenbaum is active on public and private boards and he and his wife, Maureen, have participated in philanthropic work for many years.

1964
Paul Rosenbaum

According to the Tuscaloosa News, Ed Reed '65, G'66, set two records at the Pan American Masters Championships, one in the 200-meter individual medley and one in the 400-meter individual medley.

Paul Wagner '67 shared with us that he ran his first and last marathon to celebrate his 75th birthday. That's incredible, Paul!

Emily Watson '67 writes, "Recently I flew to Colorado to hike and explore the trails above Boulder with my college roommate, Carol Thieme '67. Together we drove to New Mexico where Judy Vervoort Chaddick '67 showed us the Pueblos and then the sights of Santa Fe. When school opened here in New York I started my 51st year of coaching field hockey at North Salem Middle School." 

1967
Emily Watson, from left, with Carol Thieme and Judy Vervoort Chaddick

1968
Cliff Blasius with Tom Catlin

Cliff Blasius '68 and Tom Catlin '68 had lunch at Lake George where they both have homes on opposite sides of the lake. 

Lois Caulfield '68 was nominated for a Jefferson Award for Public Service. Caulfield works with refugees and immigrants. She arranges rides to appointments, helps fill out forms, and goes with families to garage sales for clothing and furniture.

Stan Kaslusky '68 shared a great story with us. After receiving a postcard from the College noting the new tax laws enacted in 2018 and their potential impact on giving, he decided to "steal the idea" and share it with his church. He handed it to the church secretary and asked her to make appropriate changes and put it in the monthly newsletter. "Imagine my embarrassment sitting in church the following Sunday, scanning the bulletin and reading my 'Note from the Treasurer' explaining the tax changes and asking parishioners to make their checks payable to Springfield College complete with address. 'Nice Try' said a university director of giving, who is a member."

1968
Stan Kaslusky and wife, Julie

Ron Markiewicz '68 and his wife, Emily, worked to create a monument recognizing the service of Vietnam veterans, especially the helicopter pilots and crew members who operated helicopters during the Vietnam War. After getting congressional approval, the monument was dedicated at Arlington National Cemetery. 

1968 
Ron Markiewicz

According to The Register Citizen (Torrington, Conn.), Sandy Boynton Roberts '68 was recognized by the United Way of Northwest Connecticut's Women's Leadership Initiative Committee as its 2018 Woman of the Year.

William Luwagga Kamanyi '69 won the Global International Cricket Council Lifetime Service Award. Kamanyi is a sports science lecturer at Kyambogo and Makerere University in Kampala, Uganda.

Bob Fox '69 and his wife, Lex, housed three Springfield College students during summer internships. Casey DiZinno, Class of 2019, Derek Griffiths, Class of 2020, and Ryan Clark, Class of 2020, spent the summer interning with the Brewster Whitecaps of the Cape Cod Baseball League. The Housing Assistance Program is coordinated through the Office of Alumni Relations. 

1969
Bob and Lex Fox with Casey DiZinno, center
1970s
Jeffrey Bourne '70 has retired as chief of facilities and capital programs of the Montgomery (Md.) County Department of Recreation. Bourne oversaw the planning and development of a significant number of new facilities and major renovations. He started his recreation career at East Campus. 

Vic Cervizzi '70 is now working part time as a substitute teacher for Brevard County (Fla.) Public Schools. "I guess a 46-year career in education and coaching wasn't enough," he wrote.

Bob Surette '70, former head men's soccer coach and assistant baseball coach at Riverdale Baptist High School (Upper Marlboro, Md.), was inducted into the Riverdale Baptist High School Baseball Hall of Fame. Surette led the soccer team to the NACA National Championship with a 21-9-0 record. He has amassed more than 300 victories in soccer at the high school and collegiate level. He lives in Bowie, Md., with his wife of 23 years, Theresa, his daughter, Christina, and his son, Matt, both of whom are collegiate soccer players.

1970
Robert Surette, center, at Riverdale Baptist High School Baseball Hall of Fame Induction

1971
Paula Broydrick shared with us this photograph of Maine alumni and their families. Broydrick and Karen Black '66 are clad in maroon shirts in the second row with Sharisse Roberts '06 just to their right. Tom Lindstedt '66 is in the back row in his Springfield College shirt and Anita Holmquist '57 is seated in the front row with her husband, Wayne.

Willie Boynton '72 was inducted into the Maine Baseball Hall of Fame last summer. Boynton was an All-American pitcher at Springfield College and played professionally in the San Diego Padres organization.

1972
Jeffry Cadorette

According to The Berkshire Eagle (Pittsfield, Mass.), Jeffry Cadorette '72, G'73, former Springfield College Trustee, was named to the executive post at Rotary International. The Pittsfield native currently resides in Media, Pa.

Mark St. Pierre '72 notified us of the release of his documentary Who Will Bury The Dead? St. Pierre wrote and directed the film.

1972
John Walker
A new member of the Springfield College Board of Trustees, John Walker, fly fishing on the Elk River in Fernie, British Columbia.

Richard Koss '76, DO, taught osteopathic medicine in Nagoya, Japan, in July and in Rome, Italy and Heiden, Switzerland, during the fall. Koss, who regularly trains osteopathic medical students and residents, welcomed Springfield College alumna Cherise Hatch '13 into his office for clinical training and experience in osteopathic manipulative medicine for two weeks.

1976
Richard Koss in Japan

Mary McKenzie Nimer '76 has retired as a physical education instructor after 42 years in the Danbury, Conn., school system.

Richard Miller, DPE '76, PhD, has retired from Western Kentucky University after a 43-year career. For the last 12 years, Miller served as vice provost for policies and personnel. Prior to his academic career, he played professional baseball in the San Francisco Giants minor league system.

John Papas '78 was named to the Massachusetts High School Football Coaches Association Hall of Fame Class of 2018. His 37-year career was split between college and preparatory school football. His teams won 76 percent of their games, appeared in four New England Preparatory School Athletic Council bowl games, won three New England championships and one Independent School League Championship. Good job, coach!

Gene Connolly '79 was featured in a 30-minute video on WORLD. The video, titled Mr. Connolly Has ALS, chronicles Connolly's final year as principal of Con-cord (N.H.) High School, when his physical abilities became significantly limited by amyotrophic lateral sclerosis (ALS). Sadly, Connolly passed away in August of 2018.

According to the Telegram & Gazette (Worcester, Mass.), Mark Tisa '79 has been appointed director of MassWildlife. MassWildlife is responsible for the conservation of freshwater fish and wildlife in Massachusetts, including endangered plants and animals.
1980s
In May 2018, sports management faculty Bob Accorsi, G'80, Ken Wall, G'73, DPE '75, and Kevin McAllister met up with Matt Ferry '11 and then-student Michael O'Dwyer, G'18, at Yankee Stadium. Matt currently serves as the Yankees' Director, Baseball Operations. Michael is an associate in baseball operations and was participating in a graduate internship.

1980
Bob Accorsi, from left, Matt Ferry, Ken Wall, Kevin McAllister and Michael O'Dwyer

1980
Tom Brown

Tom Brown '80 was the commencement speaker at Norwalk Community College. Brown is currently enrolled in a graduate program in emergency management at the University of New Haven and recently celebrated his 25th year as a counselor at The Arthur C. Luf Children's Burn Camp, an outdoor camp for youth who have been the victim of life-altering burn injuries. 

1980
Michael "Spider" Brown '80 enjoying a lobster while representing Springfield College at his 1976 high school reunion.

Mary Jane De Souza '80, PhD, FACSM, received the American College of Sports Medicine 2018 Citation Award. De Souza is a professor in kinesiology and physiology at Pennsylvania State University where she has been on the faculty since 2008. Her research focus has been on menstrual cycles, bone health, and metabolism in female athletes. During her acceptance speech, she honored Professor Mimi Murray '61, G'67, PhD, for her support and inspiration, saying that encouragement she received in Murray's class, The Female Athlete, was the reason she entered her field of study. 

1980
Andrew Kittell and his daughter, Charlotte (Class of 2026?) proudly wore their maroon and white while climbing Machu Picchu during a June 2018 family adventure in Peru last summer.

Mark DiFranco '81, Kathy McDonald Kelly '82, Jeff Sattler '81, Gary Crowell '82, Jay Caron '82, and Bob Casaceli '83, G'87, attended a Bryant University vs. Robert Morris University football game to support Kevin Kelly '82, head football coach at Bryant University. .

1981
Jeff Sattler, from left, Gary Crowell, Jay Caron, Kathy McDonald Kelly, Mark DiFranco, and Bob Casaceli.

Ted Baumhauer, G'81, former alumni council president, Bill Spelman '65, and Chelsea Ammerman '15, joined together in Rochester, N.Y., to host the alumni association's first-ever Discovery Group. In the true spirit of Humanics, the group organized and executed a service project at Camp Good Days, a summer camp for children battling life-threatening illnesses.

1981
John Hooper, from left, Mike Apostol, Pat Campion, Fran Samoriski Vincent, and Peter Vincent

John Hooper '81, Mike Apostol '68, Pat Campion '77, Fran Samoriski Vincent '83, and Peter Vincent '81 gathered together for a trip to Ireland last spring.

Brian McNally '81, president-elect for the Massachusetts Association for Health, Physical Education, Recreation and Dance (MAHPERD), met Rob Silliman '05, president-elect for the Connecticut Association for Health, Physical Education, Recreation and Dance (CTAHPERD), while at the SHAPE America SAM Leadership Conference.

1981
Brian McNally, left, and Rob Silliman

Juror William Eiland, Director of The Georgia Museum of Art, awarded Jeff Neumann '81 third place in the September Competition presented by The Alexandria Museum of Art, in Alexandria, La. His painting "Sands Motel," oil on linen, 46 x 30, was one of 47 pieces selected for the exhibition from more than 500 international submissions. The show ran from July until October. 

1981
Jeff Neumann with his painting, "Sands Motel"

Joe Lachowski '82, of Sutton, Mass., was awarded the Lavoisier Medal for Technical Achievement during the October Science Awards Ceremony of DowDuPont Specialty Products Division. At Springfield College, Lachowski was a chemistry/biology major with a minor in business. Professor Frank Torre, PhD, was present for the award. Lachowski is a technical fellow in the DuPont Electronics and Imaging Business.

1982
Joe Lachowski, left, and Professor Frank Torre

1983
Pat Deakins Frusciante, G'84, from left, Brenda Ross, G'03, and Judy Ford Baumhauer got together July 4 in Sodus Point, N.Y.

1984
Donna and Peter Cabral

Donna '84 and Peter '84 Cabral both won gold in the AAU National Indoor Pickelball Championships.

1985

1985 Amy Hale hosted an event at her Greenery Café, in Ogunquit, Maine, to kick off the Dr. Mimi Murray '61, G'67, Scholarship Fund for sport and exercise psychology or physical education graduate students. The fund is being spearheaded by Professor Kathy Mangano, EdD, far left, who joined Hale, left to right, Murray's partner Jean Soucy, Professor of Exercise Science and Sport Stud-ies Mimi Murray, and Director of Development Julie Considine Tyson. (To donate, reach Tyson at jtyson@springfield.edu or (413)-748-3859.)

Susan Myers '84 shared with us that she is retiring after a 31-year career with the Maine Forest Services. A wildland firefighter, she enforced Maine's environmental laws and was the first-ever female forest ranger, hired in 1985.

According to the Macomb Daily (Clinton Township, Mich.), Andy Appleby '85 has been named Executive of the Year by the Wayne State University Mike Ilitch School of Business. Appleby is the CEO and commissioner of the United Shore Professional Baseball League. 

Gregory Thielman '88, G'81, has been promoted to full professor at University of the Sciences, Philadelphia, where he has been on faculty since 2005 and tenured since 2011. He says he is enjoying great research collaborations nationwide as he continues his work to improve function and quality of life for individuals who have had a stroke.

The Newport Daily News (Newport, R.I.) reports that Coleen Walsh, G'85, is the new head of middle school at St. Michael's Country Day School in Newport.

Bob Macaluso '87, assistant baseball coach at the University of the Pacific, and Richard Dunn '88 connected in Tempe, Ariz., last spring as the University of the Pacific baseball team faced Arizona State University.

Cindy Best '88, G'89, was featured in an article in Voyager Magazine about her book Meet Me Where I'm At, and her businesses, Little Bear Pottery and A.R.T.S. (Adaptive art. Respite. Therapeutic Play. Services).

Matthew Faragher-Houghton '89 has been named principal at All Saints Catholic School in Bangor, Maine.

Kevin Pezanowski '89 has been named the first-ever lacrosse coach at Massachusetts College of Liberal Arts in North Adams, Mass.
1990s
According to Cape Cod Today, the Massachusetts Secondary School Administrators' Association has named Bill Burkhead '91, G'95, principal at Monomoy Regional High School, its Principal of the Year. The award recognizes outstanding middle school and high school principals who have succeeded in providing high-quality learning opportunities for students, as well as demonstrating exemplary contributions to their professions. Burkhead put a focus on a supportive culture to improve academic outcomes, starting with his belief that the school would be a "home away from home." Every person would be treated respectfully, pushed to achieve high expectations, and loved. The school's motto became "You are important." Burkhead attributes this culture to increased graduation rates, improvement on ELA and Math MCAS exams, doubling the number of students taking AP courses, and the increased number of students attending four-year colleges.

1980
Jennifer Gorman Baiungo, Linda Christiansen Poidomani, and Curly Perzel

Jennifer Gorman Baiungo '93, G'94, and Linda Christiansen Poidomani '92, met Curly Perzel '69 on their climb up Mount Washington. While taking a break, Perzel and Poidomani learned that they were both physical education teachers and soon realized they both went to Springfield College. Sounds like you had an amazing trip!.

1993
Front row, from left, are Tari Crowley, Peter Nardone, Deb Margolis, Jen Moran Pace, Tracy Morbee Shellard, Lisa Storm Cyr, and Jeff Cyr. Back row, Mark Crowley.

Tari Crowley '93, Peter Nardone '92, Deb Margolis '93, Jen Moran Pace '93, Tracy Morbee Shellard '93, Lisa Storm Cyr '93, Jeff Cyr '92, and Mark Crowley '93 gathered together at Nardone's home in Wakefield, Mass. last summer.

Matt Joseph '93, EdD, was selected as one of eight featured speakers at the Future of Education Technology Conference in Orlando, Fla.

Jeff Roberts '94 has been named head men's lacrosse coach at Hanover College.

1994
Kristine Wingate Shifrinn '94 has joined Andrew Abu Realtors in Northborough, Mass.

John Somes '94, G'09, left his position as CEO of the Greater Beverly Chamber of Commerce to work as CEO of the Danvers Community YMCA in Massachusetts.

The Daily Hampshire Gazette (Northampton, Mass.) reported that Col. Peter Green III, G'95, has taken command of the 104th Fighter Wing at Barnes Air National Guard Base in Westfield, Mass. Green has worked at the base for the past three years as vice commander.

1995
Joan Woodward, from left, Gregg T. Gilligan, and Christina Palmer

Gregg T. Gilligan '95, Joan Woodward '90, and Christina Palmer '80 each received a Doctor of Education from Boston College last May.

Rosie Monahan Tarara '96, G'98, and Dan Tarara '91 hosted Ryan Moretti, Class of 2019, as he spent his summer as a game day operations and ticket sales intern with the Greensboro Grasshoppers, a Class A baseball affiliate of the Miami Marlins. "When the opportunity presented to host a Springfield College student for a summer internship, we couldn't help but remember everyone who helped us along the way. We instantly felt a nudge to pay it back," Rosie and Dan wrote.

Sports Illustrated honored WWE superstar, film actor, and philanthropist John Cena '99 with its Muhammad Ali Legacy Award in December at the Sportsperson of the Year Awards. The award, given to individuals dedicated to the ideals of sportsmanship and whose careers in athletics impact the world, recognizes Cena for his charitable work, particularly with the Make-A-Wish Foundation. Cena is one of the Foundation's most active volunteers and has granted almost 600 wishes for children with life-threatening illnesses. He also advocates for military families and breast cancer awareness. He was captain of the 1998 Springfield College Football team and is a 2015 inductee of the Springfield College Athletic Hall of Fame. 

1999
Mara Elgazaar Define, Laura Gambuzza Burke, Tena Patton Flood, Danielle Marcucci Hroncich, and Trish Salerno Quagrello

Mara Elgazaar Define '99, Laura Gambuzza Burke '99, Tena Patton Flood '99, Danielle Marcucci Hroncich '99, and Trish Salerno Quagrello '99 returned to campus recently with their families, including Trish's husband, Steve Quagrello '99. The group made stops at the women's lacrosse game and their former Townhouse (#18).

Beth Vettori '99 has been named executive director at Kendal at Hanover, a continuing care retirement community in Hanover, N.H.
2000s
The Wakeman (Conn.) Boys & Girls Club has named Sabrina Smeltz '00 chief operating officer. Congratulations, Sabrina.

According to the Hartford Courant (Hartford, Conn.), Elsie Torres '01 is the new assistant superintendent of elementary schools in East Hartford.

2002
Anita N. Lee

Anita N. Lee, G'02, DPE'05, received the Certificate of Merit for Outstanding Academic Advisor in a Faculty Role from the National Academic Advising Association (NACADA) at the its annual conference in Phoenix in September. This award recognizes her outstanding academic advising performance and contributions. Lee is now a tenured professor of health sciences at Eastern Connecticut State University. Academic Advisor in a Faculty Role from the National Academic Advising Association (NACADA) at the its annual conference in Phoenix in September. This award recognizes her outstanding academic advising performance and contributions. Lee is now a tenured professor of health sciences at Eastern Connecticut State University.

Adam Salomon '02 published the book Post-Parkland: Are We Missing the Mark?, a non-partisan look at gun control and school safety. Originally written as a blog post, Salomon's message caught the attention of Rhode Island Lt. Gov. Daniel McKee, who asked Salomon to speak to the community about gun control and school shootings. The experience inspired him to expand on his ideas and write a book.

Merrill Foto News (Merrill, Wis.) reports that Jonette Arms, G'03, is the new executive director of the Aging and Disability Resource Center of Central Wisconsin.

Johnny Burns '04 has been named the new football coach at New London (Conn.) High School. 

2004
Sarah Mosier, from left, Kelly Dunn, and Peg Boyd

Sarah Mosier, G'04, Kelly Dunn, G'09, and Peg Boyd, G'95, all alumnae of the Springfield College student personnel administration program, were in the same cohort to graduate with Doctor of Education degrees from Johnson and Wales University.

Margaret Kooharian, G'05, gave birth to Bryan Kooharian on May 16, 2018. Congratulations, Margaret.

2006
The DiPanfilo family welcomes Kamryn Rose.

Ryan '06 and Kathryn Becker '07 DiPanfilo welcomed their third child, Kamryn Rose, in May 2018. 

According to Valley News (West Lebanon, N.H.), Jessica Aiken-Hall '06, G'13, is the new director of Horse Meadow Senior Center in North Haverhill, N.H.

Dumas Lafontant '06 was honored as one of five Men's Health Champions at the Whittier Street Health Center Annual Men's Health Summit. Lafontant is director of the Lower Roxbury Coalition, an organization aimed at enhancing the quality of life in Boston's Roxbury neighborhood through promoting diversity in leadership and youth development.

According to the Telegram & Gazette (Worcester, Mass.), Bobby Corazzini, G'06, has been named the Division 4 Mass. Boys Coach of the Year by the Massachusetts Basketball Coaches Association. Corazzini is the head boys basketball coach at Assabet Valley Regional Technical High School (Marlborough, Mass.), where he also teaches physical education.

On November 2, 2018, Josh Greenman '07, New York State Police (NYSP) investigator, Troop C, SP-Sidney, was named an Investigator of the Year by the Federal Law Enforcement Foundation during its presentation of the Investigators and Prosecutors of the Year Awards in New York City. The awards recognize excellence in service and personnel selected are recommended by the head of each agency and approved by the board of directors of the Federal Law Enforcement Foundation. Greenman was one of just three state troopers from New York and New Jersey who were honored alongside federal agents and federal prosecutors. Greenman was named a Springfield College Distinguished Young Alumnus in 2017.

2007
Josh Greenman, second from left, with (left to right) his wife Joanna, Superintendent of the NYSP George P. Beach II, and Assistant Deputy Superintendent for the NYSP Bureau of Criminal Investigation Joseph Tripodo

Kara Kelly, G'07, has been named assistant women's basketball coach at Stonehill College, Easton, Mass.

The Residence at Watertown Square, a senior living community in Watertown, Mass., has named April Slesinski '07 executive director. 

Jason Kelly, G'08, has been named director of youth sports and wellness at South Mountain YMCA (Maplewood, N.J.).

Alex Kosicki '08 has been named head tennis coach at Hollins (Va.) University.

2008
Amberlynn Gifford Slavin and her husband, Ben

Amberlynn Gifford Slavin '08, G'15, and her husband, Ben, recently returned from a five-month self-supported bicycle tour riding the Silk Road through Central Asia and the Middle East. They started their journey in China, and then traveled to Kazakhstan, Kyrgyzstan, Tajikistan, Uzbekistan, United Arab Emirates, and Oman. They enjoyed beautiful landscapes, rich cultures, friendly people and delicious foods. During their adventures through Kazakhstan, Tajikistan and Oman, Amberlynn practiced pediatric occupational therapy and learned about the different cultures, and their different medical practice models. While abroad, Amberlynn shared an educational app that she created while she was a student at Springfield. In Oman, she was featured on the blog TechCrunch, a leading tech blog. Her app, SnapType is a simple way to complete any school worksheet that she reports helps more than two million students in more than 90 countries..

The Sun Chronicle (North Attleboro, Mass.) reports that David DeStafano '09 has been hired as head coach of the boys' basketball team at King Philip Regional High School in Wrentham, Mass.

2009
Shane Lindor on the Pacific Crest Trail

On September 23, 2018, Shane Lindner '09, reached the northern terminus of the Pacific Crest Trail, concluding a journey that he began on April 12, 2018, at the Mexican border in Campo, California. He hiked every mile of the 2,650-mile trail—through the mountains of California, Oregon, and Washington to the northern terminus in Canada—carrying his supplies. Lindner hiked alone or with groups and individuals that he met along the way. Shane's sister is Kelsey Lindner '10, G'11.

Gregor Walz '09, director of athletic communications at the University of Puget Sound, has been voted by his peers as the 2017-18 Jack Sareault Award recipient. The award is presented annually to the Northwest Conference Sports Information Director of the Year.
2010s
Jesse Craddock '10 married Katelyn Kelly on Aug. 10, 2018. Craddock is a new assistant principal at Keller Elementary School (Franklin, Mass.).

Nicki Ebbighausen '10 has joined the Keene State College athletic department as an athletic trainer.

2011
Elizabeth O'Neill, DPE '03, from left, Rachelle Edmond '18, Dean of the School of Health, Physical Education, and Recreation Tracey Dexter Matthews, G'95, DPE '97, and Jonathan Nardi '11, G'13, meet for a recent lunch in Cheney Hall.

2011
Chris Quetant and Sara Dalton with Springfield College friends

Chris Quetant '11 and Sara Dalton '13, G'15, were married in November 2017.

Jaclyn Hill '11 received her doctorate from Kirksville College of Osteopathic Medicine in Kirksville, Mo. Hill currently is an emergency medicine resident at Merit Health-Wesley in Hattiesburg, Mich. 

Jessica Blasioli '12, G'14, shared with us that she is the new associate director of wellbeing at the University of North Carolina Wilmington. She had previously worked as the assistant director of fitness and wellness at the University at Albany.

David Lewis '12 ran his first Boston Marathon last April. After witnessing family members battle cancer, he decided to run in support of Children's Oncology Group, whose goal is to cure all children and adolescents with cancer, reduce short and long-term complications of cancer treatments, and determine the causes and find ways to prevent childhood cancer.

The Peoria Chiefs, a Class A affiliate of the St. Louis Cardinals, announced that Frank Spinelli '12, G'15, has been named the Strength and Conditioning Coach of the Year for the Class A baseball Midwest League.

NBC 10 (Portland, Maine) officials announced Sam Read '13 as a multimedia journalist on the Night Team. 

2013
John Caparrotta, Deanna Avdoulos Capar-rotta, and friends

John Caparrotta '13 and Deanna Avdoulos '15, G'16, were married Sept. 9, 2018. In attendance were many Springfield College family and friends, including Pete Avdoulos '85, Melanie Avdoulos '16, and Alison Avdoulos '19.

Samantha Rivet '13 has been sworn in as a police officer of the Troy (N.Y.) Police Department.

Campbell University (Buies Creek, N.C.) has announced Gabby Gaudreault '14 as the new assistant coach of cross country and track and field.

Nick Ferry '14 was recognized by the American Volleyball Coaches Association as a Thirty Under 30 award winner for 2018.

2015
Grinspoon awardees Deborah Choiunard and Matthew LaCroix

The Grinspoon Award For Teacher Excellence banquet was held last May and Westfield, Mass., teacher Deborah Choiunard, G'15, spouse of Gary Enright '79. G'87, associate director of the counseling center, was honored. A separate category honored promising new teachers, and Agawam, Mass., teacher Matthew LaCroix '17 was recognized. Matt had Deborah as a teacher when he was in third grade

Abby Clark '15 was one of the contestants on American Ninja Warrior last summer. Clark was a member of the women's gymnastics team at Springfield College. (See page 26.)

2015
Jason Czernich

Jason Czernich, G'15, shared with us that he received the Massachusetts Department of Children and Families (DCF) Commissioner's Award for work on a critical incident in May 2018. He also received a 2018 Commonwealth Citation for Outstanding Performance for his work for DCF at a statehouse ceremony. 

Sarah Libuda '15 was married to John Farrell last March.

2016
Lauren Holt, from left, Greg Mager, and Jon Reidy

John Reidy '16, recently got together with Lauren Holt '17 and Greg Mager '17. Greg works for the Winston-Salem Police Department and Lauren is a graduate assistant athletic trainer at University of North Carolina at Chapel Hill and was traveling with NCAA men's tennis at Wake Forest University. 

Rensselaer Polytechnic Institute officials have named Kevin Richard '16 as their new athletic training associate.

Charitie Bruning '16 is the new childcare director at the Genesee Area Family YMCA in Batavia, N.Y.

According to the Press Herald (Portland, Maine), Jordan Hersom '16 has been named York (Maine) High School's new head football coach.

Matthew LaCroix '17 received the Pioneer Valley Excellence in Teaching Award. LaCroix is a physical education teacher in Agawam, Mass. (See photo under Class of 2015.)

According to The Republican (Springfield, Mass.), Nate Weissman '17 has been hired as assistant director of operations for the Midland RockHounds, an Oakland A's affiliate in the Class AA Texas league.

Graduate student Lauren Wackowski '17 and Allyson Teot Brown '80 attended a Luke Bryan concert in Los Angeles. Wackowski had the opportunity to stay with Brown last summer while completing a clinical experience at Pure Pediatric Therapy in Laguna Hills, Calif. The Housing Assistance Program is coordinated through the Office of Alumni Relations.

Ben Ryan '18 is a new morning feature reporter for NEWS10 ABC (Albany, N.Y.).

Quentin Grant, a current undergraduate student at the Springfield College Wilmington, N.C., campus, and an officer in the Milwaukee Police Department, was honored at the Milwaukee Police Merit Awards Ceremony for bravery in assisting a citizen after a motor vehicle collision