Who introduced you to Springfield College?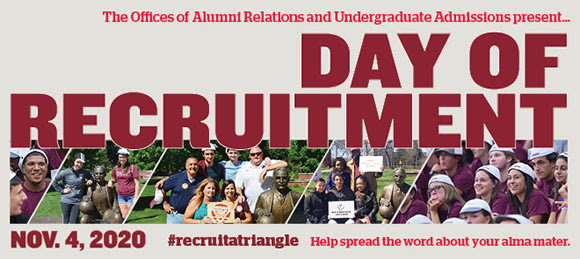 Was it a family member, coach, teacher, guidance counselor, teammate, or a friend? All it takes is one conversation with an alumnus or alumna to change a student's life. Support your alma mater by sharing your best and brightest with Springfield College.

Join us for our Day of Recruitment on Wednesday, Nov. 4, 2020. Please reach out to family, friends, and colleagues to identify students who you know would be a good match for Springfield College. Then, between midnight on Nov. 4 and 11:59 p.m., there will be three ways for you to make your referral:
 
Call and talk with one of our "Famous Face" volunteers, including Betty Mann, G'74, DPE'84; Tony Hill '92, CAS'03; Charlie Redmond '68, G'71; and Delight Champagne. More detail on how to reach our Famous Faces will be forthcoming.
Call the Alumni Relations staff at (413) 748-3161 between 10 a.m. and 6 p.m.
Go online at springfield.edu/dayofrecruitment.
There will be fun challenges, games, and prizes throughout the day. Help make this the best year for student recruitment. Share your posts about the day using #recruitatriangle!

For more information, visit springfield.edu/dayofrecruitment or contact the Office of Alumni Relations staff at (413) 748-3161 or alumni@springfieldcollege.edu.