Harold InDelicato
Harold InDelicato
Associate Professor of Digital Design and Studio Art
Office
Room 214




Herbert P. Blake Hall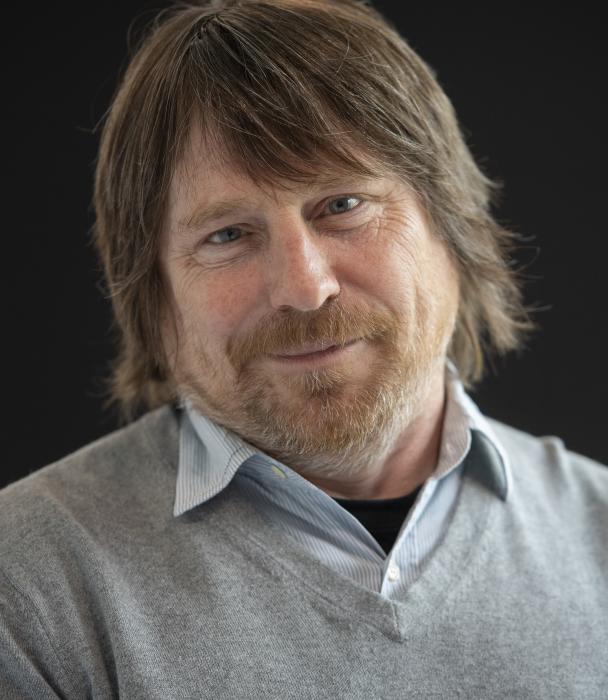 Master of Fine Arts, Boston University, Boston, 2005
Master of Arts, Rhode Island College, Providence, R.I., 2003
Bachelor of Arts, Rhode Island College, Providence, R.I., 1996
Harold InDelicato has taught at many colleges across New England and the Northeast, including The Art Institute of New York City, Rhode Island College, Johnson & Wales University, and Lasell College. He began teaching in 2004 while attending Boston University (BU). He realized his desire to teach while taking a short-term position as a teaching assistant at BU. From there, InDelicato began a rewarding career that included work as a computer graphics professional. Throughout his extensive corporate career, he has been committed to the utmost excellence in the fields of animation, design, communications, and media. He currently resides in New York City where he practices animation and ink drawing. His hobbies include surfing, reading, and beekeeping.
Artist Statement
As an artist and animator, Harold InDelicato's goal is to stir the imagination through the presentation of shapes, sound, and movement in space. As his chosen art form, animation poses a unique opportunity to present his audience with a separate reality that may or may not adhere to physical constraints. It draws the observer into the moment and offers new and perhaps contrary perspectives.
As a teacher, InDelicato tries to do the same with his students—draw them in, change their perspective, give them the opportunity to learn something new and valuable in a way that will be most meaningful to them. Helping a student to achieve their full potential can be a work of art in itself, one that requires just as much effort, skill and talent as any other artistic endeavor.
Research Interests
Communications design
Virtual reality
Augmented reality
3D printing
Animation
Media studies
Post modernism, including semiotics, structuralism, and hegemony
Critical thinking and critical theory
Philosophy and social theory
The Frankfurt School
Architecture 
Courses Taught
Figure/Basic Drawing
Design
Graphic Design
Maker Lab
Game Design and Development
Web Design using HTML Code and CSS
2D/3D CG Animation using AutoDesk Maya
Certifications and Memberships
Before & After Creative Consulting: Tom Monahan's Creative Summer Camp: a three-day training program consisting of problem-solving, brainstorming, and the fundamentals of creative thinking in corporate groups
Interests
Software: Adobe Creative Suite, Photoshop, Illustrator, Flash, AS3, Dreamweaver, InDesign, Coldfusion, CML, Autodesk Maya, Final Cut Studio, Sony Vegas Pro, Sony Sound Forge, Mudbox

Code: XHTML, HTML, CSS, JavaScript, CML, Actionscript AS3

Teaching: Blackboard Academic Suite, Moodle

Hardware and Peripherals: Cubify 3D printer, Makerbot 3D printer, Oculus Rift, Inkling, Wacom
Selected Works
Presentations
2017 "Henry's Kids" ArtProv Gallery, 150 Chestnut Street, 3rd Floor, Providence, RI
2015 "Springfield College Visual Arts Faculty Exhibition," William Blizard Gallery, William Blake Hall, 2nd Floor, 263 Alden Street, Springfield, MA
2010 "RISD Summer Faculty Exhibition 2010" Woods-Gerry Gallery A Rhode Island School of Design Summer Faculty Exhibit 62 Prospect Street, Providence, RI
2009 "The State of the Arts in RI" University of Rhode Island (URI) Feinstein Providence Campus Gallery A URI, CCRI Faculty, Student, Alumni and Retired Faculty Exhibit 80 Washington Street, Providence, RI
2008 "Hope Radio Sessions DVD" Production Assistant Ronnie Earl and the Broadcasters Stony Plain Recording http://www.amazon.com/Hope-Radio-Ronnie-Earl-Broadcasters/dp/B001C0I630
2005 "Master of Fine Arts (MFA) Graduate Student Exhibition" Boston University Art Gallery Boston University School of Visual Arts 855 Commonwealth Avenue, Boston, MA
2003 "Boston Cyber Arts Festival" Boston, MA Rhode Island College Master of Arts Degree in Media Studies (MA) group exhibition 600 Mount Pleasant Avenue, Providence, RI
2000 "Nine Artists: Recent Works" Bush Gallery, Bryce Studio 212 Weybosset Street, Providence, RI
1999 "Mission Providence" A Rhode Island School of Design (RISD) student organized gallery exhibition Peerless Building, 229-239 Westminster Street, Providence, RI
1996 "The Annual Senior Show" Edward Mitchell Bannister Gallery Bachelor of Arts (BA) Student Exhibitions Roberts Hall, 600 Mount Pleasant Avenue, Providence, RI
Publications
DC/DC Converter Mart" Designer Magazine advertisement for DATEL in "Electronic Products" national trade magazine
HOW Magazine Illustrator 3D model for Tom Monahan (creative director) at the 1999 "Annual HOW magazine Design Conference" in Dallas May 23–26
"Coming This Christmas From Hasbro" Editorial Comic Rhode Island Media Cooperative http://www.RIMediaCoop.org
Modeler and Animator "Desperados" 3D computer game for Valusoft Sold nationally through Walmart department stores
Spring 2017 Laurels Submissions
Art by Harold InDelicato, assistant professor of computer graphics and digital arts, was featured in a juried exhibition at ArtProv gallery in Providence, R.I., as part of the Providence Gallery Night called "Henry's Kids" in February and March 2017. Two pieces—April 2011 and January 2012—as well as sketchbooks were on display. His work also was recently featured on the website Believed Behavior alongside Ignatz Award winners published in Houghton-Mifflin's Best American Comics.