Regina Kaufman
Professor of Physical Therapy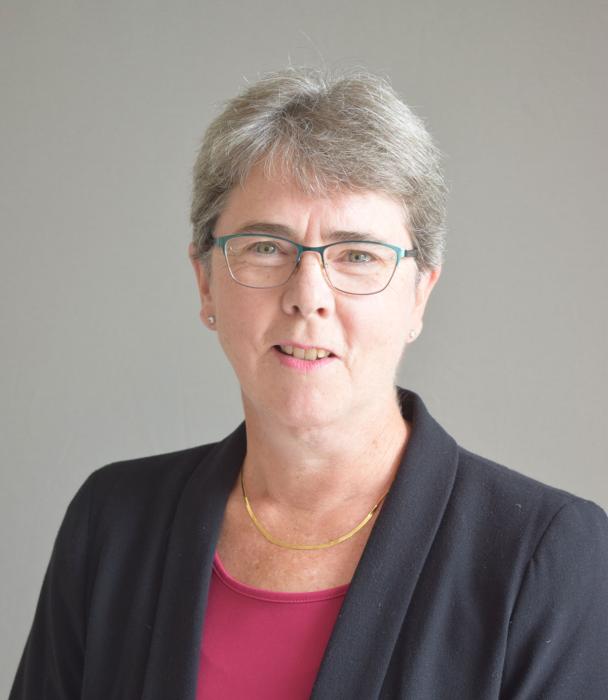 Bachelor of Science, Russell Sage College, Troy, New York, 1984
Master of Science, MGH Institute of Health Professions, Boston, Massachusetts, 1995
Doctor of Education, University of Massachusetts, Amherst, Massachusetts, 2007
Regina Kaufman joined the Department of Physical Therapy faculty in 1999. She has been board certified as a specialist in neurologic physical therapy since 1998. During her 32-year career as a physical therapist she has been committed to helping solve the problems faced by people living with neurologic conditions. A passion for active teaching and learning, and a desire to remain immersed in clinical practice, drives her commitment to clinical service learning programs. In conjunction with her colleagues and students in the DPT program, she coordinates the Stroke Exercise Group, as well as services at the Servicenet Enrichment Center for people with brain injury. Kaufman has published and presented for national audiences on models for deep integration of community engagement into health professions curricula, and on the outcomes of engaged education for students and community partners.
Research Interests
Community-engaged education in physical therapy
Courses Taught
Foundations of Physical Therapy Practice I
Management of Patients with Neuromuscular Disorders I
Management of Patients with Neuromuscular Disorders II
Management of Balance and Gait Disorders
Certifications and Memberships
Board Certified Specialist in Neurologic Physical Therapy
Selected Works
Presentations
Kaufman R, Chevan J, Roberts D, Nowakowski K, et al. Community Engagement as a Curricular Cornerstone: A Comprehensive Commitment to Service Promotes Excellence in Education. Educational session at the Educational Leadership Conference of the APTA, Baltimore, Md., October 2015.
Kaufman R, Nowakowski K, Roberts D, Chevan J. Community Engagement as a Curricular Cornerstone. Kaufman, Nowakowski, Roberts, PT, Montemagni, Pelletier, Chevan. Poster presentation at the 3rd Annual Pro Bono Networking Conference, Chester, Pa. March 2015.
Kaufman R, Chevan J. The Center for Community-Engaged Education in Physical Therapy: A Roadmap for Strategic Planning and Departmental Advancement in a Community-Engaged Institution. Poster presentation, Eastern Regional Campus Compact Conference, Philadelphia, Pennsylvania, October 2013.
Kaufman R, Nowakowski K, Roberts D. A Liangong exercise program improves balance performance and reduces fall risk in subjects with chronic stroke: A case series. Platform presentation, Combined Sections Meeting of the APTA. San Diego, California, January 2013.
Publications
Nowakowski K, Kaufman RR, Pelletier D. A clinical service learning model promotes mastery of essential competencies in geriatric physical therapy. Journal of Physical Therapy Education. 2014;28:46-53.
Kaufman RR, Chevan J. The gender gap in peer reviewed publications by physical therapy faculty members: a productivity puzzle. Phys Ther, 2011;91:122-131.
Kaufman R. Career factors help predict productivity in scholarship among faculty members in physical therapist education programs. Phys Ther, 2009;89:204-216.
Kaufman RR. A reflection on disciplinary nature and the status of physical therapy scholarship. Journal of Physical Therapy Education, 2005;19(1):3-8.
Spring 2017 Laurels Submissions
Regina Kaufman, EdD, professor of physical therapy, published "Lessons from the lake" in the Journal of Humanities in Rehabilitation in March 2017.