Samuel A. E. Headley
Professor of Exercise Science / Director of Clinical Exercise Physiology
Office
Room 214




Athletic Training and Exercise Science Facilities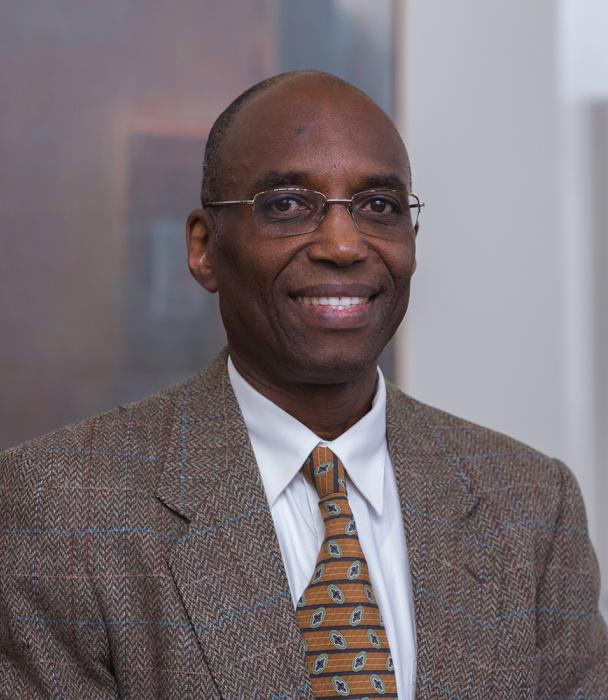 Doctor of Exercise Physiology, Temple University, Philadelphia, Pa., 1991
Master of Science, Kings College, London, England, 1985
Bachelor of Arts, Birmingham University, Birmingham, England, 1982
Samuel Headley is a clinical exercise physiologist. His research is focused on using lifestyle interventions (diet and exercise) to assist individuals with chronic non-communicable diseases. He also has an interest in nutritional factors that enhance athletic performance. Headley is currently serving as the program director for the exercise physiology program at Springfield College.
Courses Taught
Electrocardiography (graduate & undergraduate)
Exercise Biochemistry (graduate)
Graded Exercise Testing and Exercise Prescription (graduate)
Medical Physiology(graduate)
Cardiovascular Physiology (graduate)
Exercise Testing and Prescription (undergraduate)
Sports Nutrition (graduate and undergraduate)
Certifications and Memberships
American College of Sports Medicine-certified Clinical Exercise Physiologist
American College of Sports Medicine member
Clinical Exercise Physiology Association member
American Society of Nephrology member
Research Interests
Lifestyle and chronic kidney disease
Exercise and hypertension
Nutrition and athletic performance
Selected Works
Presentations
The effect of lifestyle interventions on cardiopulmonary function in CKD patients. Presented at the MAACVPR January meeting in 2019.
The Relevance of Sedentary Behavior Reduction to the Clinical Exercise Physiologist. Presented at the New England American College of Sports Medicine Annual Meeting, Fall 2017 in Providence Rhode Island
CEPA Update. Presented with Professor Peter Ronai, at the New England American College of Sports Medicine Annual Meeting, Fall 2017 in Providence Rhode Island
Lifestyle Modifications in CKD: The Risk Factor Paradox, presented at the annual meeting of the NEACSM in fall 2013.
The effect of exercise training in CKD. Presented at Henry Ford Hospital, November 2013
Publications
Hayden Riley, Nitesh Ainani, Ahmad Turk, Samuel Headley, Heidi Szalai,Mihaela Stefan, Peter K. Lindenauer, & Quinn R. Pack. Smoking cessation after hospitalization for myocardial infarction or cardiac surgery: Assessing patient interest,confidence, and physician prescribing practices. Clinical Cardiology. 2019;1–6
Michael Bruneau Jr., Jennifer McKinnon, Michael J. Germain, Tracey Matthews, Thomas Dodge, Paul Dalton, Amanda LaCroix, Shelby Van Huysen, and Samuel Headley (2019). Effects of In-Center Resistance Training in End-Stage Renal Disease: A Pilot Study. Journal of Clinical Exercise Physiology: September 2019, Vol. 8, No. 3, pp. 91-96.
Maris S, Winter, C, Paolone V, Headley S (2019) Comparing the Changes in Blood Pressure after Acute Exposure to Tai Chi and Walking. International Journal of Exercise Science 12(3) 77-87
Riley, H, Headley, S, Lindenauer P, Goff S, Szalai H, Gaalema D, & Pack Q (2018). Patient Perception of how Smoking Status Influences Cardiac Rehabilitation Attendance After an Acute Cardiac Hospitalization. Journal of Cardiolulmonary Rehabilitation and Prevention pp1-6
Headley, S Hutchinson J, Wooley S, Dempsey K, Phan K, Spicer G, Xanne Janssen, Laguilles J, & Matthews, T (2018). Subjective and objective assessment of sedentary behavior among college employees. BMC Public Health, 18:768 https://doi.org/10.1186/s12889-018-5630-3
Hutchinson J, Headley S, Matthews T, Spicer G, Dempsey K, Wooley S, & Janssen X (2018) Changes in Sitting Time and Sitting Fragmentation after a Workplace Sedentary Behaviour Intervention. IJERPH, 15:1148
Miele EM, Headley SAE. The Effects of Chronic Aerobic Exercise on Cardiovascular Risk Factors in Persons with Diabetes Mellitus. Curr Diab Rep. 2017 Sep 12;17(10):97. doi: 10.1007/s11892-017-0927-7. Review. PubMed PMID: 28900818.
Ikizler TA, Robinson-Cohen C, Ellis C, Headley SAE, Tuttle K, Wood RJ, Evans EE, Milch CM, Moody KA, Germain M, Limkunakul C, Bian A, Stewart TG, Himmelfarb J. Metabolic Effects of Diet and Exercise in Patients with Moderate to Severe CKD: A Randomized Clinical Trial. J Am Soc Nephrol. 2018 Jan;29(1):250-259. doi: 10.1681/ASN.2017010020. Epub 2017 Oct 16
Miele EM, Headley SA, Joubert J, Taylor BA & Wood RJ (2017) HDL particle pattern and overall lipid responses to a short term moderate intensity aerobic exercise training intervention in patients with chronic kidney disease.Clinical Kidney Journal Aug; Vol. 10 (4), pp. 524-531
Blood pressure response to acute and chronic exercise in chronic kidney disease. Headley S, Germain M, Wood R, Joubert J, Milch C, Evans E, Cornelius A, Brewer B, Taylor B, Pescatello LS.Nephrology (Carlton, Vic.). 2017; 22(1):72-78.
Headley, SA, Germain, M, Wood, R, Joubert, J, Milch, C,Evans, E, Poindexter, A, Cornelius, A, Brewer, B,Pescatello, LS,& Parker, B. (2014)Short-term aerobic exercise and vascular function in CKD stage 3: A randomized controlled trial. Am J Kidney Dis. 64(2):222-229.
Headley, SA, Germain, M, Milch, C, Pescatello, L, Coughlin,M,Nindl, BC, Cornelius, A, Sullivan, S, Gregory, S, & Wood, R (2012). Exercise Training Improves HR responses and VO2peak in Predialysis Kidney Patients. Med.Sci.Sports Exerc. Vol. 44, No. 12, pp. 2392–2399.
Headley, S. A., Germain, M., Milch, C. M., Buchholz, M. P., Coughlin, M. Pescatello, L.S.(2008) The Immediate Blood Pressure Lowering Effects of Aerobic Exercise among Patients with Chronic Kidney Disease. Nephrology 13: 601-606.
Headley, S. A. , Germain, M., Mailloux, P., Mulhern, J., Ashworth, B., Burris, J., Brewer, B., Nindl , B., Coughlin, M., Welles, R.,& Jones, M.(2002). Resistance training improves strength and functional measures in patients with end-stage renal disease. Am J. Kidney. Dise. 40 (2): 355-364.