Campaign for the Bugbee Family Pavilion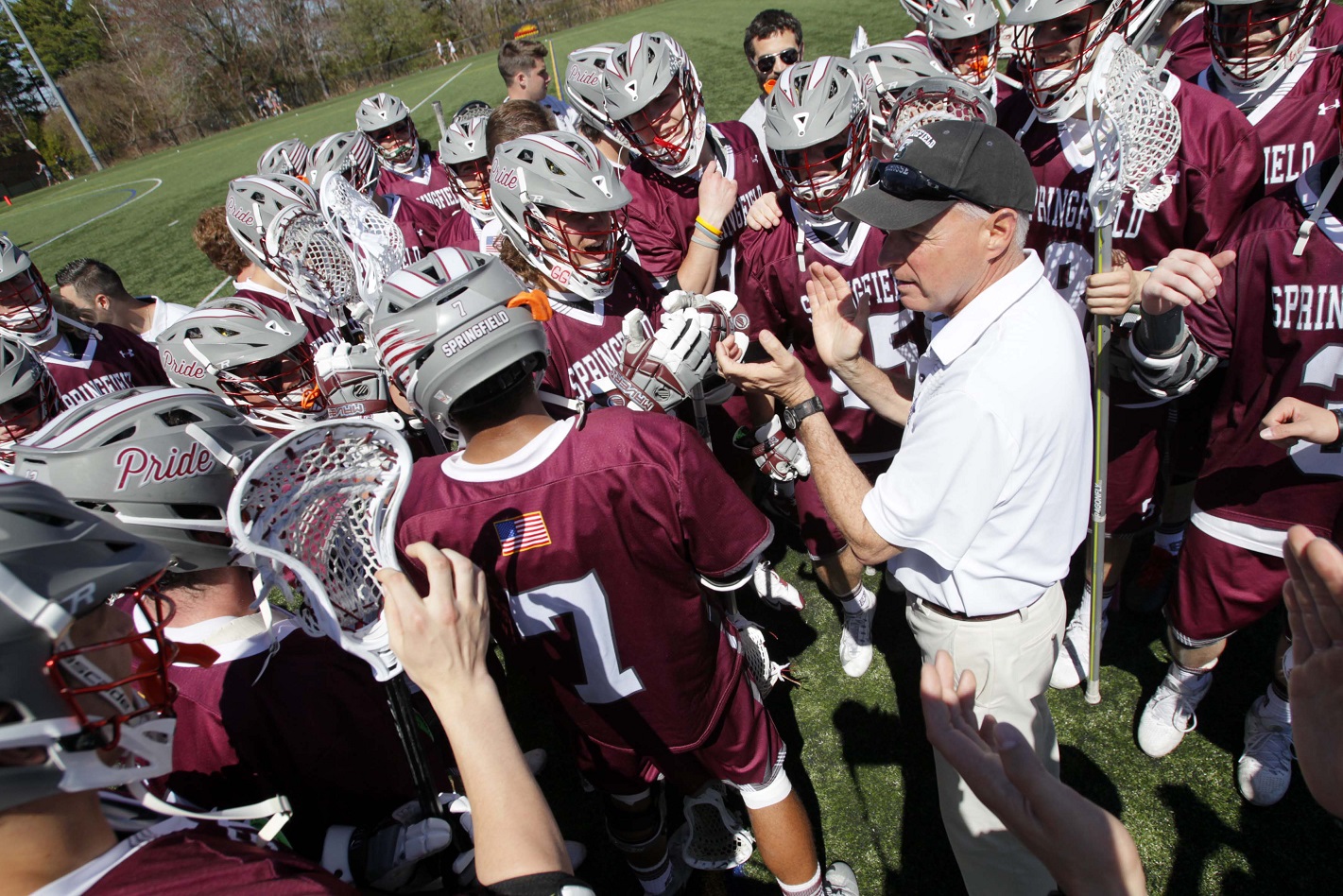 Bugbee Family Pavilion
---
To honor the legacy of Coach Keith Bugbee, G'84, and the personal growth, leadership, determination, and commitment to family that are the foundation of the men's lacrosse program, Springfield College alumni and friends are raising funds to create the Bugbee Family Pavilion at Amos Alonzo Stagg Field.
Your donation to this project will recognize Coach Bugbee's incredible contributions to Springfield College and the student-athletes who had the privilege to learn from him, as well as to the sport of lacrosse nationally through the cadre of coaches he has helped develop. You can honor Coach Bugbee and the impact the men's lacrosse program had on you and your experience as a student-athlete by making your gift to this important project.
A gift from your former players
Coach Bugbee
Keith Bugbee is not an ordinary father, husband, or teacher-coach. He is a man who has left a lasting mark on thousands of students during his almost 40 years in the classroom and as the head men's lacrosse coach at Springfield College. One of the winningest lacrosse coaches in the history of the sport, he is grounded in a commitment to family, and is quick to point out that it's not about him.
"I've always said I have two families, one I go home to, one I go to practice with every day."
Entering his 38th season, Bugbee is a titan in the sport. His impact on the sport both regionally and nationally can be illustrated by his time spent mentoring countless youth players and coaches through the Peak Lacrosse Camps, as well as by his leadership that brought Springfield to the 1994 NCAA Division II National Championship. And, while he became just the fifth coach in the history of collegiate men's lacrosse to capture 400 victories in 2019, his impact goes far beyond wins and losses.
From his time as a graduate assistant coach with the program in the early 1980s until now, Bugbee has been instrumental in instilling a culture of family around Springfield Lacrosse. 
As his players huddled in the locker room prior to heading out on the field for what would prove to be their 11th consecutive conference title in 2018, Bugbee said to his team "Becoming a Chief Dawg isn't something that happens just because you were recruited to play at Springfield College; it's something that you earn. It's in our blood. And, I think that says something about our culture, something that sets us apart. Because it's only gotten stronger as the years have gone on."
Family
The importance of family took on a completely new meaning with the untimely and tragic passing of Coach Bugbee's oldest daughter, Lindsay Bugbee Crosby '08, on July 4, 2018.  Lindsay was a two-sport standout at Springfield College as a member of the women's soccer and women's lacrosse programs.
"Lindsay loved to compete. The bigger the stage, the brighter the lights, that was her time. But that carried on past her playing days. Marriage was game day, having a baby, raising her kids, that's when she would show up. The more important the life milestone, the more she would pour herself into the situation. She loved the moment when she could rise to the occasion," Bugbee said.
And, showing up is a family tradition. Whether it was at practice with several feet of snow piled around the edges of the field in February, or getting the ref's attention at just the right time late in the fourth quarter for a timeout to organize a final offensive set, Coach Bugbee was there for you as a student-athlete.  Moreover, for many of you, conversations with Coach Bugbee on the field and in the locker room have evolved into conversations with him at your wedding reception or over the phone giving him updates on your family. Coach's message to his student-athletes has been consistent—and has rung true for almost 40 years—be  a good person, be a good teammate, represent your school and family in a good manner, be proud of yourself.
The Bugbee Family Pavilion
Securing funds from lacrosse program alumni, families, and friends will allow the College to build a distinctive, multi-use facility in honor of Coach Bugbee and his family. The pavilion will be available before, during, and after all athletic events held at Stagg Field for families to watch the action on the field, as well as rally for a tailgate following a game. In addition, the facility will be used for team instruction, film review, classes, meetings, and conferences. The Bugbee Family Pavilion will be a welcome addition to the Springfield College Athletics experience.

Located at the north end of the home bleachers, the pavilion is designed to be synonymous with the traits of the Bugbee family: simple and strong with a traditional New England feel; family-oriented; and built to stand the test of time.
Please Join Us in This Lasting Tribute to the Bugbee Family
Join us in this lasting tribute to Coach Bugbee by making a contribution in honor of his family and in honor of what he meant to you as a student-athlete. In the spirit of our Springfield College Humanics philosophy, honor a family and a Coach who continue to make an impact and inspire us with their resolve, love, and loyalty. 
A gift of $2,500 or more, which can be paid over two years, will secure your place on the Leadership Wall in the pavilion.
TO MAKE A GIFT or inquiry, please contact the Office of Development at developmentandalumni@springfield.edu or (800)-622-6072, or at springfield.edu/giving.