College and University Teaching for Healthcare and Medical Professionals
POST-BACCALAUREATE CERTIFICATE
About This Program

Admissions Contact

Program Contacts

Curriculum and Delivery

9-credit certificate
3 course program
Flexible courses offered 100% online and are designed to fit the busy schedules of professionals

Strong emphasis on science of learning in all courses

Cohort with other health care professionals who wish to teach in higher education

Start Dates and Duration

Start in January (Spring semester)
Three consecutive, 7-week sessions (one week off between sessions)
Complete the certificate in 21 weeks

Paying for Your Education

Upcoming Events

College and University Teaching for Healthcare and Medical Professionals
Post-Baccalaureate Certificate Information Session
Tuesday, September 26, 2023 at 12:15 P.M. EST
Register

College and University Teaching for Healthcare and Medical Professionals
Post-Baccalaureate Certificate Information Session
Wednesday, October 25, 2023 At 12:15 P.M. EST
Register 

College and University Teaching for Healthcare and Medical Professionals
Post-Baccalaureate Certificate Information Session
Thursday, November 9, 2023 at 5:30 P.M. EST
Register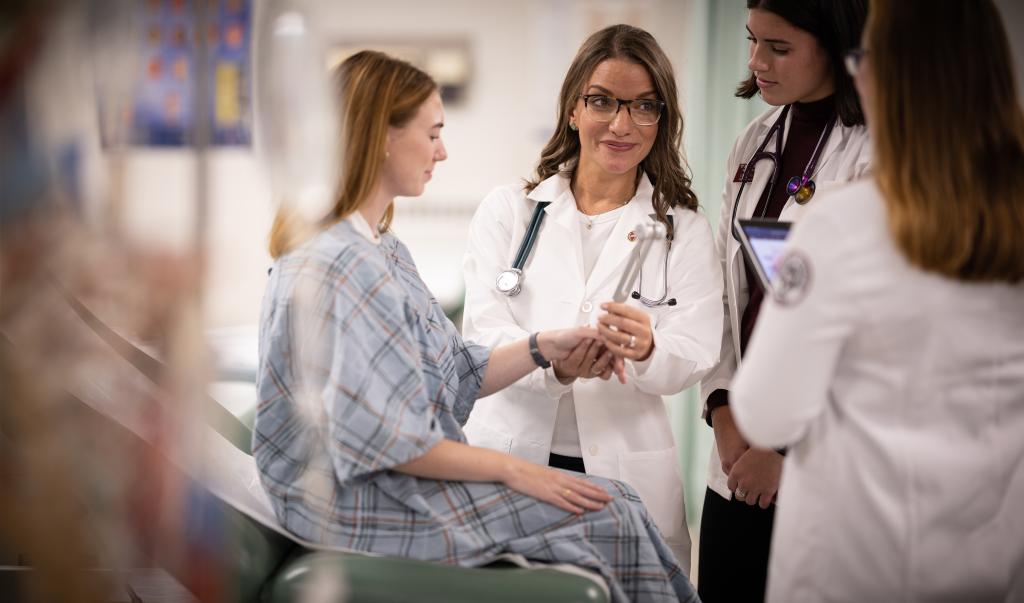 The College and University Teaching for Healthcare and Medical Professionals Certificate at Springfield College is designed for health practitioners who have obtained or are near completion of their entry-level clinical degree* and now want to expand their skills and knowledge with a goal of teaching in higher education. The program is designed for health and medical professionals (e.g., nurses, pharmacists, physical therapists, occupational therapists, physician assistants, physicians, chiropractors, speech-language pathologists, and audiologists) who have preferably worked in a clinical setting for at least two years and who have an interest in either classroom or clinical teaching. 
* Examples of an entry-level clinical degree as defined by the profession include the Doctor of Physical Therapy (DPT), Master of Science in Occupational Therapy (MSOT), Doctor of Occupational Therapy (OTD), Doctor of Medicine (MD), or Master of Physician Assistant (MPA).
The two core faculty members each have expertise in the areas in which they teach.
Chris Hakala

has expertise in the science of learning and runs training programs on how to teach effectively and in line with knowledge of student learning.

Julia Chevan

is an expert in clinical curriculum development and teaching and has taught for over 30 years both at Springfield College and as a Fulbright Scholar in institutions abroad.
To complete the certificate, students take coursework in the organization of higher education, the science of teaching and learning, contemporary issues in clinical teaching, and interprofessional health professional education.
The program will provide all students the opportunity to:
Continue in their clinical role and to take on a role as a faculty member or adjunct faculty member in higher education in a health professionals entry-level program.

Learn about current issues in higher education teaching in the health professions including clinical teaching, interprofessional education, simulation, and competency-based education.

Learn how the science of learning can inform their pedagogy.
How to Apply:
Admissions Requirements
Complete the FREE online application: Once your application form is processed you will receive an email with your application portal login credentials and instructions for submitting supplemental materials as listed below.
Personal Statement:

500 words or less on why you're interested in pursuing this certificate program.

Proof of licensure
Resume: Please include any college activities, out-of-school leadership experiences, work history, and community involvement to support your interest in or qualifications for graduate study.
Transcripts: An official transcript from each college/university you have attended is required. In order to be considered official, transcripts must be received directly from the original source, by email to graduate@springfield.edu or mailed to the college address:
Springfield College
Office of Graduate Admissions
263 Alden Street
Springfield, MA 01109
International Applicants
In addition to the above admissions requirements, all international applicants from non-English speaking countries are required to submit:
Proof of English language proficiency by way of the TOEFL or IELTS: Other tests may be accepted on a case-by-case basis. Please refer to our language requirements for more information on acceptable tests, minimum scores, exemptions, and conditional acceptance. If your undergraduate degree was earned in the United States and you successfully completed college-level English, we will consider English language proficiency met.
Please note: Transcripts must be in English. If the transcript is not in English you will be required to submit a professional credential evaluation completed by any member of the National Association of Credential Evaluation Services (NACES). For this we recommend SpanTran, with its customized portal for Springfield College applicants. World Education Services or Josef Silny & Associates, Inc. are also recommended for your credential evaluations.
The Office of International Admissions can assist you with questions you may have about enrolling at Springfield College as an international student by emailing intladmissions@springfieldcollege.edu.
Application Deadlines
Domestic Students:
Applications are reviewed on a rolling basis as space is available.
International Students:
Spring Start:
Application and Supporting Materials Deadline: October 1