Three-Time Grammy Award-Winning Angelique Kidjo Performs
Event Part of 2016 Arts and Humanities Speaker Series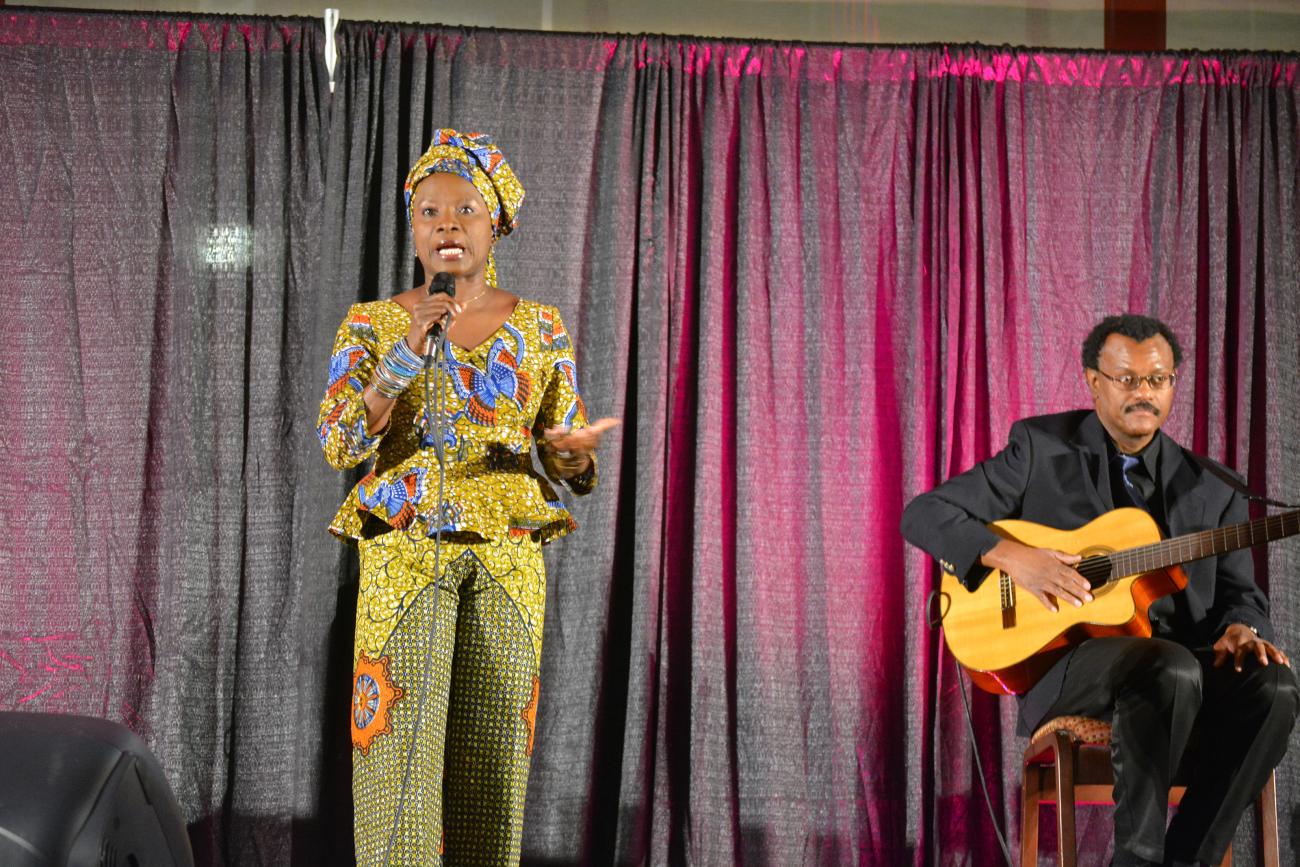 Three-time Grammy Award-winning singer, activist, and humanitarian Angelique Kidjo entertained a large crowd at Springfield College on Thursday, Oct. 13 as part of the College's Arts and Humanities Speaker Series, which was made possible through the generosity of Carlton '63 and Lucille Sedgeley.
Kidjo electrifies audiences around the world with the strength of her voice and the power of her words. One of The Guardian's 100 most inspiring women in the world, Kidjo has consistently spoken out in support of human rights and female empowerment globally.
In 2014, Kidjo topped the Billboard World Music Charts with Eve, earning her the first of three-consecutive Grammy Awards for Best World Music Album. That same year, Kidjo published her memoir, Spirit Rising, which was praised by Publishers Weekly.
The "undisputed queen of African music," Kidjo comes from the West African country of Benin, where she began performing at the age of six. In 1992, Kidjo's breakthrough album, Logozo, reached the top of the Billboard World Music Charts and sold more than 40,000 copies.
Away from the stage, Kidjo works with the United Nations Children's Emergency Fund to raise awareness for such causes as gender equality, education, and conservation. She was presented with the David Rockefeller Bridging Leadership Award from the Synergos Institute in 2015 and founded The Batonga Foundation in 2007. The foundation provides secondary education to girls across Africa and empowers the female leaders of tomorrow. Opening the 2015 World Economic Forum at Davos, Kidjo received the Crystal Award, which celebrates individuals who improve the state of the world through art.
Most recently, Kidjo was named a joint winner of the Amnesty International Ambassador of Conscience Award for 2016. This award celebrates individuals and groups who have shown exceptional courage standing up to injustice using their talents to inspire others in support of global, human rights.