2022 Student Leadership Awards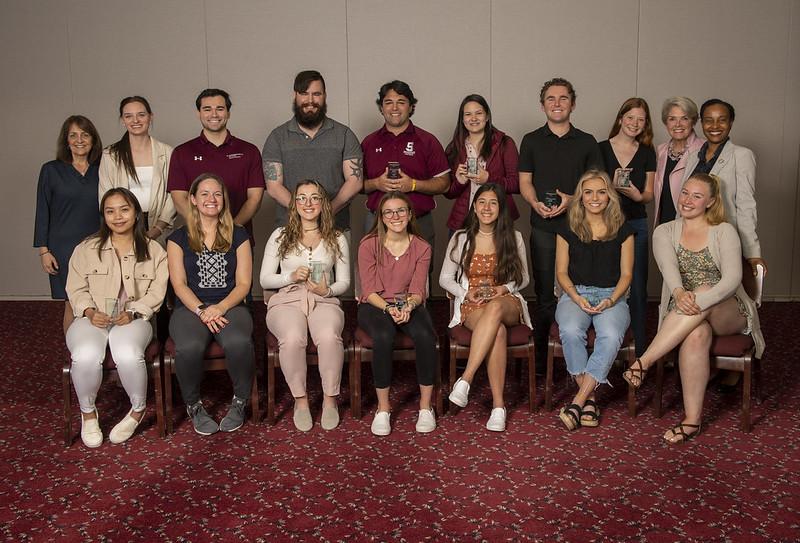 On Monday, April 25, Springfield College hosted the annual Student Leadership Awards ceremony. These awards recognize students who have made outstanding leadership contributions to our campus community and the local Springfield community. The selection committee struggled to select only one winner for each award as so many students were so deserving. We hope you join us in congratulating all the nominees and the award winners.
Nominees:
Gizzelle Abanador, Barbara "Babs" Araoz, Benjamin Arnold, Joseph Arruda, Eloi Badia-Rovira, Sarah Bannon, John "J.B." Bickers, Katie Baroli, Resa Brandfonbrener, Cameron Borges, Justin Brosnan, Isaiah Cashwell-Doe, Chelsey Castle, Louis Cocozza, Jordan Cody, Gabriella DeRose, Sarah Durr, Ocean Eversley, Danielle Fernandes, Shara Karmacharya, Jade Kiang, Rece Gobel, Logan Large, Kathryn "Kay" Laughlin, Samantha Lee, Pamela Marino, Katelee McCormic, Megan Mohan, Summer Murray, Cassie Noonan, Kyoe Paw, Marissa Paolangeli, Rachael Prosper, Kaitlyn Rego, Irene Rotondo, Jordan Salzano, Madison Tubman, Kevin Velazquez-Rivera 
Pride Award: These awards recognize students who have demonstrated a committed desire to create a strong community at Springfield College. The recipients demonstrate an enduring commitment to the wholeness of the campus, including the intellectual and cultural environment, the College's commitment to overall wellness, and service to the surrounding community. 
Recipients

: Justin Brosnan, Chelsea Castle, Danielle Fernandes, Rece Gobel, Kay Laughlin, and Rachel Prosper
Emerging Leader Award: These awards recognize a first-year or sophomore student who has demonstrated outstanding leadership or involvement at Springfield College. These individuals will have demonstrated a commitment to the Humanics philosophy, organizing activities or events, and actively working to improve Springfield College and/or the greater community.
Recipients

: Jade Kiang and Cassie Noonan
Humanics Leader in Service Award: This award honors a student who has consistently committed to serving humanity and working toward the pursuit of social justice, and who has made lifestyle and career decisions consistent with the values gained from community service experiences. 
Campus Voice Award: This award recognizes a student who has displayed innovation and responsibility in giving voice to students' concerns. The recipient fosters curiosity and discovery among students, faculty, and staff, and critical engagement with the issues and ideas which define the world in which we live and serve. The recipient will have made an impact by addressing issues in an assertive, respectful, and articulate manner for the betterment of campus life.
John M. Wilson Diversity Leadership Award: This award recognizes a student who embodies the legacy of Mr. Wilson by demonstrating sensitivity and commitment to differences reflected in race, ethnicity, gender, sexual orientation, and religion. As the Director of Multicultural Affairs at Springfield College, John Wilson dedicated his life to working across differences towards mutual understanding and acceptance. The recipient of this award embodies his legacy by demonstrating a unique ability to lead by reaching out to different groups of students enrolled at Springfield College. This student has demonstrated a commitment to fostering a community that is safe and more inclusive for everyone.
Recipient

: Kevin Velazquez-Rivera
Outstanding Graduate Student Award: This award recognizes graduate students who have applied their educational experience to make significant contributions to the betterment of the campus, or by initiating positive change for those beyond the immediate community.
Recipients

: Barbara (Babs) Araoz and John (J.B.) Bickers
Unsung Hero Award: This award honors students who have worked tirelessly to impact the campus and community life, working behind the scenes - often without recognition - to provide leadership in service to humanity. 
Recipients

: Cameron Borges and Logan Large
Class of '57 Award: This award honors a senior who has demonstrated the ability to work as an effective group member and group leader, has made significant contributions to the community, and has an understanding and appreciation of the opportunities and challenges in a world that is increasingly diverse, multicultural, and international. This award was established in 2002 with generous contributions from the members of the class of 1957. 
Class of '63 Award: This Award recognizes a senior who has demonstrated an exceptional work ethic, strong time management skills and a dedication to the campus community. This senior has held significant employment throughout college, while also being active in co-curricular activities and maintaining a good academic record. This award was established in 2014 with generous contributions of the class of 1963 to celebrate their 50th Reunion.