2023 Springfield College Alumni Awards Recipients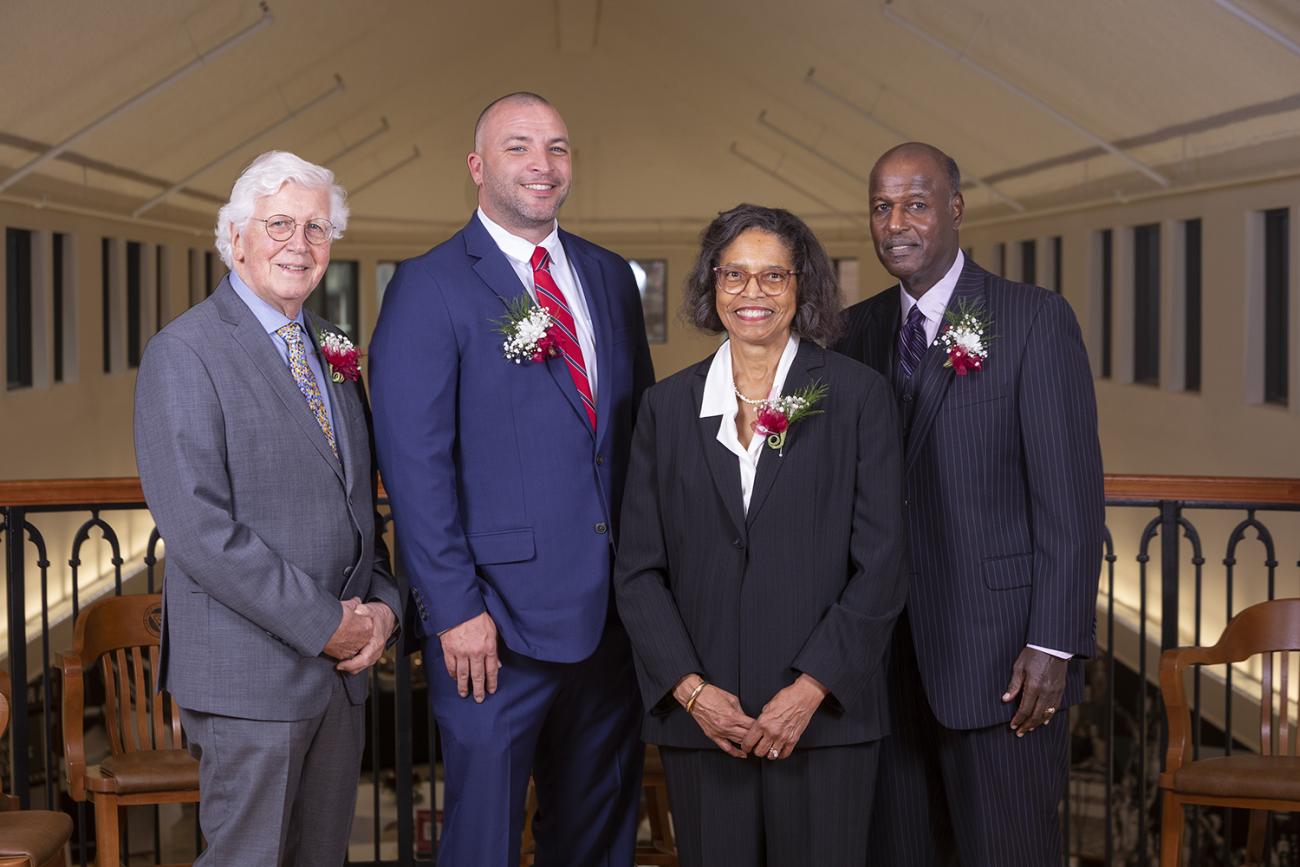 On Saturday, October 21, 2023, as part of Homecoming Weekend, the Office of Alumni Relations hosted its annual Alumni Awards Ceremony and Reception. As part of this year's ceremony the following individuals were recognized during the festivities: William Plunkett '65, PhD (Distinguished Alumnus Award), Jay Curtis '03 representing Kelly Curtis '12 (Young Alumna Award), Valli Meeks '77, DDS (Distinguished Alumna Award), and Stanley Battle '73, PhD (Hall of Alumni of Color Achievers Inductee).
Kelly Curtis '12 - Young Alumna Award 
As a student-athlete on Alden Street, Kelly Curtis '12 had a decorated career as a member of the women's track and field team. She used her accomplishments at Springfield College as a springboard for her career as a U.S. Olympic athlete.
Curtis competed for Team USA at the 2022 Olympic Winter Games in Beijing as a member of the skeleton team. She is the first Black athlete to represent the U.S. at the Olympics in skeleton. While in Beijing, and in between slides, Curtis called into Dan Jaffe's (G'12, PhD'15) kinesiology class at West Point to talk with cadets. Jaffe was a graduate assistant with the women's track and field team when Curtis competed at Springfield College.
In 2020, Curtis enlisted in the U.S. Air Force World-Class Athlete Program, designed to offer prospective and current airmen a path to a military career while being nationally ranked in their sport. She is currently a member of the U.S. Air Force, SrA, working as a knowledge management technician. 
Curtis' journey to Springfield College started in the fall of 2010 when she enrolled as a transfer student majoring  in Sport Management. Springfield College runs deep in her family roots, as her father, John Curtis '71, G'73,  and her brother, Jay Curtis '03, are also proud graduates.
Curtis' impact on campus was immediate. She won the New England DIII Indoor Championship in the  pentathlon, and took the top spot at the 2011 Penn Relays in the heptathlon. Nationally, Curtis finished  fourth in the country in the heptathlon at the NCAA Division III Track and Field Championships to earn  All-America honors, in addition to earning the U.S. Track & Field and Cross Country Coaches Association  New England Field Athlete of the Year Award. 
With the Pride, Curtis was a three-time NCAA All-America honoree, and she was a two-time New England  Women's and Men's Athletic Conference Field Athlete of the Year selection. She was one of 26 student-athletes  from across the country to earn an NCAA Ethnic Minority and Women's Enhancement Scholarship for her  excellence in both athletics and academics. 
After Springfield College, Curtis earned her master's degree in Educational Leadership from St. Lawrence  University in 2014, where she also served as the assistant track and field coach. Since 2014, Curtis has been  a member of USA bobsled and skeleton where she has competed as a Team USA skeleton athlete. 
Curtis is married to Jeffrey Milliron. 
William Plunkett '65, PhD - Distinguished Alumnus Award
For almost five decades, William Plunkett '65 has been a member of the research faculty at MD Anderson Cancer Center conceptualizing new therapeutic approaches, and collaborating with his clinical colleagues to develop new therapies for patients in clinics around the world.  His laboratory research has contributed to the facilitation and the clinical translation of new drugs for cancer therapy. 
It was the baseline of experience he gained while at Springfield College, studying biology, learning human physiology, and learning the foundations of genetics, all centered around our Humanics philosophy, that opened his eyes to a professional route that has allowed him to remain committed to helping others in his career. Serving as the deputy chairman for the Department of Experimental Therapeutics at Anderson, Plunkett's major research pursuits are related to development of novel therapeutics based on knowledge of cellular responses to DNA damage, and elucidating the mechanisms of drug action, particularly of nucleoside analogs. 
Plunkett's dedication to collaborative research with colleagues has earned him respect among his peers,  and honors such as the Service to Mankind Award from the Leukemia Society of America in 1989,  the Faculty Achievement Award in Clinical Research in 1996, and the Waun Ki Hong Achievement Award  for Team Research - CLL in 2011.  
He was elected a Fellow of the American Association for the Advancement of Science in 2012, received the  John Mendelsohn Lifetime Scientific Achievement Award in 2016, and the Dr. John S. McMurray Therapeutics  and Pharmacology Lifetime Achievement Award of the University of Texas MD Anderson Cancer Center  UT Health Graduate School of Biomedical Sciences in 2018. 
Plunkett also leads programs that bring students together at every level and discipline related to health care.  It's Plunkett's mission to provide continual opportunities for learning, collaborating, and teaching for future  health scientists.  
Plunkett is an active faculty member for the Graduate School of Biomedical Sciences, shared with UTHealth,  representing the largest medical institution in Texas. Plunkett assists in providing the opportunity to guide the  learning curve of more than 500 PhD candidates and help them achieve their career trajectory to the next step.  He trained more than 80 graduate and postdoctoral students and now enjoys seeing their career achievements. 
Plunkett resides in Houston, Texas, with his wife Joanne Rodriguez Plunkett '65. They have a daughter,  Marianne Plunkett Egan; son-in-law, Gregory T. Egan; and three grandchildren, Molly Ann Egan,  Jackson Plunkett Egan, and Luke William Egan.
Valli Meeks '77, DDS - Distinguished Alumnus Award
The ideals of leadership and service to others fostered and instilled in Valli Meeks '77 by Springfield College became innate and a part of her professional growth as an oral health care provider and educator for more than 30 years. 
Meeks recently retired after 34 years of service to the University of Maryland School of Dentistry (UMSOD). In 1989, Meeks founded the PLUS Clinic, the first clinic in Maryland dedicated to providing dental treatment to patients living with HIV/AIDS. Since then, she has worked tirelessly to serve those patients and to inspire her students with a deep understanding of the importance of compassionate and inclusive care. About 650 patients each year receive treatment at UMSOD's PLUS Clinic, and almost 98 percent of them receive care at no cost due to Meeks' efforts. Meeks has lectured extensively about the impact of the virus on oral health and presents training clinics and workshops nationally and internationally.  
Meeks is most passionate about ensuring access to oral health care for people living with HIV disease and  breaking down the barriers that prevent HIV+ people from receiving dental care. She is a champion for  prevention/awareness of chronic diseases, such as hypertension and diabetes, and global oral health care,  particularly as it effects training oral health care providers, especially in dental education. 
Ingrained in our Humanics philosophy, Meeks was determined to expand her commitment to educating future  oral health care providers globally. She helped create the first dental degree program at the University of Rwanda  College of Medicine and Health Sciences. This is the first and only dental school in Rwanda to offer a Bachelor  of Dental Surgery degree. She has continued to visit Rwanda, assisting with the dental school's curriculum and  bringing donated dental equipment for the clinics. 
Meeks has been recognized by many organizations for her outstanding accomplishments. Some awards include  the American Dental Education Association Gies Award for Achievement-Dental Educator, the University  Systems of Maryland Board of Regents' Faculty Award for Public Service, "Heroes Among Us Award" for Years  of Service to People Living With HIV/AIDS in Baltimore from the Greater Baltimore HIV Health Services  Planning Council, and the Faculty of the Year Award, Department of Oncology and Diagnostic Services from  the University of Maryland School of Dentistry in recognition of outstanding service to the Department of  Oncology and Diagnostic Sciences. 
Meeks resides in Pennsylvania and recently married Clyde Santana '73. 
Stanley Battle '73, PhD - Hall of Alumni of Color Achievers Inductee
Early on in his academic journey, Stanley Battle '73 set a goal of climbing the educational ladder, not for status, but instead his mindset was to reach a position of authority so he could help others. With that mission, it was only fitting that the Springfield, Mass., native started that journey as a student on Alden Street. 
Since graduating from Springfield College, Battle's successful career in higher education spanned over four decades. Most recently, he has served as the founding director of the master's degree in Social Work program at the University of Saint Joseph in West Hartford, Conn. As both a director and a faculty member, Battle has prepared social workers for community-based clinical practice in labor force shortage areas, such as health and mental health, children and family services, aging and disability services, veterans' services, and services to newly arriving populations and ethnic communities. He is passionate about  working with at-risk populations, particularly males of color. Battle's experience in higher education administration is extensive.  
He has served as interim president of Southern Connecticut State University (2010-12); chancellor of  North Carolina Agricultural and Technical State University in Greensboro, N.C. (2007-09); and president  of Coppin State University in Baltimore, Md. (2003-07). Battle also held administrative and faculty positions  at the University of Wisconsin-Milwaukee, Eastern Connecticut State University, University of Connecticut,  Boston University, and University of Minnesota. 
Highly respected as an accomplished educator, researcher, consultant, and speaker, Battle has authored  or co-authored several books, along with numerous articles and book chapters, many of which focus on social  issues concerning the African American community. Throughout his career, Battle has held editorial positions  for various academic journals. 
Recognized in 2011 by the NAACP as one of the 100 Most Influential Blacks in Connecticut, Battle has been  honored with myriad awards such as the Thurgood Marshall College Fund Inc. Presidential Leadership Award,  the Legacy Laureate Alumni Award from the University of Pittsburgh, the African American Heritage Award  from the University of Wisconsin-Whitewater, the Martin Luther King Jr. Community Service Award from  Eastern Connecticut State University, and the Springfield College Distinguished Alumnus Award. 
Battle earned a bachelor's degree in Sociology from Springfield College, a Master of Social Work from the  University of Connecticut, a Master of Public Health from the University of Pittsburgh, and a PhD in Social  Welfare Policy from the University of Pittsburgh.  
Battle resides in Glastonbury, Conn., with his wife, Judith Rozie-Battle.