Athletic Administration Leadership Series Symposium 2019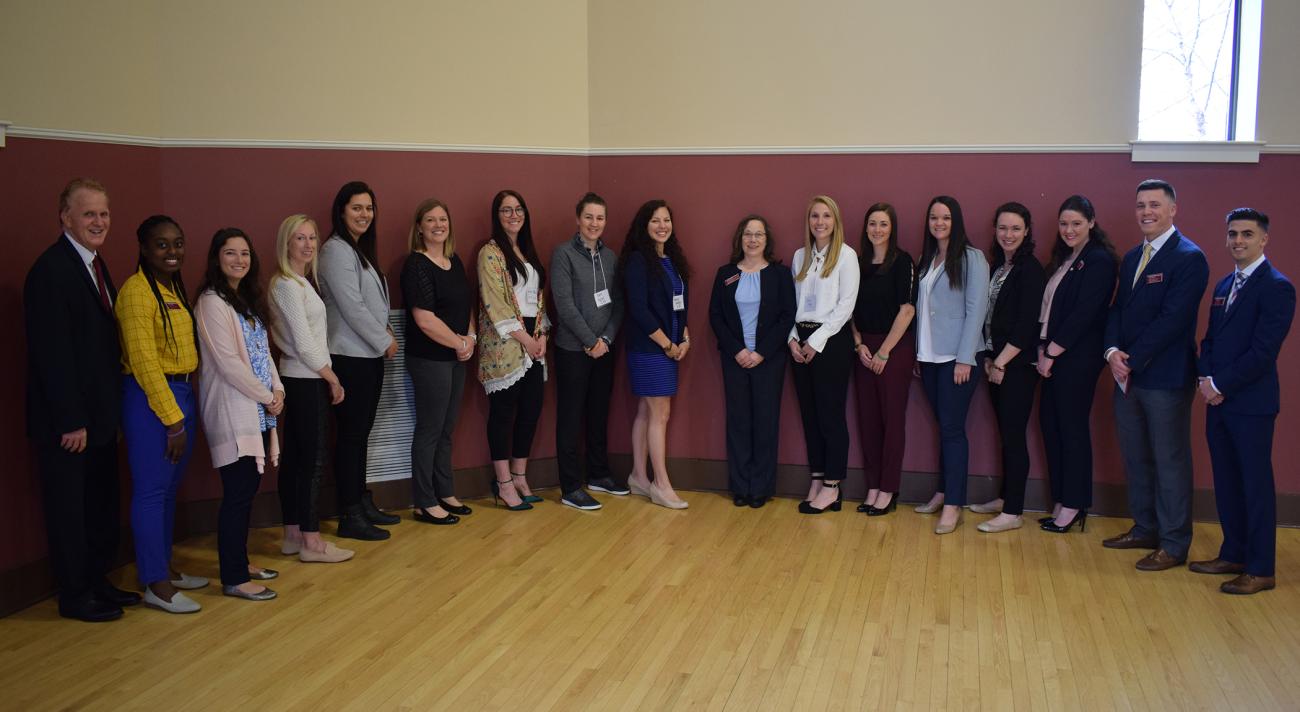 The Springfield College Athletic Administration Graduate Program hosted its annual leadership speaker series for the spring semester on Friday, March 29, in Judd Gymnasia West. The event featured a one-day symposium focused on Women in Athletics and featured recent female graduates of the Athletic Administration Program.
Recent graduates shared their success stories of working in the field, including opportunities for attendees to network with the alumni in small group settings. At this professional development day, attendees gained insight on the high success rate of alumni from the program immediately gaining full-time entry-level positions.
The day's activities were moderated by Kelsey Armstrong, G'18, Chief of Staff, University of Hartford Athletics. The event's keynote speaker was Melissa Sharpe, Springfield College Assistant Professor of Physical Education and Head Field Hockey Coach. There was also a speed-table networking session, a Q&A panel with featured alumni, and a viewing of short videos of other alumni from the program offering specific advice on what they learned on the job.
Featured guests included:
Kelsey Armstrong, G'18, Chief of Staff, University of Hartford Athletics
Lynsey Majka '16 G'18, Athletic Travel Coordinator, Trinity College
Janelle Zamierowski, G'18, Marketing Assistant, Syracuse University
Kate Bowen, G'16, Diane L. Potter '57 Head Softball Coach, Springfield College Athletics
Madison Townley, G'16, Assistant Director for Student-Athlete Support Services, Farleigh Dickinson University
Kylie Martin '13, G'16, Annual Giving Director, Office of Development, Springfield College
Meredith Reid, G'16, Coordinator of Sport Administration, University of Massachusetts
Raychel Setless, G'16, Director of Health, Physical Education, and Recreation, Merage Jewish Community Center
Sam Avery, G'14, Assistant Director of Alumni Relations, Springfield College
Jade Morris, G'13, Senior Associate Director, Student-Athlete Development, Boston College 
Jessica Chapin, G'13, Associate Athletic Director of Compliance and Senior Woman Administrator, American International College
Merry MacDonald, G'13,  Assistant Director of Athletics/Compliance, Senior Women's Administrator, and Softball Coach,  Fitchburg State University
Cat Carmignani, G'12, Senior Director of Branding & Sport Administration, American Athletic Conference
Aylene Ilkson, '09, G'12, Head Women's Volleyball Coach, George Mason University
Kaylyn Smith, G'12, Assistant Director of Athletics Facilities and Operations, Wheaton College
Lynne Flint, G'11, Athletic Director, Haddam-Killingworth High School  
The Athletic Administration Leadership Series Committee consisted of Jules Barrasso '17, Graduate Class of 2019; Carolyn Roach '17, Graduate Class of 2019; Jack Pinho '18, Graduate Class of 2020; Ryan Coale, Graduate Class of 2020; and Joel Dearing '79.
Symposium Steering Committee included Jade Morris, G'13, Meredith Reid, G'16, and Kelsey Armstrong, G'18.
Symposium Advisory Committee included Sam Avery '14, Kylie Martin '13, G'16, Kate Bowen, G'16, and Melissa Sharpe '02, G'04. 
Launched in the spring of 2011, the Athletic Administration Leadership Series is held each semester and alternates a focus between high school and intercollegiate athletics.