Baccalaureate Ceremony 2017 – A Celebration of the Spirit, Mind, and Body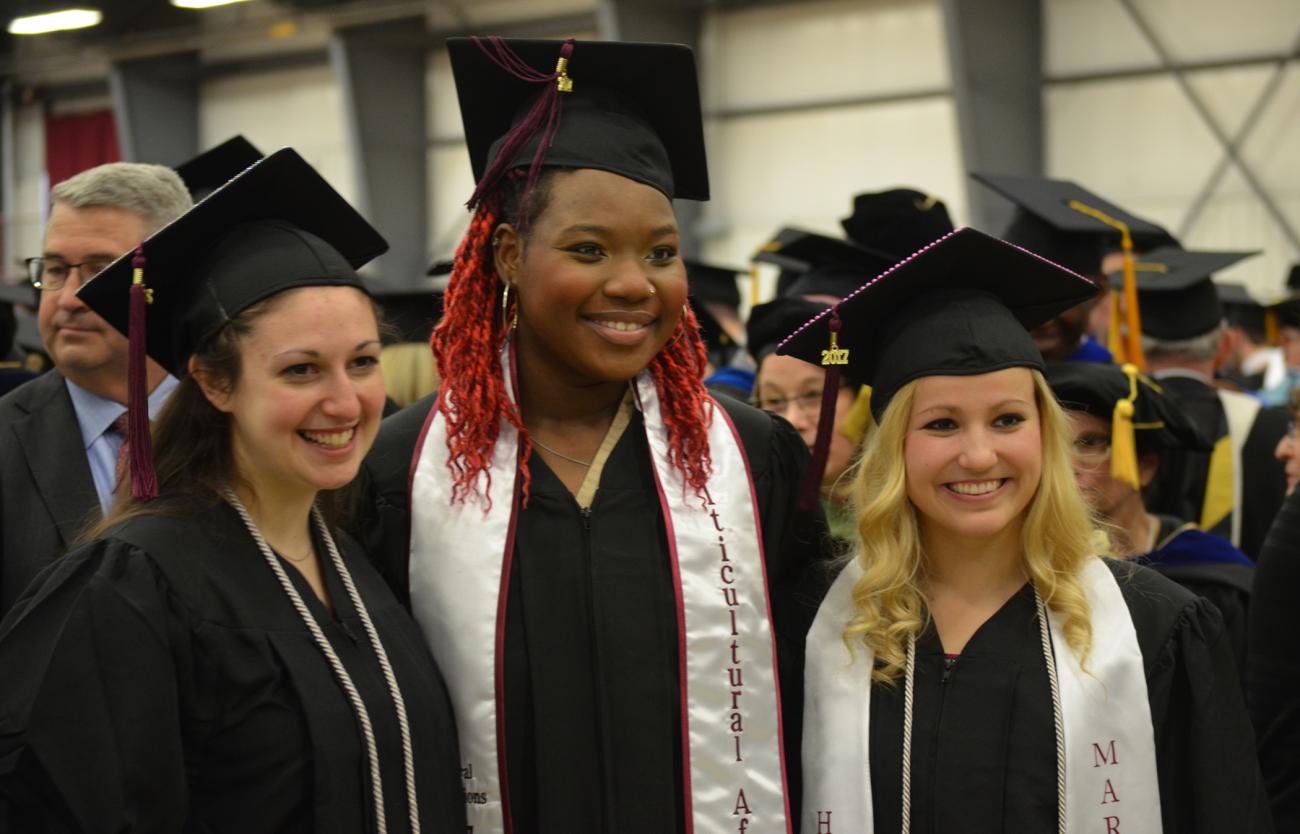 Springfield College held its Baccalaureate ceremony on the afternoon of Saturday, May 13, in the Field House within the Wellness and Recreation Complex located on the main campus. Baccalaureate is an annual Springfield College tradition held on the day before the undergraduate commencement to honor the graduating senior class. It is a student-led ceremony designed to celebrate the spirit, mind, and body. Hundreds of graduates and their families attended this very memorable part of the Commencement weekend activities.
Delivering the Baccalaureate address was Springfield College President Mary-Beth Cooper, whose inauguration year coincided with the Class of 2017's incoming year back in the Fall of 2013. Cooper was introduced by Senior Class Board President and occupational therapy major Natalie Waechter.
"I am deeply honored and humbled to stand before you this afternoon and deliver remarks on this very special day for you," said Cooper. "You are, as I have mentioned at many times, my class. We started together in 2013. Our lives here on campus have followed a similar path."
Cooper went on to highlight some of her favorite takeaways over the last four years at Springfield College, reminiscing about the traditions that exist on the campus and how those traditions make the campus a special place.
"Springfield College is rich in traditions and the traditions matter here, it's who we are," said Cooper. "Yes, it's true we don't walk on the grass. Seems simple. But what it symbolizes is how we live our lives. Success is a result of hard work, discipline, and focus. So we use the sidewalk. Save the grass for recreation and give it a break from casual trampling on. Students put the time into what is important. Focus on your goals and you will achieve them."
Cooper went on to explain that the College's commitment in service to others remains at the top of the list in strengthening her passion for the College and its students.
"Over 120,000 hours each year helping others have a better life, our students set the bar for hundreds of thousands of college students around the nation who think they are doing service," said Cooper. "I am impressed, in awe, and in debt for all you do for others. Luke, Piper, Celia, Blake, Lisa, Jillian, Zachary, Alexander, Jondel, our nine Team IMPACT kids. We all know that it's wonderful for those children to interact with our student athletes. The truth remains that our students are forever changed by the chance to know these young peoples' daily struggles, to see life and death matters first hand, what inclusion really means. I am humbled by the experience that I have to watch through your eyes."
Cooper concluded by mentioning how special Springfield College is to her entire family, and the journey the Class of 2017 started with the Cooper family four years ago means so much to all of them.
"We want to thank you for making us feel so welcome and a part of this community," added Cooper. "On behalf of the Cooper Team - Dave, Cal, Dakota, and Jack, it's been a great four years and we will not soon forget you."
The Baccalaureate ceremony began with the invocation, delivered by Springfield College applied exercise science major and fellowship of Christian Athletes member Patricia Rousseau, followed by Springfield College School of Professional and Continuing Studies student Maria Torres leading the official greeting.
Vice-president of the Class of 2017 and sport management major Stuart Sokoloff provided a reflective reading from Man's Search for Meaning by Viktor Frankl.
Sokoloff was joined by Class of 2017 Senior Class Board members Mike Lawson (Vice-President), Trevor Mattson (Treasurer), Brianna Messier (Secretary), Josh Slater (Treasurer), and Waechter for a Class of 2017 reflection of the last four years.
Springfield College senior Amanda Palladino led those assembled in the unison prayer from Anam Cara by John O'Donohue, followed by health sciences major Sarah Zieminski performing "I Was Here."
At the conclusion of the event, health care management major Mohammed Makdoom delivered the benediction.