Baccalaureate Ceremony 2018 – A Celebration of the Spirit, Mind, and Body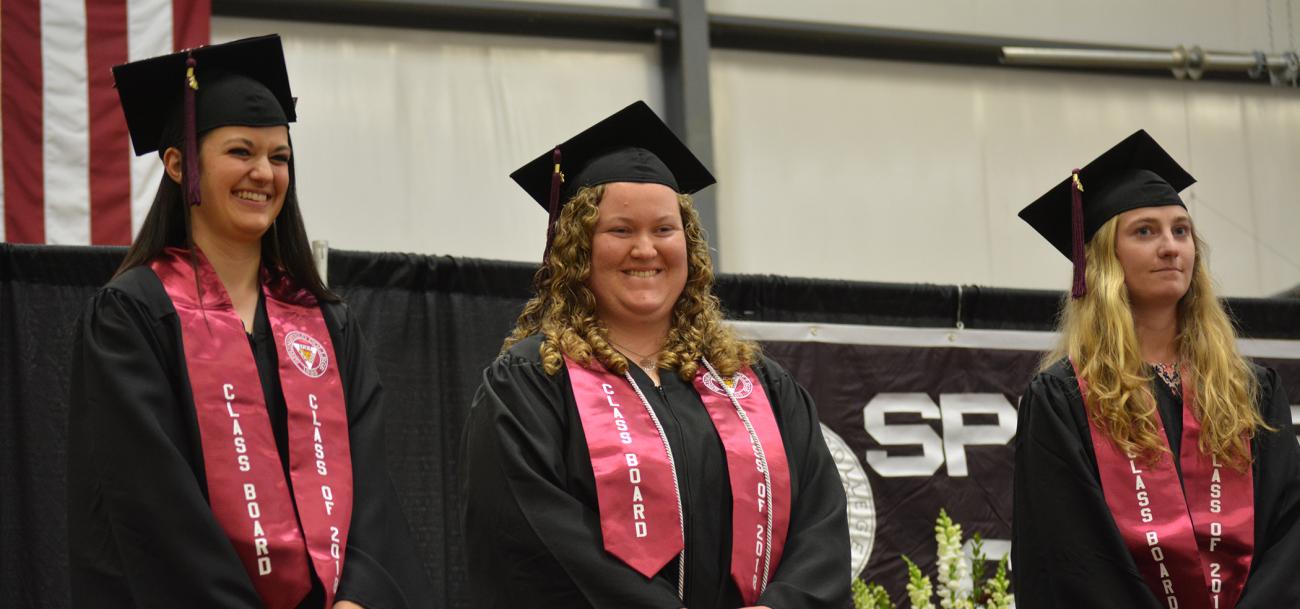 Springfield College held its Baccalaureate ceremony on the afternoon of Saturday, May 12, in the Field House within the Wellness and Recreation Complex located on the main campus. Baccalaureate is an annual Springfield College tradition held on the day before the undergraduate commencement to honor the graduating senior class. It is a student-led ceremony designed to celebrate the spirit, mind, and body. Hundreds of graduates and their families attended this very memorable part of the Commencement weekend activities.

Delivering the Baccalaureate address was Springfield College Professor of Physical Education and Director of Graduate Exercise Physiology Vincent J. Paolone. Paolone is retiring from the College after more than 25 years teaching exercise physiology and advising graduate and undergraduate students.
"Class of 2018, we have finished our journey at Springfield College, but be proud of your accomplishments," said Paolone, who was the 2015 Peter V. Karpovich Lecture keynote speaker and he has published more than 50 scientific papers and abstracts for such periodicals. "Don't look back, remember to represent yourself to the best of your ability, and always remember where you came from, it's the best way to know where you are going."
Paolone went on to reflect on many fond memories from his time at the College, and offer some final faculty advice to the students before concluding.
"Life you will find is a series of choices," added Paolone. "Always remember to hold on to your honesty, integrity, and character, these qualities are yours and you own them. You will be tested for sure, but be true to yourself, and remember, these qualities are what you stand for."
The Baccalaureate ceremony began with the invocation, delivered by Springfield College emergency medical services management distinguished senior award recipient Badr Alshahrani, followed by School of Professional and Continuing Studies distinguished senior award winner Pedro Rosado leading the official greeting.
Followed by Springfield College student trustee Donavin Andrews and Springfield College President Mary-Beth Cooper welcoming the Class of 2018, the Springfield College Dancers Alayna Anderson, Maria Jaramillo, Renee Lussier, Lucia Osman, Devon Rivard, Meagan Robichaud, Kimberly Saltzman, and Megan Shemeth performed "Create the Journey, Leave the Mark."
The Springfield College Senior Class Board Brittany Sullivan, Meagan Robichaud, and Katherine Pearson provided a reflection by the Class of 2018.
Andrews led those assembled in the unison prayer from Anam Cara by John O'Donohue, followed by the senior singers Katherine Carson, Jenna Cordeiro, Caitlin Dolan, Omar Harris, Sabrina Herstedt, Kirsten McNeice, and Benjamin Ryan performing "Lean on Me."
At the conclusion of the event, sports biology major Jezavya Rivera delivered the benediction.