Baccalaureate Ceremony 2019 – A Celebration of the Spirit, Mind, and Body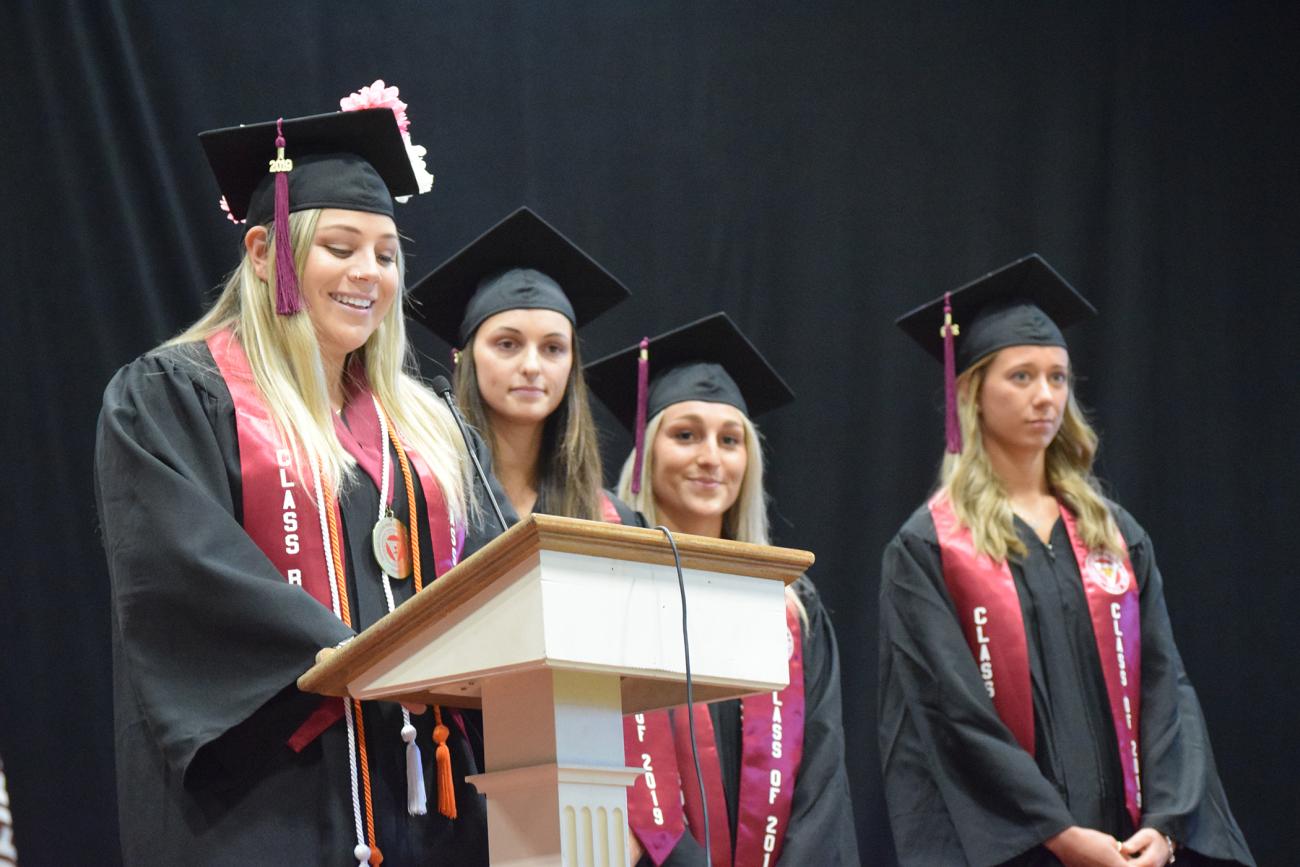 Springfield College held its Baccalaureate ceremony on the afternoon of Saturday, May 18, in the Field House within the Wellness and Recreation Complex located on the main campus. Baccalaureate is an annual Springfield College tradition held on the day before the undergraduate commencement to honor the graduating senior class.
It is a student-led ceremony designed to celebrate the spirit, mind, and body. Hundreds of graduates and their families attended this very memorable part of the Commencement weekend activities.
Delivering the Baccalaureate address was long-time Springfield College Music Professor Christopher Haynes, who is retiring after 28 years as a faculty member at the College. Through the passion for his work and the art of music, Haynes has developed the music program at Springfield College into one of its hidden treasures.
"I have had so many memorable moments at Springfield College, and I am so honored to speak with you today," said Haynes, who recently led his farewell concert on the campus last month. "I can't thank you all enough for helping make my time at the College so enjoyable. It's been a great journey; I look forward to so many new adventures in the future as well. Congratulations to the Class of 2019, you will embark on your own adventures moving forward, and I wish you nothing but happiness moving forward, thank you so much."
The Baccalaureate ceremony began with the invocation and welcome, delivered by Springfield College criminal justice major and Class of 2019 member Maame Dufie Forkuo Kyei, who detailed her transition to life at Springfield College and studying in the United States.
"Springfield College's mission of educating students in spirit, mind, and body for leadership and service to others has equipped us over the years to take the first step in viewing ourselves, others, and the world, beyond a single lens," said Kyei, "I encourage you all to keep the spirit throughout life after college, it's so important to respect everyone's opinion. Part of regaining my confidence after culture shock was realizing that I view myself as a representative of my native country, and my continent."
Kyei went on to add, "As we move forward, many situations will test our emotions, but we can embrace our discomfort with asking questions, learning, and speaking with our actions and service. We have a world to discover, dreams and goals to chase, and people to meet, let's get it."
Followed by Kyei's opening, Springfield College President Mary-Beth A. Cooper welcomed the Class of 2019 and their families to the campus for one last memorable ceremony.
The Springfield College Senior Dancers led by Andrea Brooks, Allison Kobielski, and Marissa Moquin featured their dance performance, "Memories."
The Springfield College Senior Class Board of Sarah Carucci, Erin Eastwood, Victoria Mancini, and Kylee Windyka provided a reflection by the Class of 2019.
The senior singers led by Jillian Campbell, Nicholas Darling, Samantha Dumas, Kevin Pereira, and Maria Travascio led the campus community through a performance of  "Lean on Me."
At the conclusion of the event, physician assistant major Kimone Walker delivered the benediction.
Springfield College is an independent, nonprofit, coeducational institution founded in 1885. Nearly 5,000 students, including 2,500 full-time undergraduate students, study at its main campus in Springfield, Mass., and at its regional campuses across the country. Springfield College inspires students through the guiding principles of its Humanics philosophy – educating in spirit, mind, and body for leadership in service to others.