Camp Massasoit at East Campus Continues to Impact all Families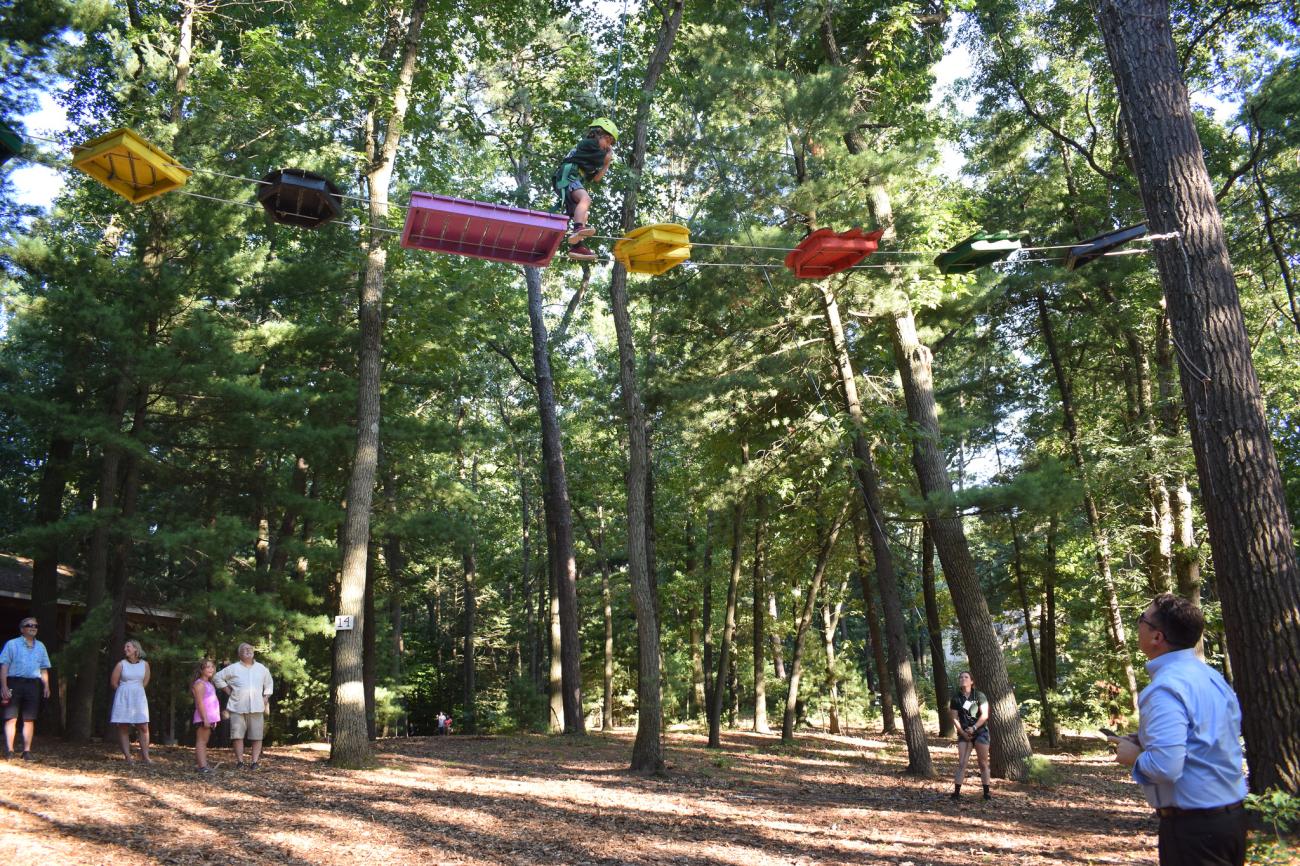 By: Damon Markiewicz
Families and alumni recently had the opportunity to express how Camp Massasoit and East Campus have impacted their lives, and they shared how grateful they are to have this very special summer camp opportunity available to them.
"My kids have attended Camp Massasoit for years, and I always love how the camp counselors make every camper feel like their favorite," explained Laurie Cournoyer, who is a Speech-Language Pathologist in the Springfield Public Schools and Owner at New England Speech and Language Associates, LLC. "It always such an inclusive, family-oriented environment, and attending Camp Massasoit has had such an important impact on our family."
During a regular day at Camp Massasoit, attendees experience a variety of activities through a block rotation, and have the opportunity to participate in the challenge course, archery, boating, aquatics, outdoor games, and an open block that may include, but is not limited to arts and crafts, music, woodworking, and theater.
"I love how the kids can separate from electronics for two weeks to interact face-to-face with old and new friends," described Cournoyer. "You will not find a more supportive and family-friendly environment than what you experience at Camp Massasoit."
Led by Director of East Campus and Outdoor Programs Ben Taylor '99, G'16 and Associate Director of East Campus and Outdoor Programs Angela Veatch G'07, Camp Massasoit is accredited by the American Camp Association (ACA), the only national accrediting body for all camps. The accreditation provides evidence to families that Camp Massasoit and Springfield College are focused on the safety, health, and mitigation of risk for all staff and campers.
"The staff and counselors at Camp Massasoit are always encouraging and pointing out positive behaviors," added Cournoyer. "I love the lessons the kids learn about self-respect, and the respect they learn for the environment and the camp community."
And speaking of the counselors, starting in late June, they begin the process of training before committing to eight weeks of summer camp experiences at East Campus. The lessons learned over the next two months will prepare the camp counselors for future endeavors in life, and provide them with memories that will last forever.
"East Campus and Camp Massasoit have been a vital part of how I became the person I am today," explained Springfield College alumnus Drew Broffman '19, who studied psychology and adventure education during his time as an undergraduate student on Alden Street. "The culture at Camp Massasoit allows for everyone to be at their best, and there is nothing more satisfying than working with campers, and staff, and watching everyone develop and grow as individuals. You get to know the campers and their families on such a personal level, and it really does feel like everyone connected to Camp Massasoit becomes one big family."
The lessons learned at East Campus have continued to impact Broffman in his professional life. Broffman currently serves as a Raft Guide at Zoar Outdoor Adventure Center, and the skills he brings to his current job everyday were developed during his time as a counselor at Camp Massasoit.
"Everything I learned from Ben Taylor, Angela Veatch, Ted France, and Greg Poole, I have applied to everyday life and also work," added Broffman. "The experiences and memories I made are unique, and they will stay with me forever. East Campus is a special place and Camp Massasoit is a special camp."
And for Cournoyer, she will always appreciate the impact that counselors like Broffman have had on her kids during their time at East Campus.
"The camp counselors are the best and they really help develop the kids," concluded Cournoyer. "They always have a ton of energy, which helps the kids stay active throughout the day. Our family has been able to make friends from different towns that we see year after year at camp. None of that is possible without the experiences gained at Camp Massasoit."