Commencement Speakers 2013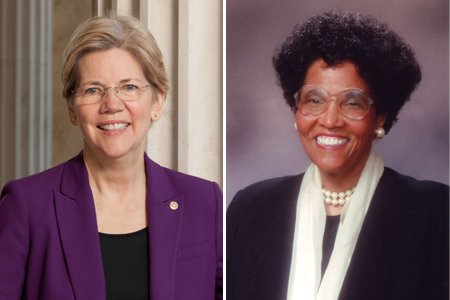 SPRINGFIELD, Mass. – U.S. Senator Elizabeth Warren (D-Massachusetts), and Marian L. Heard, a well-known community leader, will deliver commencement addresses at the Springfield College 2013 Commencement ceremonies.  Warren will address students at the undergraduate ceremony on Sunday, May 19, at 9:30 a.m., at the MassMutual Center in downtown Springfield.  Heard will speak at the graduate commencement on Saturday, May 18, at 9:30 a.m., at Naismith Green, on the Springfield College campus.
Springfield College will present honorary doctor of humanics degrees to Warren and Heard.  The College has historically awarded honorary degrees to a few outstanding individuals who, by their character and accomplishments, personify the Springfield College guiding philosophy, humanics.  Humanics emphasizes the dedication of spirit, mind and body for leadership in service to others.
Warren assumed office as the first female senator from Massachusetts on Jan. 3 of this year.  In her role as senator, she advocates for the rights of the middle class, works to make big banks accountable, encourages equality in the workplace, and makes efforts to ensure continued small business growth.  She created the Consumer Financial Protection Bureau after a request was made by President Barack Obama to develop an agency that holds Wall Street banks and other financial institutions accountable, and helps to protect consumers from being deceived by traps in financial products, such as mortgages and credit cards. After the financial crisis in 2008, Warren served as the chair of the Congressional Oversight Panel for the Troubled Asset Relief Program.
Warren served as a law professor for more than 30 years, spending almost 20 of those years as the Leo Gottlieb Professor of Law at Harvard Law School. She was twice honored with Harvard's Albert M. Sacks-Paul A. Freund Award for Teaching Excellence.
Additionally, Warren was named one of the 100 most influential people in the world by TIME Magazine and the National Law Journal named her one of the Most Influential Lawyers of the Decade. She was also honored by the Massachusetts Women's Bar Association with the Lelia J. Robinson Award, which is presented to women who have been pioneers in the legal field and have positively impacted their community.
Heard, who earned a master's degree from Springfield College in 1978, spent more than 30 years affiliated with the United Way and retired in 2004 as the nonprofit organization's president and CEO of the United Way Boston, and the CEO of the United Way of New England.
Following her time with the United Way, Heard served as the founding president and CEO of the Points of Light Foundation, an organization created to support and recognize volunteerism and service.  Heard, whose contributions and service to children and families across the United States are well known, was recognized in 2009 by U.S. Presidents George H. W. Bush and George W. Bush for these roles, and for her tenure as a two-term national board chair, and continuing service as a board member.
Additionally, Heard has received the National Public Citizen of the Year Award and the Warren Bennis Award For Leadership Excellence.  She also served as the president and CEO of the 1997 President's Summit for America's Future, which was co-chaired by Presidents Bill Clinton and George W. Bush. Heard currently serves as the president and CEO of Oxen Hill Partners, a company that specializes in leadership development programs and brand enhancement strategies.  She also is the vice chairman for the Board of the National Mentoring Partnership (MENTOR).
At its 2013 commencement, Springfield College will award bachelor's, master's, and doctoral degrees, and certificates of advanced graduate study.