Faculty and Student Strong Relationship Leads to Unique Podcast and Partnership with Basketball Hall of Fame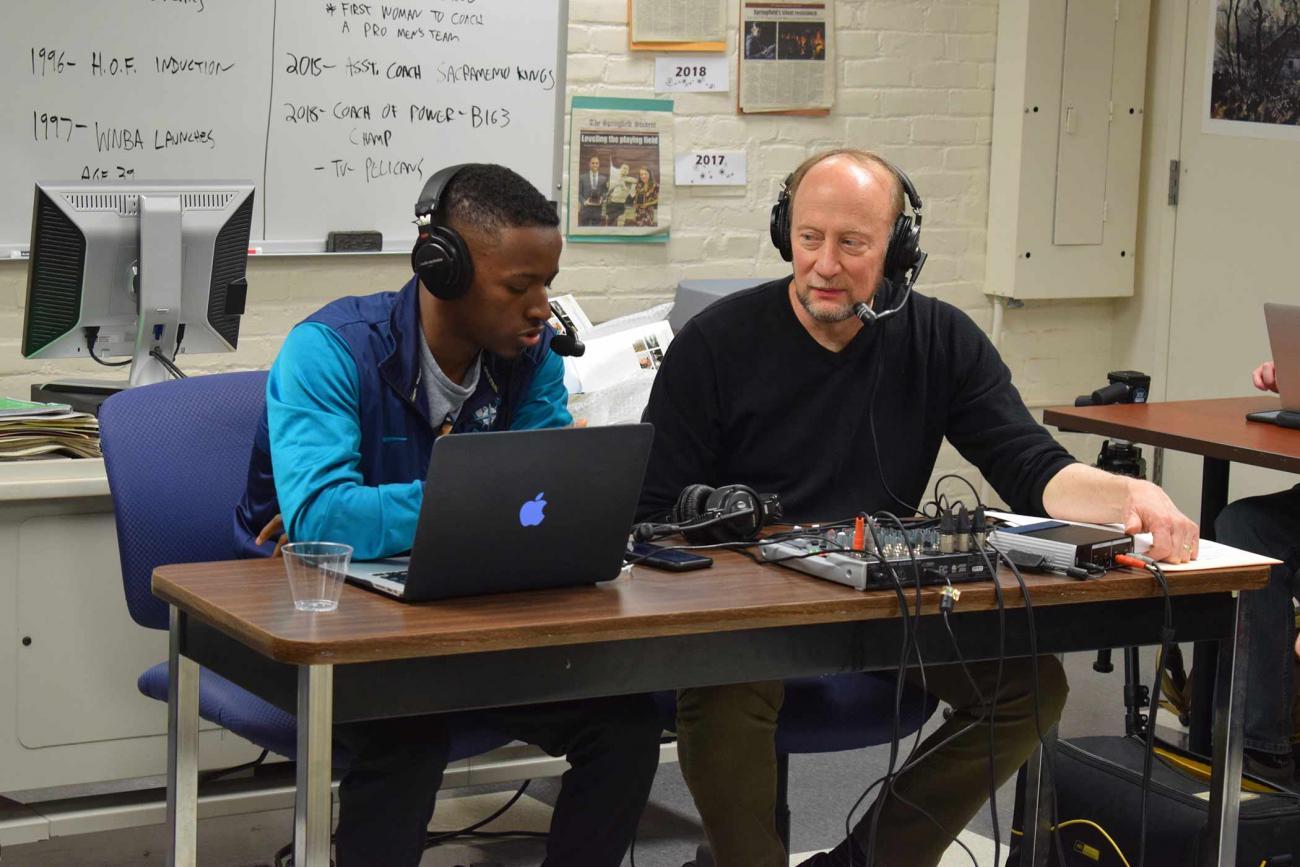 Since October of 2019, Springfield College Communications/Sports Journalism major Kris Rhim ('21) and Professor of Communications Marty Dobrow have hosted a weekly podcast titled "Liberty, Justice, and Ball," with a focus on the intersection of basketball and social justice. Rhim and Dobrow have now teamed with the Naismith Memorial Basketball Hall of Fame to enhance the podcast's reach, with the grand unveiling of the latest content on Thursday, April 1, as they talk with Naismith Memorial Basketball Hall of Fame Class of 2018 inductee Grant Hill.
"Kris and I knew we had a great concept for Liberty, Justice, and Ball, and we are thrilled that the Naismith Memorial Basketball Hall of Fame has embraced this," said Dobrow. "They are giving us access to basketball legends who have some fascinating stories to tell about racial and social justice."
Rhim and Dobrow represent significant diversity in their own connection: student and professor, different generations, black and white, a guy named Kristian and a guy who is Jewish. But they share a passion for hoops and civil rights, and they have formed a great partnership.
"One of the best things about this for me is that I get to keep working with Kris," added Dobrow. "We have a great working relationship. He is a dynamic and multi-talented journalist who has been a transformative presence at Springfield College. He is headed for great things, and it will be a treat to share some of that journey with him." 
This week's guest is no stranger to Springfield College, as Hill spoke on the campus as part of the third annual Education and Leadership Luncheon during the 2018 Enshrinement Weekend.
"I believe Marty and I's range of differences bring a unique perspective that would be hard to find elsewhere," added Rhim. "We're excited to chat with basketball legends with the help of The Naismith Memorial Basketball Hall of Fame."
Other episodes of Liberty, Justice, and Ball have included interviews with:
Nancy Lieberman. Lieberman has been one of the true pioneers of women's basketball. She played on the first U.S. Olympic women's basketball team as a teenager in 1976. She later played in the WNBA, and with and against men as a member of the Springfield Fame in the short-lived United States Basketball League. She has coached both women and men at the highest levels in the WNBA and the NBA.
David Stern, the late commissioner of the NBA
Famed journalists Jackie MacMullan, Bob Ryan, and Alexander Wolff
Authors Gary Pomerantz, Matthew Goodman, Andrew Maraniss, and Ron Thomas
NBA Hall of Famer Vlade Divac
Bilqis Abdul-Qaadir, all-time leading scorer in Massachusetts high school basketball history and crusader for inclusion
Wheelchair basketball legend Ryan Martin
Springfield College women's basketball coach Naomi Graves
You can listen to Liberty, Justice, and Ball on Apple Podcasts, Spotify, and Soundcloud, or by checking out the website, https://art19.com/shows/liberty-justice-and-ball.