New Climbing Tower Enhances the Tradition of Camp Massasoit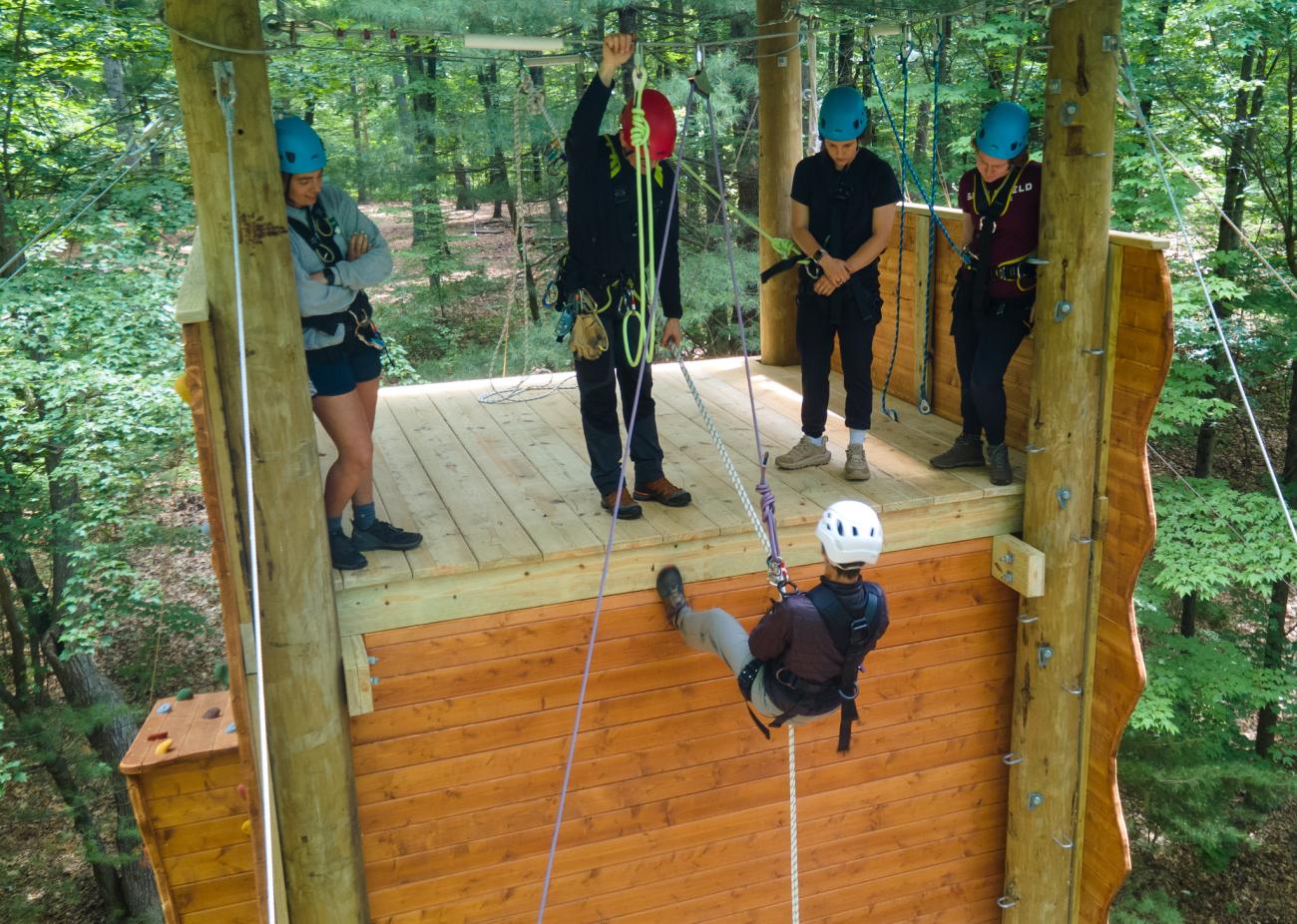 By: Damon Markiewicz
On August 17, 2023, the Springfield College community came together to officially dedicate the latest addition to East Campus, the new climbing tower, made possible by generosity of alumna Katie Rottmann Bratton '75 and her husband Geoffrey. It was only fitting that this special ceremony occurred during Camp Massasoit Family Night, because it was Bratton's time as a camp counselor in the summer of 1971 that started her affinity for East Campus and Springfield College.
"I remember back at that time, I had to come to campus and spend a week training to be a camp counselor, but as soon as training was completed, I had to immediately go back home to New York to take part in my high school graduation ceremony," explained Katie. "It was a Sunday morning ceremony at my high school, but I had to be back in Springfield that same Sunday night to start camp on Monday morning. It was through my experiences working at camp that I fell in love with East Campus, and I really loved working at Camp Massasoit."
For more than 90 years, Camp Massasoit has embraced the mission of the College, and has remained true to the vision of those who founded the experiential-based camp. More than 50 years after first arriving at camp, Katie's memories of why she enjoyed the experience so much remain fresh in her mind.
"I lived in a cabin at East Campus that first summer, and I met some of best friends there," said Katie, who visited the location of that cabin space during her return to campus for the dedication. "East Campus and Camp Massasoit are the perfect embodiment of the spirit, mind, and body philosophy at Springfield College. I can still remember the beauty and serenity of the woods. My husband and I made our gift to the College to assure that many others will also have the chance to experience the magic that happens when you spend time in a natural setting."
Led by Director of East Campus and Outdoor Programs Ben Taylor '99, G'16 and Associate Director of East Campus and Outdoor Programs Angela Veatch G'07, Camp Massasoit has been a staple of summer outdoor learning for youth, and remains one of the longest-standing summer camps in the country. The new climbing tower only adds to the development of skillsets and fun-filled activities with educational themes for all attendees.
"We are so grateful for Mr. and Mrs. Bratton's generosity," said Taylor, who has been in his current role as director since 2007. "It was special to have them back on campus, and talk about how camp was back in 1971, compared to the current day. The new climbing tower offers three uniquely different climbing walls for our participants to challenge themselves, and each wall offers a variety of challenges that the climber will need to navigate. The climbing tower has been a very popular addition to camp, and it was great to have our camp families have the opportunity to also display their excitement and gratitude with the Bratton family."
During the evening, camp attendees had the opportunity to display their climbing and rappelling skills that they learned during camp while utilizing the climbing tower.
"The fourth side of the tower is set up for instructing rappelling, a very useful skill in the sport of rock climbing," added Taylor. "The large platform at the top of the tower provides a great space for instruction and observation. The roof on the tower offers cover to prolong the life of the structure. We are excited to see all the different ways we can use this structure to enhance all aspects of programming at East Campus."
Climbing the wall provides a mental challenge, a test of physical skill, and a sense of well-being, for all campers. The new climbing wall showcases the Camp Massasoit mission statement of having respect for yourself, having respect for your counselors and peers, and especially having respect for the environment.
"Learning in that outdoor setting has had such an impact on my life, and my husband and I wanted to make sure camp participants have that same opportunity," explained Katie. "It's a pleasure to offer our gift toward the new climbing wall now standing in the woods of East Campus. It's our way of paying forward the outstanding experience that Springfield College offered me as a student more than 50 years ago. There is no better way to promote spirit, mind, and body for Springfield College students and campers."
Katie and Geoffrey currently reside in Wisconsin, and making the visit back to Springfield for the dedication only reinforced their passion for the outdoors, East Campus, and Springfield College.
"To witness first-hand the memorable moments the climbing tower is providing to campers and their families has been very special," added Katie. "Camp is about making news friends, taking on new challenges, and overcoming your fears. To watch the kids go up the tower, and go higher than they ever have before, that's what it's all about, conquering those challenges and reaching new heights."
Prior to their visit back to campus, Katie and Geoffrey were able to view progress of the construction of the tower through photos online, but seeing it in person was the ultimate experience.
"The finished product looks outstanding, and it's very satisfying to see how much joy the climbing tower is bringing to camp," concluded Katie. "It's exciting to know that generations of campers will have the opportunity to enjoy this for many years to come."