Remembering Faculty Emeritus David Carlson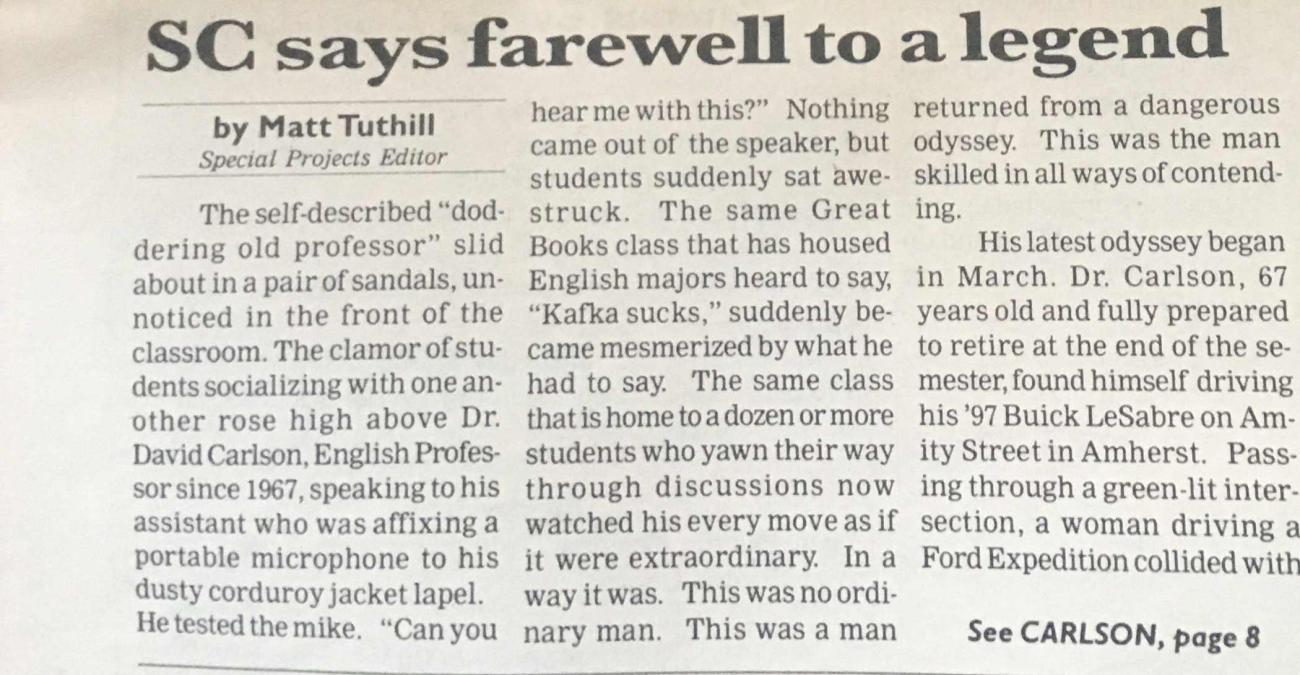 PROFESSOR CARLSON RETIRES
By Matt Tuthill '03
Appeared in the Springfield Student Newspaper in the Spring of 2003.
The self-described "doddering old professor" slid about in a pair of sandals, unnoticed in the front of the classroom. The clamor of students socializing with one another rose high above Dr. David Carlson, English Professor since 1967, speaking to his assistant who was affixing a portable microphone to his dusty corduroy jacket lapel.  He tested the mike.
"Can you hear me with this?"  Nothing came out of the speaker, but students suddenly sat awestruck.  The same Great Books class that has housed English majors heard to say, "Kafka sucks," suddenly became mesmerized by what he had to say.  The same class that is home to a dozen or more students who yawn their way through discussions now watched his every move as if it were extraordinary.  In a way it was.  This was no ordinary man.  This was a man returned from a dangerous odyssey.  This was the man skilled in all ways of contending.  His latest odyssey began some three weeks ago.
Dr. Carlson, 67 years old and fully prepared to retire at the end of the semester, found himself driving his '97 Buick LeSabre on Amity St. in Amherst.  Passing through a green-lit intersection, a woman driving a Ford Expedition collided with him, totaling his car.  Miraculously, Carlson walked away unharmed from the wreckage, but later returned to his car to gather a few personal items.  The stench from the two deployed airbags is something he'd remember forever.
The following day he returned to the classroom, somewhat rattled, but fully able to teach.  Few of his students or his colleagues noticed that anything was wrong.  That evening he experienced great difficulty breathing and was taken to the emergency room the following morning.   He was diagnosed with aggressive pneumonia that was apparently brought on by inhaling the jet fuel used to deploy his airbags.  To treat the illness, a surgical tube was inserted through his mouth to gather the excess fluid in his lungs.  The medications used to allow the presence of the tube in his throat rendered him an amnesiac with no recollection of his treatment until one week later.  He described the timing of his ER visit as impeccable.  "A few more minutes," he said dryly, "and they'd be holding memorial services over in Marsh."
These events transformed a man who still bears the frame and visage of a young, blue-eyed Odysseus into a bedridden dependant with swollen feet, unable to return to the classroom for two weeks.  Professor Dennis Gouws took over for his History of the English Language class.  Personal friend and retired English professor Ed Simms took over for his Great Books and Chaucer classes.  The day he returned, he wore sandals because his feet were swollen from his dosage of Prednisone.  The portable mike was necessary because his voice had become somewhat hoarse from the surgical tubing and he found it difficult to speak loudly.  Gone from his jacket pocket were his cigarettes, something he hasn't been without for more than 50 years.  The pneumonia was enough to get Dr. Carlson to quit cold turkey.  "It's simply not worth dying," he said.
Aside from these visual cues, he appeared virtually undaunted – his harrowing return from near death mirrored Odysseus' journey at sea.  The moment he stepped in the classroom, he picked up right where he left off.  That is, as soon as the applause died down.
The moment he addressed the class, he was met with a solid round of clapping and cheering. Junior Phys. Ed. major Doug Walker was astonished.  "I've never seen anything like that before," he said.  "He's got such a good personality, it was great to see that he was alright.  I'll always remember the quirky little things he does," Walker said referring to the way Carlson wakes up a despondent classroom by instructing them to answer, "Up and down for 'yes' – side to side for 'no.'"  "That stuff kills me," Walker said.
More notable than his occasional jokes is Dr. Carlson's classroom presence and his command of the discussion.  There always exists the sense from any professor that his commentary about a particular work has likely been repeated a thousand or more times to another class.  But with Dr. Carlson, the excited delivery of his comments is unmistakable.  His love for his language and what he teaches shines through in every word he speaks.  Each sentence could single-handedly teach a grammar lesson, his methodical pausing and precise intonations acting as audible punctuation.  He also remains one of the few professors who can tactfully correct and even poke fun at students in front of an entire class with no harm done.  When an excited or embarrassed student hurries through a passage, he replies with lovable sarcasm.  "If it's possible, could you please read faster?  I don't think the words came out quickly enough."
Dr. Carlson's research outside of the classroom is something that's made him a noteworthy member of the field of dialectology, a small niche of linguistics.  His passion for language developed out of something even he himself cannot describe.  "I don't know.  I think it just came," he said.  Once it came, it never left.  Dr. Carlson has researched extensively for the Linguistic Atlas of New England, a set of maps that keeps a record of where certain variations in dialect begin and end.  In layman's terms, a linguistic atlas gives a geographical reference as to where certain words are spoken.  New England's atlas is complete, but lacks phonological profiles of the informants, or persons who provided researchers with their data.  Dr. Carlson began compiling the profiles during his sabbatical last spring.  He anticipates his work taking another four or five years before its completion.
In addition to this ambitious project, Dr. Carlson also plans on lowering his handicap, something he'll likely do with his colleague of 31 years, Professor James Ragonnet.  In 1971, Dr. Ragonnet came fresh out of graduate school and had yet to write his doctorate.  When he arrived at Springfield to teach, he met a faculty member whose great intelligence was matched only by his propensity to help another in need.  "Dave was always supportive, never critical, never judgmental  - You can't get a better colleague than that," Dr. Ragonnet said.  When trying to describe Dr. Carlson's depth and breadth of knowledge, Dr. Ragonnet flattered him with several strong comparisons, the strongest being a metaphor about baseball.   "He's probably the smartest guy in this school," he said.  "Some people know a lot about a little.  Dave knows a lot about a lot. Dave can play center field, left field, and right field simultaneously.  That's how good he is… If it's British Lit, if it's Old English, if it's structure, he's got everything covered."
When Dr. Carlson retires, the school will lose one of the only remaining faculty members who can recall what the Civil Rights Movement did to campus life at Springfield.  He vividly remembers that in the spring of 1969, a group of students took over the Administration building and International Hall to protest racism on campus and place demands for change on the president of the school.  The students involved were arrested and subsequently expelled, but the change it brought about was tremendously positive. "It changed everything," he said.  "We became aware of the world outside of the neighborhood and of what the Humanics philosophy should be doing..."  As a result of the takeover, 143 changes were recommended by a specially appointed collegium.  One such change was the addition of the Multi-Cultural Center.
Despite his major contributions to the department and his respective field, Dr. Carlson feels that the school will benefit from a new professor. "We have a very fine person who will be replacing me," he said.  "So I have no worries about the strength of the department being diminished at all.  It will probably be strengthened…  I'm a dinosaur," he said humbly.
In one week's time, Dr. Carlson's 37th year will come to a close, bringing a triumphant and dramatic end to a great journey of a career.  The humanities department will not only lose a great friend, but a rare professor whose dignity remains fully intact even while describing all particularities of The Miller's Tale.
Dr. Carlson often speaks about how any given person is remembered by his descendants for no more than two generations.  So, in less than 100 years after our deaths, nearly all knowledge of our existence will pass from the earth.  He anticipates knowledge of his deeds at Springfield to last only until this freshman class graduates, a sobering thought considering he dedicated nearly four decades of his life to the school.  He simply curled his lips and shrugged his shoulders.  "Retirees have a very short shelf life," he said.
Dr. Ragonnet was more wistful in contemplating the retirement.   "What makes him good is he's so humble, you don't know how smart he is," he said.  "You can learn a lot from a guy like that.  I certainly have."  Considering what Dr. Carlson has given and what he still has to offer, 37 years is all too short a time for those that know and love him.