Springfield College Alumni News from Around the Globe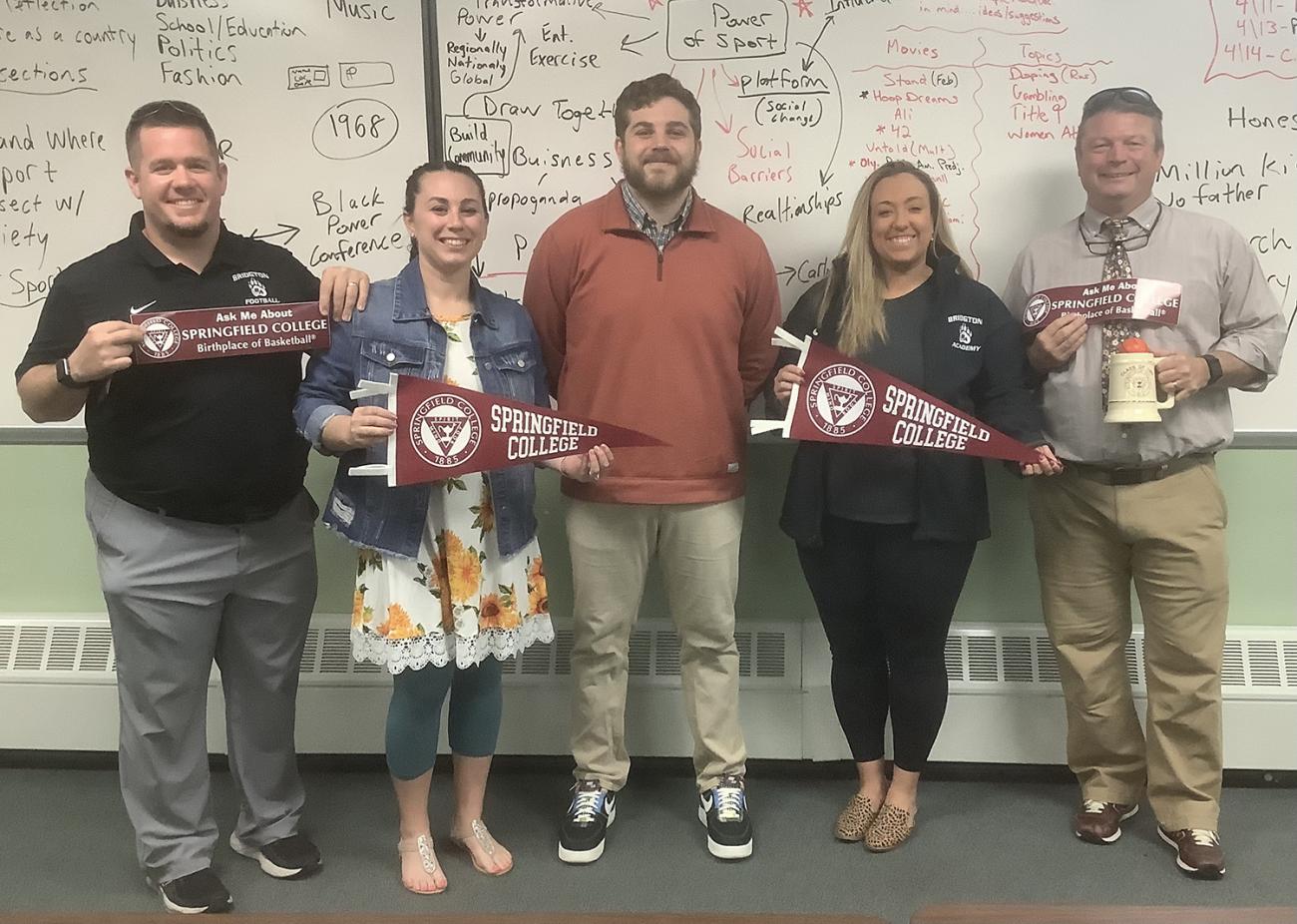 In this section, you will find alumni accomplishments and updates submitted March 17, 2023 through April 20, 2023. Thanks for sharing your news! Please direct any future submissions to alumni@springfieldcollege.edu. 
Springfield College Alumni in the Workplace.....Thank you Matthew Burgess '92 for sharing this wonderful photo of yourself and fellow Springfield College alumni who all work together at Bridgton Academy located in North Bridgton, ME. It is not uncommon to find a group of Triangles working together! 

From left to right: Matt Dugan '12 G'15, Head Football Coach; Jamie Dugan '11, College Counselor; Sam Nelson '22*; Mia Bergmann '15 G'23, Athletic Trainer; Matt Burgess '92, STEM Instructor and Assistant Football Coach.
*Photo taken on Sam's last day teaching as he is off to Union College for spring football.
Springfield College alumni are everywhere! While on a hike in Norwell, Mass. with the UMass Boston OLLI Program (Osher Lifelong Learning Institute - umb.edu/olli), Kathleen Morson Willock '75 and Karen Budd Gill '77 found out that they had both graduated from Springfield College!
Thanks so much Karen for sending in the following photo and sharing your great experiences with the Springfield College family!
The Quechee community may be known for what is seen: beautiful golf courses and a lovely ski hill. However, there is more than meets the eye, as Ginny Stone '81, G'00 can attest. Ginny is the wellness coordinator of the Quechee Club Health Center, and she presents a holistic approach to exercise that incorporates spirit and mind into the body experience.
Having graduated from Springfield College in Massachusetts with a degree in exercise physiology, health, and wellness, Ginny is imbued with the school's holistic approach of the connection of spirit, mind, and body. Full story in Quechee Times...
The Aspen Institute College Excellence Program (Aspen) announced that Deborah Casey '91, Vice President of Student Affairs at Green River College, is one of 35 leaders selected for the 2023-24 class of the Aspen Rising Presidents Fellowship. This program, delivered in collaboration with the Stanford Educational Leadership Initiative, prepares the next generation of community college presidents to transform institutions to achieve higher and more equitable levels of student success.
Casey earned her master's in health and wellness management from Springfield College in 1991.
Thank you John Hannafin '20 for sharing this terrific photo! Hannafin recently ran into longtime Springfield College Head Women's Basketball Coach Naomi Graves G'85 at the Women's Basketball Coaches Association (WBCA) Convention in Dallas. 
Hannafin currently serves as the Director of Operations for Women's Basketball at Lafayette College. "Forever grateful to the woman who allowed me to sit on my first college bench as a sophomore in college. Loved catching up with Coach Graves at the WBCA Convention," stated Hannafin.
Amazing who you can meet on a pickleball court. Springfield College alumni, Michele Smith Demkowicz '73, Bob Demkowicz '71, Ginnie Baeder LaVallo '75 G'77 recently got together at Forest Glen in Naples, Fla.
Thank you Ginnie for supplying the following photo as the great sport of pickleball continues to be very popular with Springfield College alumni, and will be a part of Reunion Weekend 2023. 
Springfield College graduates from the classes of 1979 and 1980 recently got together to enjoy their favorite memories from Alden Street.
Nancy Vitalone Raccaro '80, Teresa Saletnik Mazik '79, G'90 CAS '96, Lisa Raccaro Sacramone-Class '80, Eileen Sears Bow '79, and Laurel Greco Vicidomino-Class '79 all look great in their Springfield College colors!
Anne Weaver McBride '77 and her husband Daniel McBride '77 recently saw the following statue of Don Ho in Hawaii and helped pay tribute to Don's time at Springfield College.
Ho passed away in 2007 and was a proud member of the Springfield College class of 1952.
The YMCA of Greater Birmingham President & CEO, Dan Pile, announces Terri Harvill G'07 as the association's Chief Social Impact Officer. In this role, Harvill will be responsible for advancing the YMCA's commitment to equity and inclusion, develop community based strategic plans to address unmet needs, lead professional development for emerging multicultural leaders and deepen the Y's impact in underserved communities across the YMCA's entire service area.
Harvill is a well known and respected leader in the community. Her relationship skills and ability to develop strong collaborations has led to numerous neighborhood based chronic disease prevention programs.
"Since the early stages of the pandemic, the YMCA of Greater Birmingham found itself responding to community needs in ways we never expected, but we were always willing to serve and ensure our services were available to all. Expanding our commitment to foster an inclusive Y which addresses equity and inclusion for the entire community is a great challenge and I am honored to lead this effort," says Harvill.
Enjoying some time in beautiful Florida this spring, classmates and teammates, left to right, Barry Weinberg '73, Joe Cervino '71, and Tom Badcock '71 enjoy some spring training baseball, while sharing their favorite stories of their days at Springfield College.
Archived Class Notes
View Class Notes from February 16 - March 20...