Springfield College Alumnus Jason Klein '00 Revolutionizes the Protective Mask Industry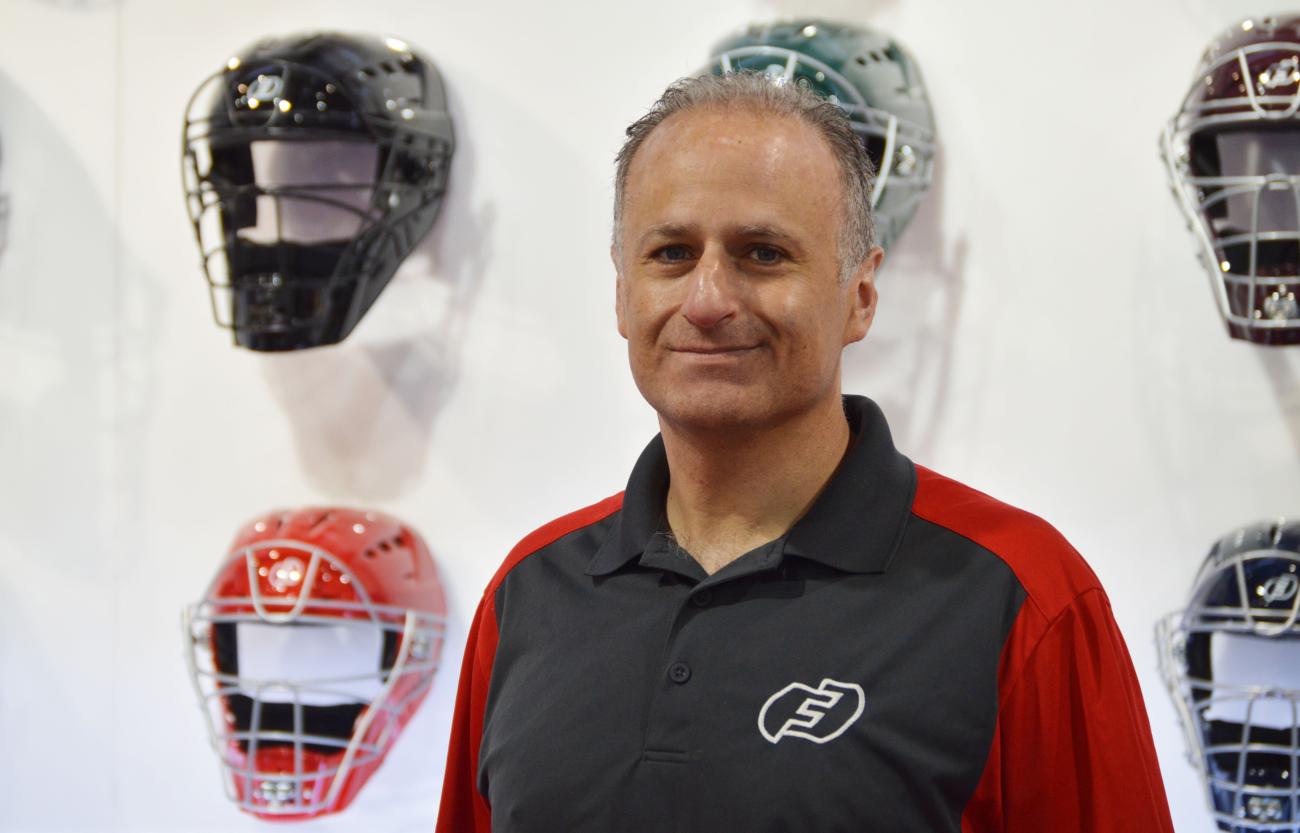 By: Damon Markiewicz
Springfield College alumnus Jason Klein '00 has tapped his strong passion for sports, relationship building, and service to others, to form Force3 Pro Gear, an international company that innovates sports safety gear.
"We are a company that is all about developing and delivering uncompromised safety from head to toe for everyone," explained Klein. "I truly believe that if you have it in you to be an entrepreneur, go for it, and strive for what you want to accomplish."
For Klein, it was clear what he wanted to do after he faced a challenging life experience while working as a professional baseball umpire. The experience occurred in 2009 while working as the home plate umpire for a Triple-A baseball game in Durham, N.C. It was during that contest where Klein took a foul ball to the mask, which resulted in a concussion, that ultimately cut short his umpiring career.
"I always wanted to be an umpire, and when the injury occurred, it was frustrating because the mask I was wearing really hadn't changed at all during my career," explained Klein.
Masks during Klein's career had transitioned to being made of hollow steel or titanium, making it lightweight, but not so helpful when absorbing the impact of a foul ball coming at you between 90 and 100 mph.
Following his injury, Klein quickly turned a negative moment into a positive career choice. He immediately started drafting designs for a new and improved mask that would call for more safety for everyone, something that hadn't been previously done. It took roughly five years of research and design talking to manufacturers before the Force3 Defender mask was developed.
The result of all Klein's hard work was a mask that allowed the transfer of energy when a baseball ricochets off the facial protection. This works by an outer and inner mask, separated by three spring assemblies. The springs, along with the mask's padding, work together to absorb and disperse a vast amount of the energy from a ball to the head. Through Klein's hard work and dedication, he pioneered a product that would soon revolutionize the safety equipment industry and be worn by some of the biggest names in the sport of baseball.
"We received some feedback from catcher David Ross at the start of the design process. David was playing for the Boston Red Sox at the time, and his feedback made us go from four springs to three springs, and that really set us up for other catchers to take notice," explained Klein.
Following Ross' feedback, former Chicago White Sox and Atlanta Braves catcher Tyler Flowers started wearing the Force3 Defender in 2016, which led to White Sox catcher Yasmani Grandal following as well in wearing the mask.
"Back in 2017, I got hit multiple times to the point of concern," explained Grandal. "When I found Force3, it changed my life. It's hard to put a value on the confidence I feel knowing I'm protected by the best mask available. I know first-hand that it's prevented me from getting seriously injured numerous times. I just can't say enough good things about it."
With word spreading quickly in the Major League Baseball (MLB) catchers' fraternity that Force3 provided the best safety for all, a milestone moment occurred in July of 2021, when the Force3 Defender was endorsed by the MLB Players Association.
Klein's innovative vision was also recently recognized by the Baseball Hall of Fame in Cooperstown, NY. The Force3 Defender will have a permanent display in Cooperstown as acknowledgement for the first real major evolution to the face mask in over 100 years.
"When we started the company, we were developing improved safety equipment for umpires, such as socks, shin guards, and chest protectors," explained Klein. "The mask idea didn't come to me until I got hit, and that's where I knew we had to have the masks evolve just like all of the other equipment. That's when I decided I was going to take care of the evolution of the mask."
Starting in baseball and softball, Force3 is now expanding into the world of sports such as cricket, lacrosse, and hockey. As the growth of the company continues on, Klein continues to look back at the fundamentals of business, leadership, and life that he learned at Springfield College.
"Attending Springfield College, I knew everyone would be like-minded like me with similar passions," said Klein, who was a sport management major. "Springfield allowed me to find my own way, it put me on a path that allowed me to find the way that I wanted to be successful. It started with an internship at ESPN, followed by being encouraged to attend the Major League Baseball Winterfest, and eventually landing a job with the Cleveland Indians."
Klein went on to add, "I met some great friends and established some very strong relationships while at Springfield College. Those relationships have led myself and my friends to some very successful career opportunities. Springfield helped prepare me to build relationships with people, and those lessons have helped me in life, and throughout my career."
And as Klein continues to witness his company grow, he hasn't lost sight of the overall mission of the company, which is rooted right from our Humanics philosophy, something Klein still carries with him to this day.
"Force3 is about providing the best protection against traumatic brain injuries at any level for everyone, and making sure everyone has access to the best protective gear," stated Klein.
To help ensure that everyone has access to the most protective equipment, Klein helped create the Force3 Defender Foundation, which provides funding to families to make sure they are protected with the best equipment.
"It's so important to make sure we can assist families in making sure they can access the most protective safety equipment available," added Klein. "We can't be a safety company unless we make sure everyone has access."
Klein looks forward to staying connected with Springfield College, whether it's returning to campus to be a guest speaker in classes, or helping students with internships. Paying it forward to the future generations that have the opportunity to experience Springfield College is important to him. He is excited to share his experiences and knowledge with our future Springfield College alumni by making a positive impact in their lives.
"I really believe in allowing yourself to let life take you where it's going to take you," added Klein. "I owe a lot to Springfield College, it provided some great experiences for me. I was able to build a strong foundation for myself, and I use so many lessons I learned at Springfield in my day-to-day business."