Springfield College and Beijing Sport University Host Health and Wellness Forum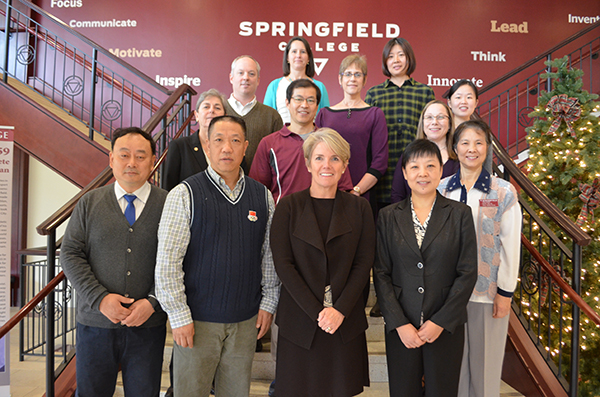 The Springfield College International Center, the Springfield College School of Health, Physical Education, and Recreation, and the Beijing Sport University hosted a forum on the campus on Monday, Nov. 30, that featured multiple presentations in the areas of health and wellness.
Faculty members Wang Li and Zhang Yimin represented Beijing Sport University with their presentations highlighting research on China youth sports participation and health and physical exercise of youth in China. Li is Vice-Chairman of the School Council, and Deputy Dean for the School of Management at Beijing Sport University, while Yimin serves as Deputy Director for the Teaching Laboratory Center at Beijing Sport University.   
Joining Li and Yimin on the event's agenda were Springfield College faculty members Sam Headley and Elizabeth O'Neill. Headley provided some insight into his research on the effects of exercise training in persons with chronic kidney disease, while O'Neill explained how various modes of exercise have on bone health. O'Neill shared research that analyzes whether certain modes of training are more effective at improving an individual's bone health.
Springfield College has a long-standing relationship with Beijing Sport University, previously known as Beijing Institute of Physical Education. The two institutions signed their first formal agreement in 1981 and exchange visitors from China have visited Springfield College numerous times throughout the 31-year partnership. Springfield College faculty members also have made multiple international trips to visit the Beijing Sport University campus.