Springfield College and Naismith Memorial Basketball Hall of Fame Present 2018 Hoophall Classic Leadership Award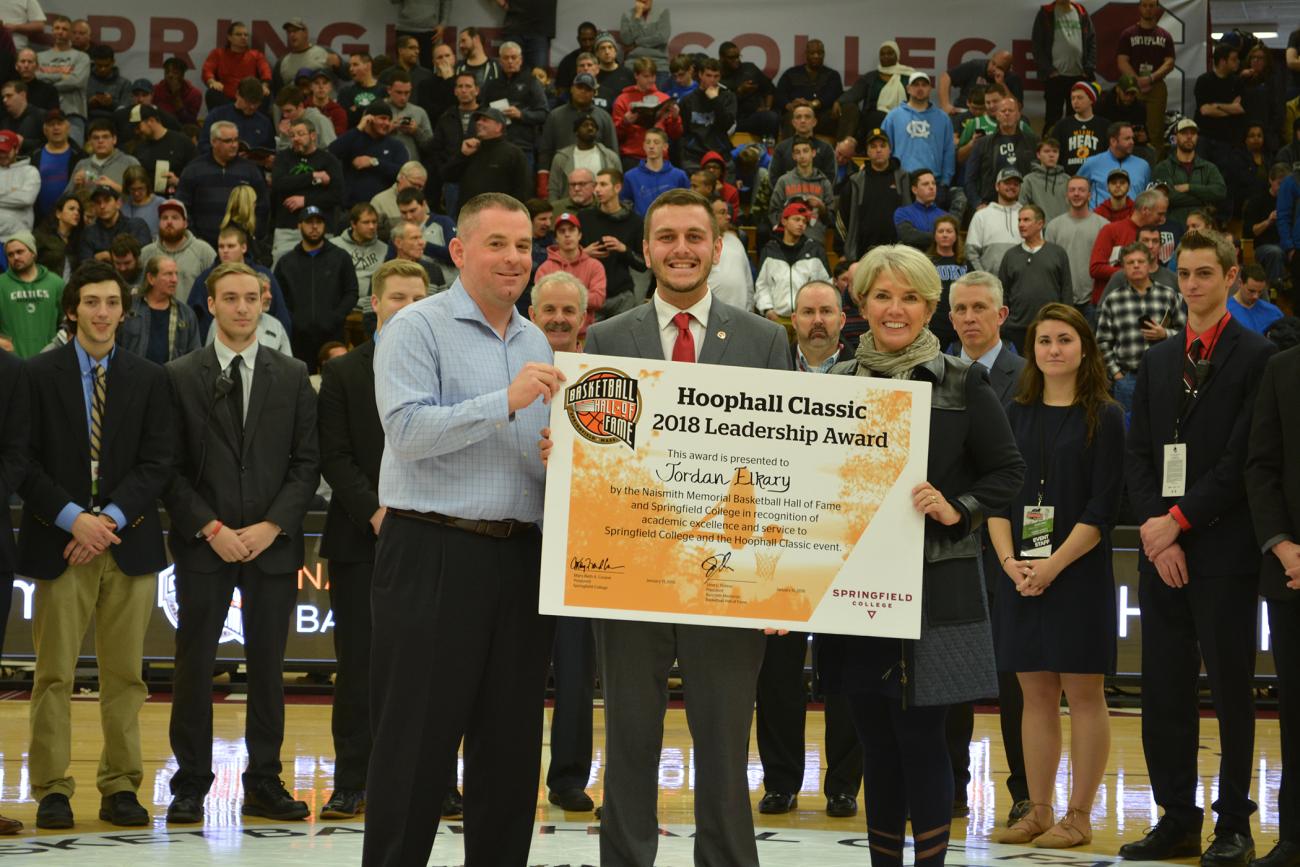 Springfield College and the Naismith Memorial Basketball Hall of Fame presented the sixth annual Hoophall Classic Leadership Award to Springfield College sport management student Jordan Elkary. Springfield College President Mary-Beth A. Cooper, PhD, DM, and Naismith Memorial Basketball Hall of Fame Vice President of Basketball Operations and Springfield College graduate Greg Procino '05, G'07 made the formal presentation during the 2018 Spalding Hoophall Classic at Blake Arena, the leading high school basketball tournament in the country showcasing the nation's top recruits.
Elkary, a native of North Easton, Mass., was a key contributor during the 2018 Spalding Hoophall Classic, the third consecutive year he assisted at the event. Elkary helped lead more than 95 student event staff workers and more than 30 student liaisons during the event. He created and conducted training sessions for volunteers of the event; collaborated with Springfield College Office of Conferences and Special Events, the Naismith Memorial Basketball Hall of Fame, and ESPN to coordinate schedules of events; and supervised all event operations during the five-day tournament.
Elkary currently has a 3.51 GPA and has earned dean's list status in each of the last three semesters. Along with his work with the Sport Management Club on the campus, he has interned with the Boston Red Sox Foundation this past summer working every Red Sox home game as part of a 25-person sales team. Currently, Elkary is gaining experience in individual ticket sales, group sales, and season ticket sales for the American Hockey League's Springfield Thunderbirds. He also is an intern with the Ludlow High School Athletics Department assisting with budgeting, scheduling, and communicating with staff and parents.
A member of the Springfield College baseball team, Elkary has previously interned with the Springfield College Department of Athletics overseeing event management for football, soccer, and the Doug Parker Invitational wrestling tournament.
The Hoophall Classic Leadership Award is presented annually to a student in his or her junior year, majoring in sport management, who has maintained a successful grade point average and demonstrated a combination of service to Springfield College and the Hoophall Classic. The recipient is awarded a $2,500 scholarship to be used during his or her senior year at Springfield College.