Springfield College and Naismith Memorial Basketball Hall of Fame Present Hoophall Classic Leadership Award 2017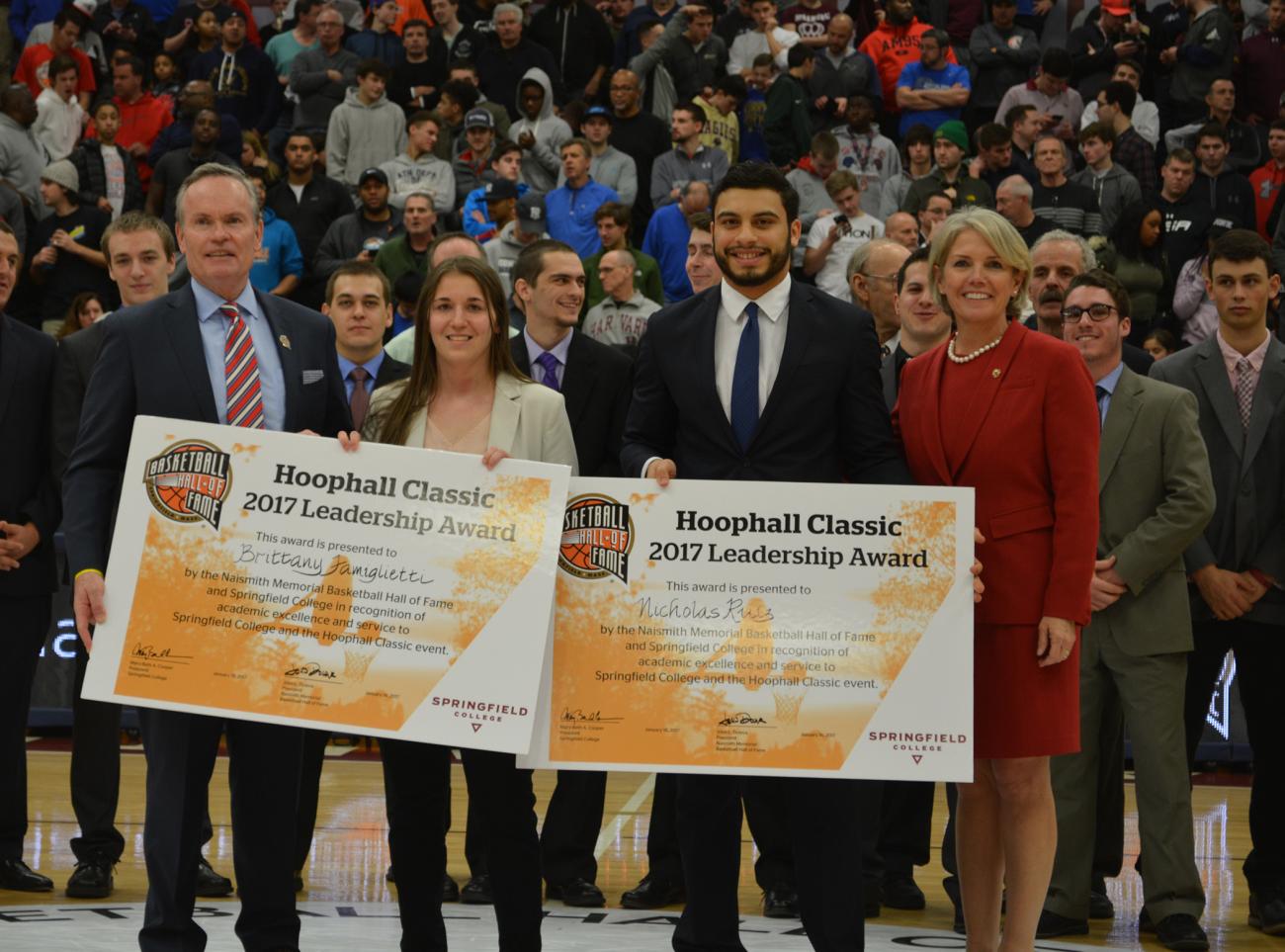 Springfield College and the Naismith Memorial Basketball Hall of Fame presented the fifth annual Hoophall Classic Leadership Award to Springfield College sport management students Nicholas Ruiz and Brittany Famiglietti. Springfield College President Mary-Beth Cooper and Naismith Memorial Basketball Hall of Fame President and Chief Executive Officer John Doleva made the formal presentation during the 2017 Spalding Hoophall Classic at Blake Arena.
Both Ruiz and Famiglietti were key contributors during the 2017 Spalding Hoophall Classic, the leading high school basketball tournament in the country showcasing the nation's top recruits. As part of their responsibilities, Ruiz and Famiglietti helped lead more than 75 student event staff workers and more than 30 student liaisons during the event. They created and conducted training sessions for volunteers of the event; collaborated with Springfield College Office of Conferences and Special Events, the Naismith Memorial Basketball Hall of Fame, and ESPN to coordinate schedules of events; and supervised all event operations during the five-day tournament.
Ruiz, who is a native of Taunton, Mass., served as one of the main student leaders for the Springfield College Department of Sport Management and Recreation at this year's Hoophall Classic, the third consecutive year he assisted at the event. Ruiz has earned a 3.5 grade point average during his academic career at Springfield College, which also includes a minor in business management. Ruiz also has served as an intern assistant to the associate director of Springfield College Athletics, and worked as an event supervisor for the MIAA basketball state championships at Springfield College last spring.
Famiglietti is a Longmeadow, Mass. native and has assisted at the Hoophall Classic for two consecutive years. Famiglietti, also a business management minor, has earned a 3.92 grade point average at Springfield College. Currently a game night and promotion intern for the American Hockey League's Springfield Thunderbirds, Famiglietti previously served as an intern for the Chicopee Public Schools Athletic Department last year helping budget six sports teams for two middle schools. A 2014 graduate of nearby Longmeadow High School, she has also worked as a basketball monitor and summer programs coordinator for the East Longmeadow Recreation Department.
The Hoophall Classic Leadership Award is presented annually to both a male and female junior majoring in sport management who has maintained a successful grade point average and demonstrated a combination of service to Springfield College and the Hoophall Classic. The recipients are each awarded a $2,500 scholarship to be used during their senior year at Springfield College.