Springfield College Assistant Professor of Exercise Science and Sport Studies Jasmin Hutchinson Leads Psychology Team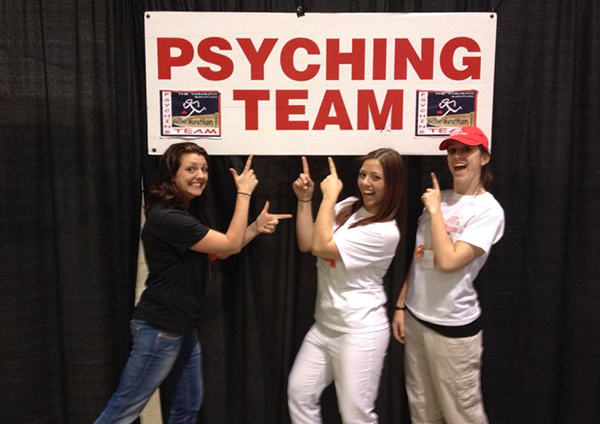 For the third consecutive year, Springfield College Assistant Professor of Exercise Science and Sport Studies Jasmin Hutchinson, PhD, along with a group of graduate students, led a psychology team that was available to participants of the Hartford Marathon.
The team was available to half marathon and marathon runners at the pre-race expo and on race day. The team was stationed at the start and finish lines, as well as throughout the course, to provide brief short psychology interventions, support, and encouragement for participants.
"This is really a unique collaboration between multiple programs at Springfield College," said Hutchinson. "It's a strong commitment by the students to volunteer their time at the race and gain some valuable experience. The establishment of the team has been met with great enthusiasm and our members are thrilled to be able to apply their skills and knowledge to benefit the community."
Twenty-six Springfield College graduate students participated, including 19 from the psychology department's athletic counseling program and eight from the exercise science and sport studies' sport psychology program. Students were available to assist runners with reviewing goals, quelling last minute nerves, and providing cognitive skills that runners can utilize during the race.
The Hartford Marathon is one of the largest races in New England. Thousands of runners will participate in the 22nd anniversary of the competitive this year. The course will once again be divided into both a full marathon (26-mile route) and half marathon (13-mile route).  
Founded in 1885, Springfield College is known worldwide for the guiding principles of its Humanics philosophy—educating students in spirit, mind and body for leadership in service to others. With its foundation of academic excellence and rich athletic heritage, Springfield College prepares students with real-world leadership skills for careers that transform lives and communities. The college offers a range of undergraduate and graduate degree programs in the fields of health sciences, human and social services, sport management and movement studies, education, business, and the arts and sciences. It also offers doctoral programs in physical education, physical therapy, and counseling psychology. The college is ranked in the 2016 edition of "Best Colleges" in the top tier of "Best Regional Universities – North Region" by U.S.News & World Report, and is designated as a premier Leadership Development Center by the YMCA of the USA. More than 5,000 traditional, nontraditional and international students study at its main campus in Springfield, Mass., and at its School of Professional and Continuing Studies across the country.