Springfield College Assistant Professor of Physical Education and Health Education Leads Humanics in Action Project at East Campus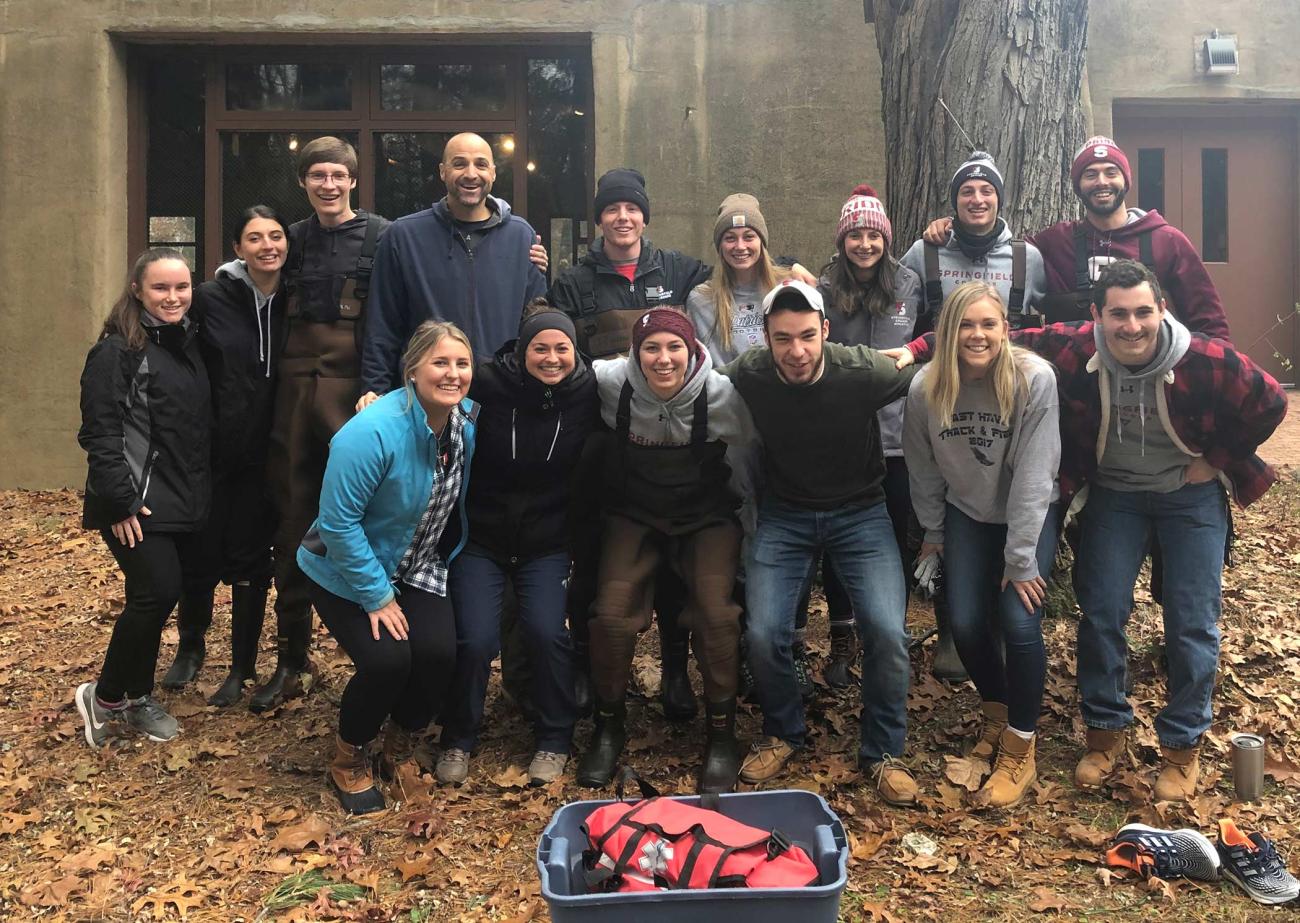 Springfield College Assistant Professor of Physical Education and Health Education Steven Groccia and student Hunter Hughes recently led a Humanics in Action Project at East Campus following the Humanics in Action Grant Committee awarding Groccia a mini-grant to assist in leading a restoration project at East Campus.
"After working the Outdoor Pursuits program last spring, I began wondering how I could give back to East Campus," said Groccia. "The idea of cleaning up Lake Massasoit kept coming to mind, and I ran the idea past East Campus Director Ben Taylor. Ben mentioned that he had a pair of waders and has had students walk and clean the shoreline in the past. Student Hunter Hughes informed me of a possible Humanics in Action mini-grant, so I submitted a grant proposal for the East Campus restoration project. I was awarded $500 and purchased four sets of waders for the clean-up project."
On Sunday, November 10, Groccia and Hughes led 14 student-volunteers in helping clean up along the shores of Lake Massasoit at East Campus. The group included five students in waders, with the waders being funded by the mini-grant, and nine students in canoes with Springfield College Director of East Campus and Outdoor Programs Ben Taylor.
The Humanics in Action program highlights the commitment by Springfield College to year-round community-based service programs. It provides a way to connect students to community-based needs that individuals feel passionate about, while also providing experiential learning opportunities.
Members of the campus community can get involved by applying for mini-grants here.
Springfield College is an independent, nonprofit, coeducational institution founded in 1885. Approximately 4,100 students, including 2,500 full-time undergraduate students, study at its main campus in Springfield, Mass., and at its regional campuses across the country. Springfield College inspires students through the guiding principles of its Humanics philosophy – educating in spirit, mind, and body for leadership in service to others.