Springfield College Campus Community Recognizes All Veterans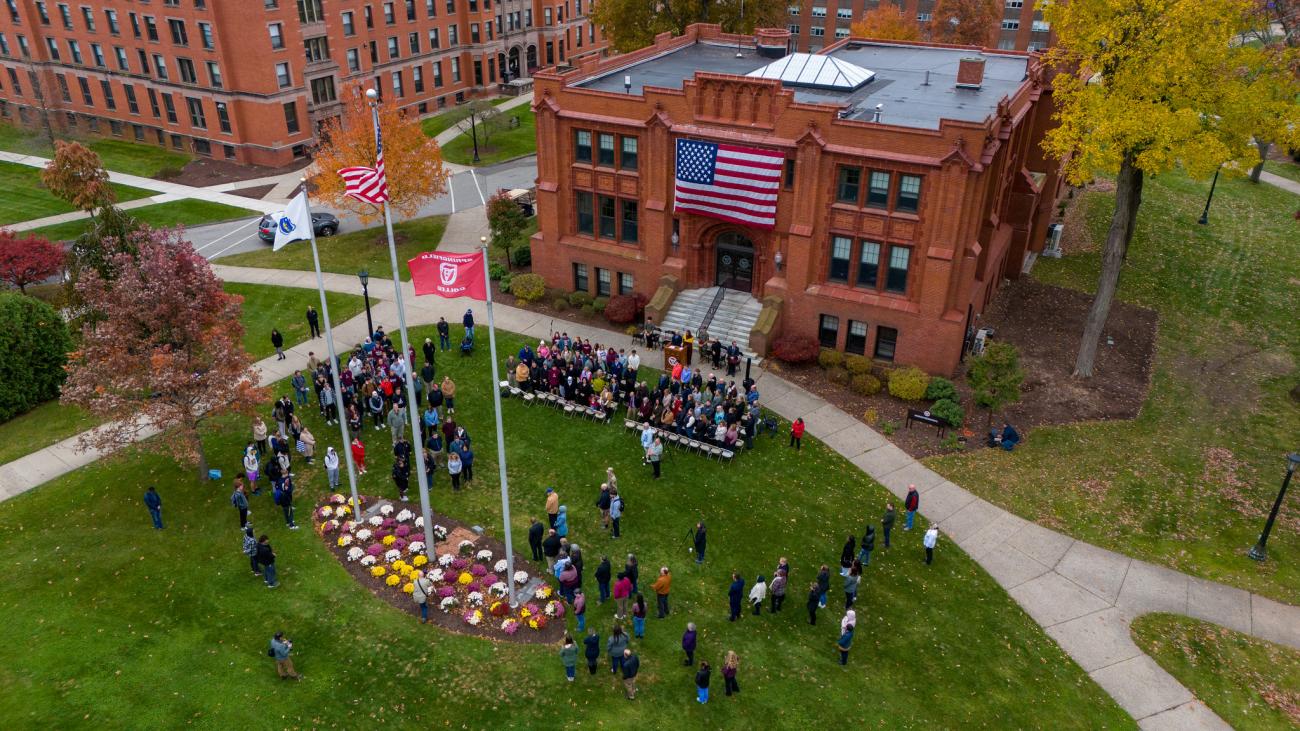 Contributions By: Patrick Fergus and Damon Markiewicz
The Springfield College community came together on Friday, November 10, 2023, for the annual Veterans Day Observance ceremony, which pays tribute to all veterans who have served and continue to serve our country.
This year's program took place in front of Marsh Memorial, and not only included our veterans, but also welcomed all military-connected students, employees, and alumni. The Veterans Day ceremony is hosted by the Office of Spiritual Life. 
As part of this year's ceremony, it was announced that Springfield College has been chosen as the featured institution in a special edition of the Lifetime network show "Military Makeover." The episode, Operation Education: From Soldier to Student–Paving a Path to Success for Our Nation's Heroes, is scheduled to air in January of 2024. 
Springfield College students Luis Rodriguez and Shaterricka Abdul-Razzaq will be highlighted in the episode, which focuses on how veterans and active service members adjust to a college environment after service. Rodriguez is a Psychology major, and Abdul-Razzaq is finishing up a first year pursuing a degree in the master of social work. 
Razzaq, originally from Alexandria, Louisiana, served at bases in Kansas, Egypt, Massachusetts, and as an Aviation Operations Specialist at Ft. Bragg, North Carolina. The school is proud of the support that Rodriguez and Abdul-Razzaq have received on campus for serving their country.
"This is such a good opportunity to show the services we have on campus for our veterans and how we support them," said Slandie Dieujuste, PhD, Springfield College Vice President of Student Affairs.
Rodriguez's military service continued long after boot camp. After two months of training, he officially became an HVAC technician. He worked with electrical systems to maintain AC units that would refrigerate tanks and cool down tank engines.
It wasn't until 2019 that he officially separated from the Marine Corps, following a six-year journey that tested his boundaries and taught him to accomplish great things on his own as well as with the help of others.
"It helped me find myself," Rodriguez said. "It was essential for me to gather that kind of knowledge and experience."
The armed forces weren't an obvious choice for Rodriguez. He didn't have a long line of family members in the armed forces and only became interested in enlisting after seeing The Pacific, a 10-part mini-series based on the accounts of Marines during World War II.
Rodriguez, who was born and raised in Springfield, wanted to do something artistic, like graphic design or architecture, after high school, but didn't see it as realistic for a successful and sustainable career. Engineering was another thought, but it didn't feel right. The military was something different, and one Rodriguez hoped would shape him.
"The brotherhood and the uniform was big for me. I wanted to learn about the world and essentially become a man," Rodriguez said.
Rodriguez, just 19, was allowed one last phone call back home before starting his training. He shouted into the phone to be heard over the drill instructor's screams, which marked the beginning of a grueling three months.
He was unprepared for the physical exertion he had to endure in training. He weighed about 128 pounds and needed more definition, a shortcoming his superiors zeroed in on.
"They utterly destroyed me because they saw that weakness in me," Rodriguez said. "It opened my eyes to that aspect of myself."
The "kill hat," Marine slang for the drill instructor in his platoon assigned to dole out punishment, lived up to the name.
Rodriguez was subjected to what was dubbed "incentive training," which involved extreme calisthenic exercises at a moment's notice. The kill hat paid exceptional attention to Rodriguez, instructing him to perform these exhausting movements in sand pits or any nearby open space.
"They made sure I was well prepared for the road ahead," Rodriguez said.
The "brotherhood" that Rodriguez had fondly mentioned was a massive part of the experience. Even during moments of immense struggle, he discovered that he was never alone because his platoon members were always willing to help and support each other at a moment's notice.
That is a core value that Jacqueline Wolf, the Veterans Coordinator at Springfield College, wants every student veteran to feel. Wolf herself served in the Air Force Reserves for 10 years and was a respiratory therapist on active duty for the Army for another seven.
Wolf oversees roughly 23 student veterans or active service members, as well as seven students in the ROTC program. She works in tandem with the admissions and financial aid offices to provide benefits to students through the Department of Veterans Affairs.
These benefits help pay for tuition, books and housing. Wolf resides at the Veterans and Military Services Center on campus, which opened two years ago near the Springfield College archway, where she works to create a welcoming environment.
"This is a safe space," Wolf said. "When you have these extreme military experiences, sometimes you need to be around other people who understand that different world that you lived in."
The house is where veterans can voice difficulties adjusting to civilian life and be easily understood and supported. They have all experienced forms of basic training and have lived far away from home for long periods.
"The transition from the military to [being] a veteran is unusual, and when you get out, you feel different," Wolf said. "Here, everyone around them is coming from that same environment."