Springfield College Celebrates Greatness at the Home Show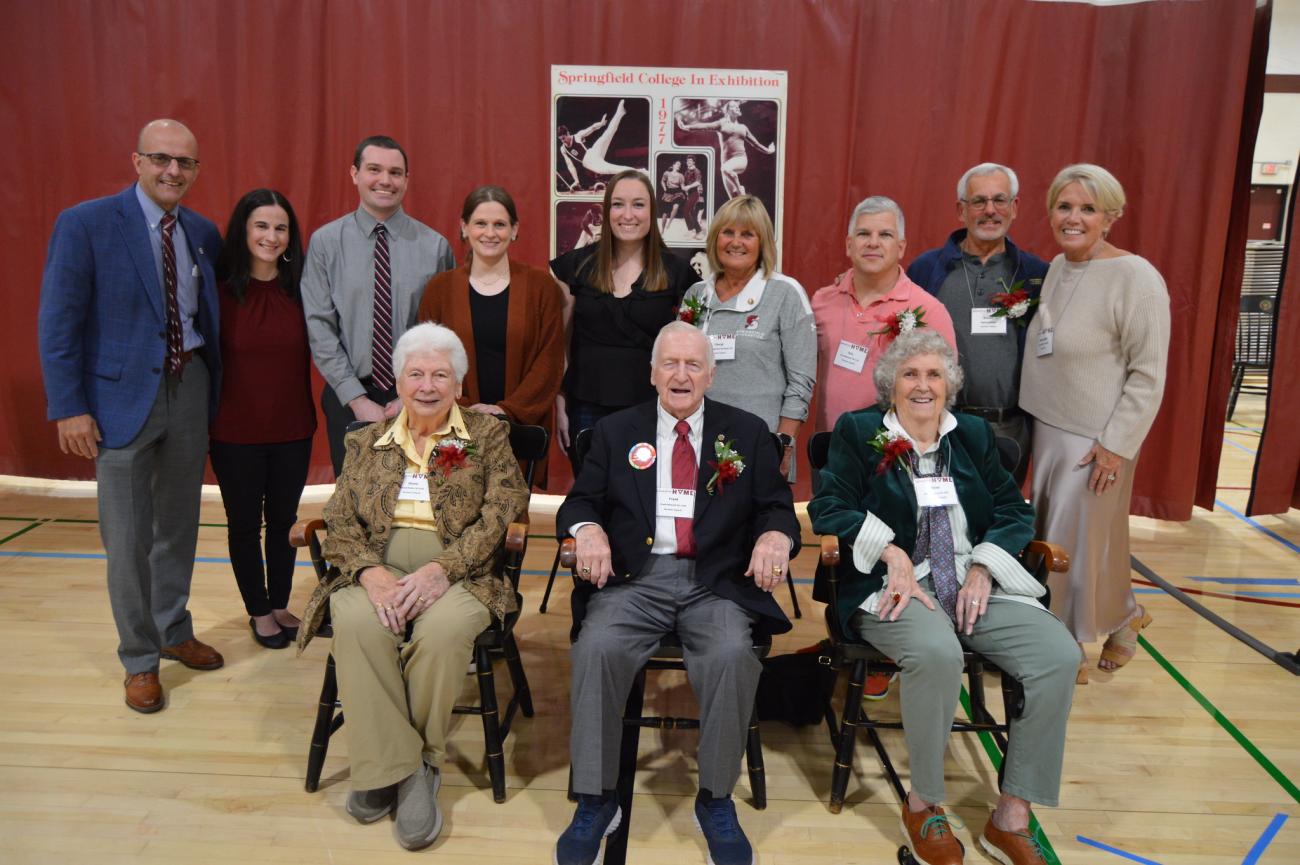 By: Damon Markiewicz
On Saturday, September 30, 2023, Springfield College celebrated more than a century's worth of greatness during the 113th Home Show at Blake Arena. The evening allowed for our current student-athletes to connect with so many of the legends who have helped build the strong tradition that is Springfield College Gymnastics.
This fall's performance, titled "Let It Rock," featured high-flying entertainment with a rock and roll theme. The College expresses a special thank you to all of the guests who were able to attend or watch it for the first time via the live-stream. It was exciting to see so many familiar faces back on campus, as the College celebrated former gymnastics coaches: Frank Wolcott '52, G'60, Mimi Murray '61 G'67, Diane Potter '57, G'63, Steve Posner, Jenn Najuch, Cheryl Raymond G'82, Emily Bellin '17, and Eric Weiskopf '88, G'91.
During the show, a sold-out crowd celebrated past individual national champions and national championship teams, which made for a very special moment. In addition, prior to this year's Home Show, Wolcott was honored with the Springfield College Humanics Achievement Award, while celebrating his 95th birthday.
This special award recognizes an individual or group who has exhibited courage in the face of adversity, demonstrated leadership in service to others, advanced diversity and inclusion, and served as a champion for furthering education in spirit, mind and body.
"I was humbled and grateful to receive the Springfield College Humanics Achievement Award from President Mary-Beth Cooper," expressed Wolcott. "It's the highest award of my professional career in coaching, teaching and athletic administration at the College. As an alumnus, it is important to support today's student athletes so they might have the same wonderful academic and athletic opportunities that have been afforded to previous alumni. It was a special night because I was surrounded by so many special people."
Starting in 1955, Wolcott served as a gymnastics coach at his alma mater for 26 years until his retirement in 1981. Wolcott led the men's gymnastics team to the first National Championship in Springfield College history in 1977, while earning the National Coach of The Year award.
A former captain of the men's gymnastics team during his time as a student-athlete, Wolcott's teams while he was coaching, won five New England Titles, two Eastern League Championships, and placed in the NCAA top-four 11 times. Wolcott's athletes received 62 All-American honors and eight individual NCAA individual titles.
Not only did Wolcott help start men's competitive gymnastics team at Springfield College, but he was also a key piece in getting the women's gymnastics team started. He is a member of both the National Gymnastics Hall of Fame and the Springfield College Athletics Hall of Fame. To this day, Wolcott has the highest winning percentage in Springfield College gymnastics history.
"It's an honor to recognize Coach Wolcott for all of his accomplishments and highlight the impact he has had at the College and in society," added President Mary-Beth Cooper. "He's a role model and an icon, and it's a privilege to recognize him with this Humanics Achievement Award."
Whether individuals were able to attend or not, it's never too late to help support men's and women's gymnastics programs, as they prepare for another promising year. Led by coaches Matthew Davis '08 G'10 and Diana Gallagher, current student-athletes are determined to carry on the proud tradition of gymnastics excellence on Alden Street.
"It's a privilege to be here, and it's also a responsibility I don't take lightly," added Gallagher, who is in her first season as the women's head coach. "I am looking forward to helping continue the strong tradition of women's gymnastics at Springfield College."
For Coach Davis, who is in his eighth year as the men's head coach, he understands the importance of having the gymnastics alumni staying connected with the current student-athletes.
"This event went exactly how I was hoping, it was about bringing a lot of alumni back to campus to celebrate gymnastics," expressed Davis. "The current gymnastics teams recognize and appreciate all of the alumni who have helped build up the greatness of gymnastics on our campus. Because of our passionate alumni, our current students continue to compete at the highest of levels. Thank you!"